Oceans Map Looking For Breakthrough Performance In Saturday's $100,000 Presious Passion Stakes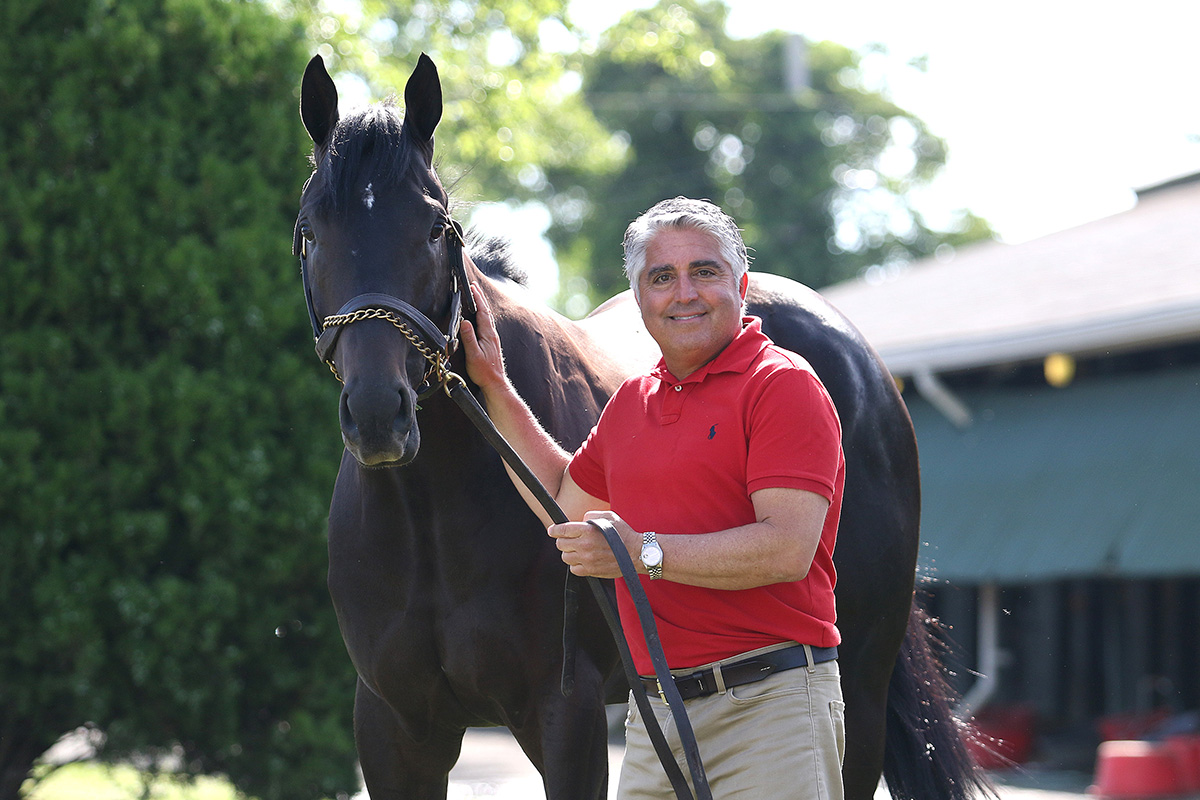 When trainer Gregg Sacco looks at the winless campaign that Oceans Map has had this year he can't help but fall back on an old cliché to explain it.
If it wasn't for bad luck the 5-year-old gelding wouldn't have any luck at all.
The son of Liam's Map will look to reverse that trend in Saturday's $100,000 Presious Passion Stakes at Monmouth Park, a 1½-mile turf event that has attracted nine entries.
Oceans Map is one of two horses in the field to have won at the distance.
"He's a neat horse to have," said Sacco. "We bought him – he was in Liam's Map's first crop – as a 2-year-old for $10,000 at Timonium and he has been a nice grass horse for us. He's a hard tryer who has gotten better with age."
Though Oceans Map has earned $209,500 over his career, he is 0-for-5 this year with only a second-place finish. But Sacco says there are valid reasons for that.
"He's had some hard luck this year," he said. "His first race back at Laurel (on April 23 in the Henry Clark Stakes) was about what we expected (a solid fourth-place finish). Then in the Cliff Hanger Stakes at Monmouth Park (on May 28) he only got beat two lengths. He was kind of pocketed and couldn't get out until it was late and when he did he came running."
A baffling last-place finish in the Grade 3 Monmouth Stakes followed, but Sacco found out why that happened when the Monmouth Stud-owned runner came back after the race.
"I was a little confounded with the way he ran that day but when he pulled up his hock was sliced open," said Sacco. "He needed eight stitches to close the cut. We don't know how it happened."
Oceans Map was second in his next start at Monmouth Park, beaten just three-quarters of a length by Winfromwithin, who came back to win last weekend's Red Bank Stakes.
In his last start, Oceans Map was a distant fourth in the Johns Call Stakes at Saratoga, a mile and a quarter race scheduled for the grass that was run on the main track.
"We wanted to stretch him out again and we found that spot at Saratoga at a mile and a quarter," Sacco said. "We kept him in the race on the dirt after it was taken off the grass because we had shipped him in the day before and we were already there. But he is not a dirt horse."
Oceans Map won at Saturday's 1½-mile distance a year ago in the Cape Henlopen Stakes at Delaware Park. Only Sa'ad, who has dabbled in steeplechase races, has won at the distance among those entered.
"Even though he has not won this year, numbers-wise he put up his two career-best 90 Beyer Speed Figures this year and he ran a 10 on the Ragozin sheets when he was second, and that's the best of his career," said Sacco. "So he is still running well according to the numbers."
Since it's a grass stakes race, the horse to beat – at least on paper — belongs to trainer Chad Brown. L'imperator, a Grade 2 winner, is 6-for-14 on the turf and comes off a third-place finish in the Grade 2 Bowling Green on July 31 at Saratoga.