Occult Romps By 10 1/4 Lengths In Grade 3 Monmouth Oaks As Jockey Feargal Lynch Sweeps Both Saturday Stakes Races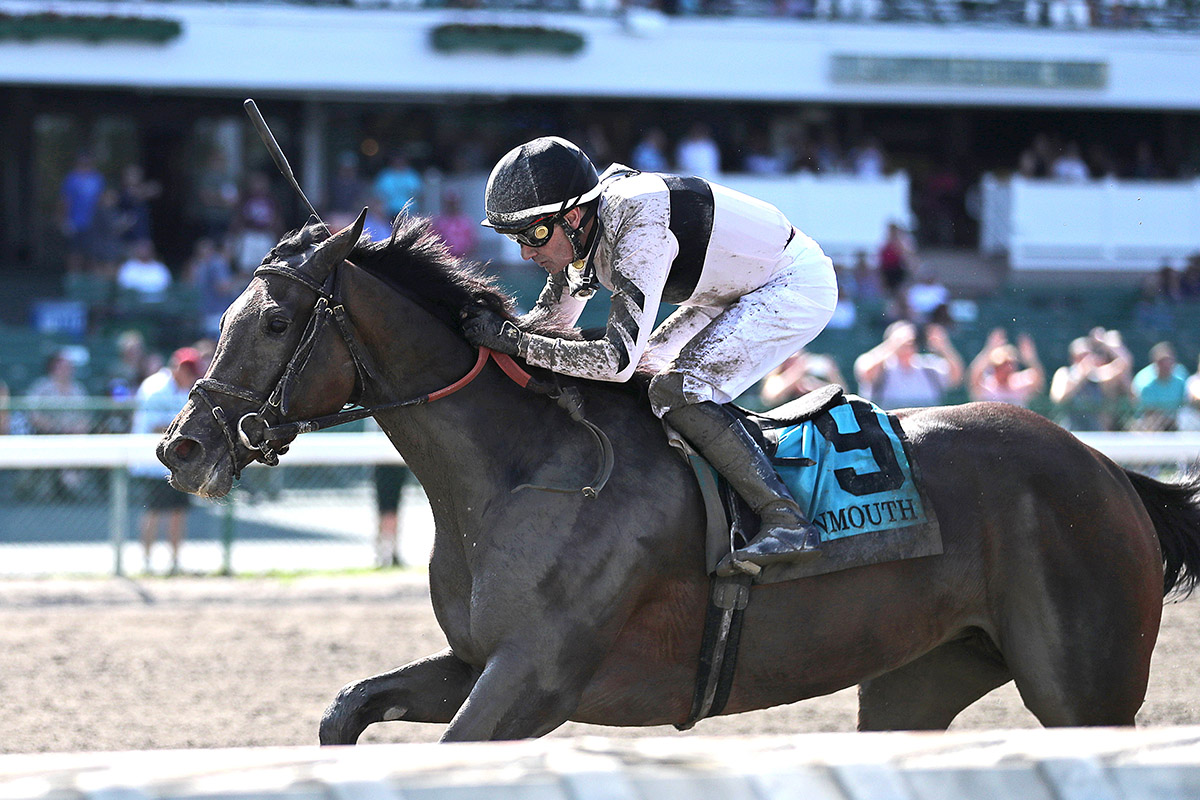 If any other New York-based trainers call Feargal Lynch about riding in a stakes race at Monmouth Park in the near future there probably won't be any hesitation on the jockey's part to leave the Maryland circuit to do so.
Lynch swept the two stakes races on Monmouth Park's Saturday card, rolling to 10¼-length romp aboard the Chad Brown-trained Occult in the Grade 3, $262,500 Monmouth Oaks one race after guiding the George Weaver-trained Amidst Waves to a 1¼-length victory in the $106,000 Colleen Stakes.
Occult, third in the Grade 1 Acorn Stakes in her last start seven weeks ago, made a bold move around the turn in the mile and a sixteenth and quickly left the nine other 3-year-old fillies in her wake in the 99th running of the Monmouth Oaks.
The winning time was 1:45.74.
"She's a very big filly who needs time to find her stride and get into a nice rhythm," said Lynch. "She'll keep going all day once she gets into her stride. So stamina was never an issue with her. I saw there was some cheap speed in here so I let them go. At the half-mile pole I was just trying to find a way clear.
"Because she's such a big striding filly you think you're going nowhere. But when I watch the replay I am sure I will be impressed with the way she was moving. It's all about rhythm and momentum with a big horse like that."
A $625,000 yearling purchase, Occult posted her third victory – first in a graded race – in six career starts. The daughter of Into Mischief is owned by Alpha Delta Stables.
She paid $4.80 to win as the favorite.
"They really like this filly in the barn. The guys in New York, where she was based, told me she was doing really good and looked ready to run a big one," said Luis Cabrera, who oversees Brown's division at Monmouth Park. "I think the key is to space out her races and to keep her on a fast track. That's when she is at her best.
"She ran great today. As soon as we brought her out she looked ready to run. We expected her to run well but I have to say this was very impressive."
Foggy Night, the second choice, held for second, 1¼ lengths ahead of Riding Pretty, the lone Jersey-bred in the field.
Lynch had to work a little harder to get home Amidst Waves, who drew off late for a 1¼-length victory over Lady d'Oro in the Colleen. The winning time for the five furlongs over a firm turf course was :57.68.
Amidst Waves is now 2-for-3 lifetime, with both wins in turf sprints. The daughter of Midshipman is owned by R.A Hill Stable, BlackRidge Stables, Swinbank Stables, Black Type Thoroughbreds and Big Tuff Stables.
"She's a Midshipman filly and a lot of the Midshipman offspring seem to like the grass. There have been quite a few that have been good sprinting on the grass," said Weaver. "We ran her on the dirt first time out. She's okay on the dirt, too. We had a chance to work her on the grass. It seemed like she was really happy on it. So it was natural to try.
"She ran big at Belmont (on the turf). I was impressed with her win at Belmont and this is the natural next step for her. I thought she would be really tough in here."
Lynch had Amidst Waves forwardly place and just off the early leaders until she separated from the field coming out of the final turn. She returned $6.80 as the favorite in the field of nine 2-year-old fillies.
"She's a pretty straightforward horse," said Lynch." She jumped up in her last race on the turf at Belmont. I had a lot of confidence with George Weaver sending her here.
"I thought there would be more speed in the race. She was on the muscle and very close to the leaders and I didn't want to take anything away from her. When I asked her in the lane she quickened. When another horse came at her for a stride or two she really accelerated."