Nufrio Takes Third SSC Qualifier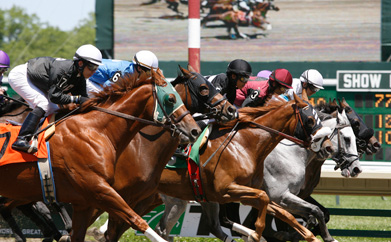 Monmouth Park handicapping contest regular – and Day 1 leader at the 2017 NHC this January in Las Vegas – Pat Nufrio of Belleville, NJ captured Monmouth Park's third Simulcast Series Challenge Qualifier of the 2017 season. 
Nufrio bested a total field of 138 entries by turning his $150 starting bankroll into $1,785.35.  For his efforts, Nufrio takes home first prize of $5,435 and qualifies – along with the rest of Saturday's Top 15 – to the SSC Invitational on Saturday, April 29.  The Top 2 finishers of the April 29 Invitational will earn a seat in the 2018 NHC in Las Vegas.
In addition to the SSC Invitational on April 29, Monmouth Park will also host a $250 NHC qualifier that same day – also offering 2018 NHC seats to the Top 2.  For more information, players can email Brian Skirka at bskirka@monmouthpark.com.
Saturday's Official Top 15
Finish
Name
Bankroll
Prize
1st
Pat Nufrio
$1,785.35
$5,435
2nd
Andrew Gredesky
$1,143.60
$2,174
3rd
Terry Flanagan
$1,007
$1,304.40
4th
Stanley Lue
$820.30
$760.90
5th
Murugesan Devanathan
$795
$380.45
6th
Robin Buser
$667.25
$163.05
7th
Richard Funaro
$641.75
$163.05
8th
Joe Perry
$637.85
$163.05
9th
Al Squillante
$603.60
$163.05
10th
Richard Funaro
$603.50
$163.05
11th
Kevin Engelhard
$560
12th
Brian Fairlie
$559.20
13th
Roger Cettina
$553.25
14th
George Sakelaris
$533.50
15th
Mark Hagenbuch
$510.55