Nik Juarez And Paco Lopez In Down-To-The-Wire Finish For Riding Title At Monmouth Park Meet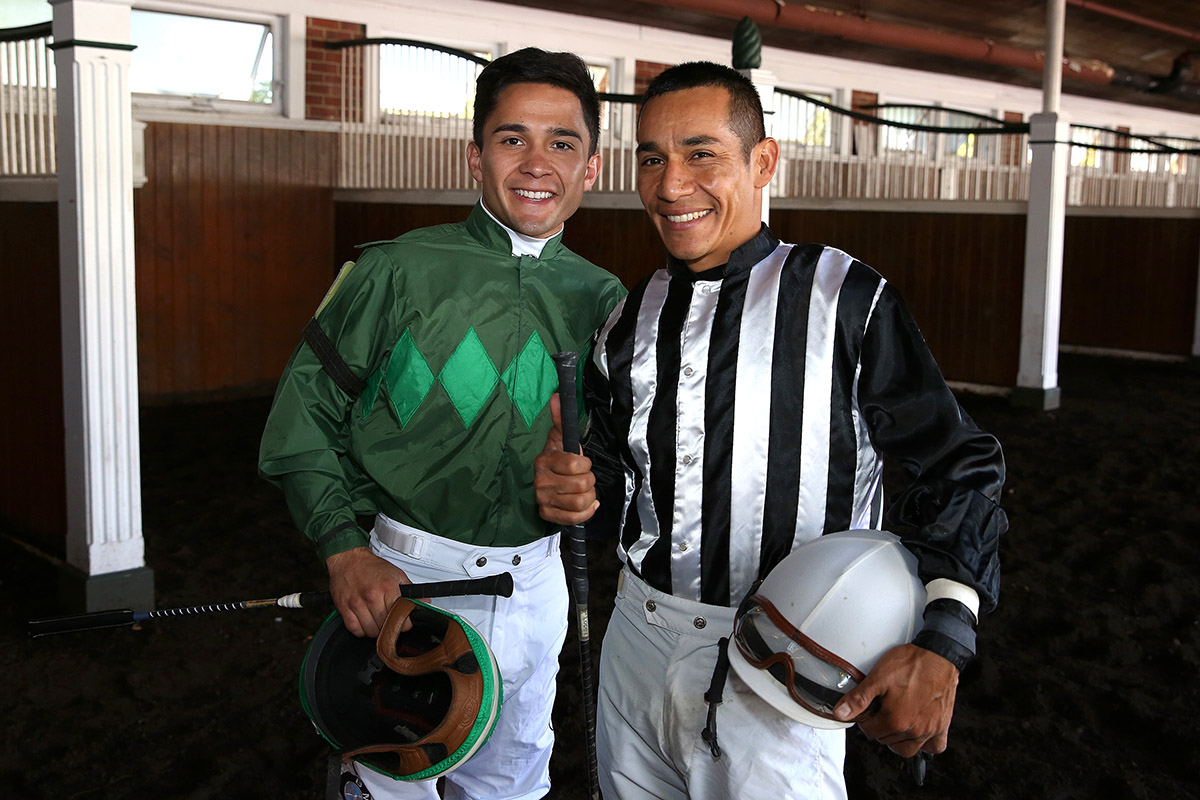 The tightest jockey race in 21 years at Monmouth Park remains a too-close-to call affair between current leader Nik Juarez and Paco Lopez with four racing days left in the 61-day meet.
But neither Juarez nor Lopez say they are focused on the title.
"No matter how it turns out it's been a great summer," said Juarez, who captured the 2017 riding title at Monmouth Park. "I said from the beginning of the meet that the riding title was my goal but I also said I would take it one race at a time. That's still what I'm doing."
With Monmouth Park's meet down to Sundays only in October, Juarez holds a 103 to 99 advantage over Lopez following a Sunday card in which both riders each won two races.
That could result in the closest finish at Monmouth Park since Chuck C. Lopez beat Rick Wilson by four winners to take the 1998 riding title.
"I'm happy the way things have gone," said Lopez. "I'm very lucky to have been on some good horses. I got here a little late but I feel like I've done a good job and worked hard since I've been here."
Lopez, seeking his sixth Monmouth Park riding title (he and 13-time champion Joe Bravo are the only jockeys to win it five or more times), had to make up for lost time in chasing Juarez, since he didn't ride his first horse at Monmouth this year until June 15. The meet started on May 4.
"For me, I've won it five times. If it happens again it happens again," said Lopez. "I'm surprised I am this close because of the late start and because I travel to ride at different tracks.
"I just like to win. I don't look at the standings. If you win enough races the titles come."
Juarez echoed the sentiment about not looking at the standings – until recently, that is.
"The only reason I looked the other day was because I knew I was close to 100 wins when I won a race for my dad (trainer Calixto Juarez) and I found out how many I had," he said. "It's been a great meet. I'm happy to get the support from the horsemen who supported me in 2017. It feels good to be back (after spending last summer in Florida). I bought a home in New Jersey so I'm looking to make this my summer home for a long time. I've been happy with the way the meet has gone for me."
Lopez holds the advantage of stakes races won with a meet-leading 13, with Juarez having won nine.
However the jockey's race turns out, it may require the highest winning total since Elvis Trujillo topped the standings in 2012 with 110 winners.
There is no such drama in the trainer's race, with Jorge Navarro well on his way to extending his track record with a seventh consecutive title. His 65 winners easily outdistance runner-up Jason Servis' 38 winners.
Starting on Friday, Oct. 4, the first of seven all-turf cards at the Meadowlands Racetrack will get underway as the Thoroughbred racing schedule in New Jersey shifts to a two-venue format for the month of October.
Monmouth Park will continue to race on Sundays in October, concluding its meet on Oct. 27.
The Meadowlands will offer all-turf cards on Fridays and Saturdays throughout October, with the exception of Saturday, Oct. 19, when the 99th steeplechase meeting takes place at Far Hills in Somerset County.
First race post time at the Meadowlands on Fridays and Saturday will be 12:30 p.m. with six grass races each day. Sunday post time at Monmouth Park will be 1:15 p.m.