Newcomers To Monmouth Park Backstretch For 2020 Include Hall Of Fame Trainer and Venezuelan Triple Crown Winner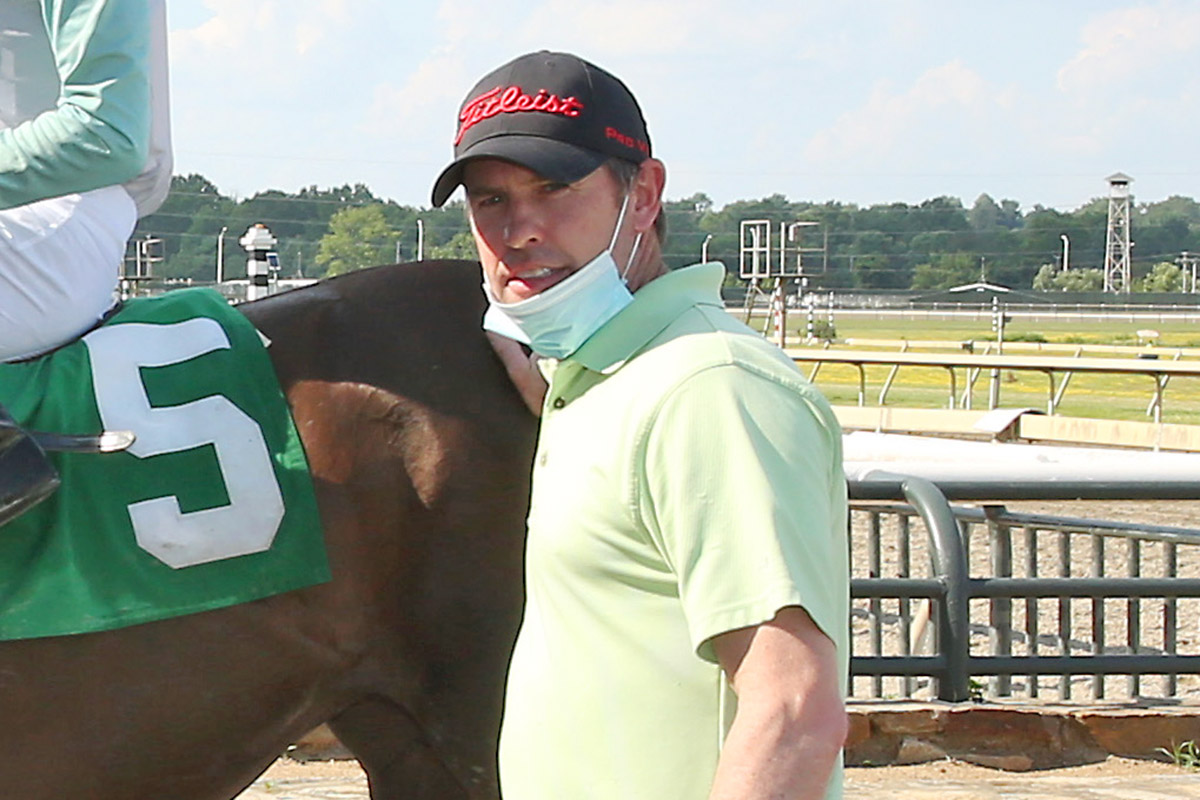 Among the nearly dozen trainers making Monmouth Park their summer home this year for the first time are a Hall of Famer, one who lists the Venezuelan Triple Crown on his resume and another whose barn is looking to take advantage of the lucrative Jersey-bred program that's offered.
It may be as eclectic a group of newcomers the track has ever featured as the Friday, July 3 opener – the start of Monmouth Park's 75th season – nears.
Hall of Famer Jerry Hollendorfer will have a solid presence on the Jersey Shore for the first time, with long-time assistant Dan Ward overseeing a string that he says will eventually number more than two dozen runners.
"Our horses fit well at Monmouth Park and the timing is perfect for us," said Ward. "When the condition book came out it looked like a really good fit for the horses we have."
Ward, who said he has not made an appearance at Monmouth Park since Marquetry ran in the 1991 Philip H. Iselin Stakes when he was an assistant to Bobby Frankel, said the decision to try Monmouth Park for an entire meet was done as part of a long-term plan.
"We're here to stay," said Ward, who has been with Hollendorfer the past 14 years after working with Frankel the previous 22. "We plan on continuing to have a stable in the Midwest or Monmouth Park as long as we can."
Twenty of Hollendorfer's horses have already shipped into Monmouth Park from Churchill Downs "and we have races for all of them at Monmouth," Ward said.
"We will be looking to claim some more and trying to pick up business," he added.
Hollendorfer's outfit will look to be a factor the very first day, with Awesome Anywhere slated to go in the $75,000 Oceanport Centennial Stakes, the opening-day feature. The 6-year-old gelding won a starter allowance race at Oaklawn Park two starts back.
Antonio Machado isn't a familiar name in this part of the country, but the 42-year-old hopes that changes with his first summer at Monmouth.
Machado, Tampa Downs-based, was the youngest trainer ever to win the Venezuelan Triple Crown when he did so with El Gran Cesar in 2008. He won 99 races, 18 of them graded stakes, in Venezuela between 2006-2012.
He said it was time to take on a new challenge, which is why he has decided to try Monmouth Park this summer.
"I wanted to experience training at a prestigious racetrack where the horse racing would challenge me," said Machado, who started in the sport by working in a stable in La Rinconada racetrack in Caracas while also attending training school. "So many owners, trainers, jockeys and amazing horses have raced on these grounds, and that for me is simply amazing.
"I want to keep on competing at the maximum level and show that I can be there with top trainers and win races."
His intention, he said, is to make the Tampa Downs/Monmouth Park circuit part of his yearly routine, saying he is "hoping that we will continue with this trend for many years to come."
Michael Moore has been Parx-based since he started training in 2013, but the makeup of his current stable made Monmouth Park a logical choice for this summer. He hopes to have more than 20 claimers and allowance horses on the grounds, with the more prominent among them being Jersey-breds.
"The biggest reason I came here is because I have some good Jersey-breds and the money is so good for Jersey-breds at Monmouth Park," said the 49-year-old Moore, a Rutgers University graduate. "It's a little bit of an adjustment because I live five minutes from Parx and the drive here is over an hour every day. But this is such a beautiful place. It's really horse friendly and the people care about racing here."
Moore, coming off his best year with 35 winners in 2019, was 2-for-10 at Monmouth last year with shippers. His wife, Elizabeth, helps run the barn.
"Everything seems to be working out well," he said. "I just hope to do well when the racing starts."
Mid-Atlantic fixture Hugh McMahon is among the other newcomers who will have a string of horses stabled at Monmouth Park this summer.
Monmouth Park's 37-day meet will consist of live racing Friday, July 3, through Sunday, Sept. 27. Post time on Fridays will be 5 p.m. (except Sept. 4, Kentucky Oaks Day, when it will be 12:50 p.m.). Saturday and Sunday posts will be 12:50 p.m., with the exception of a noon first race post time on July 18, when the $1 million TVG.com Haskell Stakes serves as the headliner on the card.