Navy Commander Ready For Big Test In Sunday's $1 Million Haskell Invitational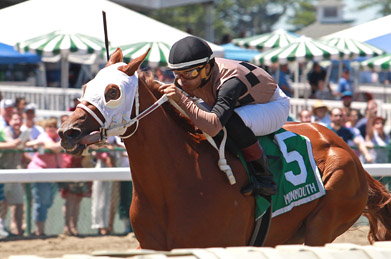 Trainer Robert "Butch" Reid knows exactly what he's up against in sending Navy Commander to his first graded stakes test in Sunday's betfair.com Haskell Invitational at Monmouth Park against the likes of Kentucky Derby runner-up Good Magic and Preakness runner-up Bravazo. 
Fortunately, said Reid, the horse doesn't. 
"It's more daunting for me than it is for the horse. He probably doesn't care too much," Reid said. 
The $1 million Haskell Invitational, Monmouth Park's signature event, goes post-ward for the 51st time ON Sunday, July 29, highlighting a stakes-filled card. NBC-TV will televise the Grade 1 race for 3-year-olds live from 5-6 p.m. 
For Reid, the chance is worth taking with a horse that has won two straight races and comes in off front-running victory in the Long Branch Stakes at Monmouth on July 7. 
"Let's see where he fits," Reid said. "If there's a time to do it, it's right now. He's fast and fit and brimming with confidence coming off a couple of wins. Sometimes you get them on a roll and they can be a little better than you thought they could be." 
Reid is no stranger to Monmouth Park or the Haskell. He started his training career at Monmouth in 1983, staying for 15 years before moving to Parx. His three previous Haskell starters – Afleet Again, Artic Sweep and Evil Bear – failed to hit the board in the race. 
"It's exciting to have another one you can come to this race with and to be in this kind of company," he said. "This will be my fourth Haskell. I haven't gotten much done the other times but every time we've been there we've enjoyed it. I spent enough time at Monmouth to know there are about a million reasons to like it there, especially for this race." 
Though Reid had high hopes early on for Navy Commander, even bringing him to Saratoga at 2 (he said he could not get the horse in a race there in time), the son of Poseidon's Warrior-Glenmary Lane was a disappointment last year, winning just once in four starts. 
Navy Commander is 4-of-7 this year. 
"Ever since we gelded him he has been a much better race horse," said Reid. "His first big race was right after we gelded him. It has really moved him up. It seems to have turned him around." 
Navy Commander will also have an advantage Reid considers to be a key one over the rest of the field: A race over the Monmouth surface. 
"I really liked the way he handled the track in the Long Branch, and that's a big reason for coming to this race," he said. "I also like the fact that it's a short ship. It's only an hour from Parx. He can sleep and rest comfortably in his stall the night before and then ship and be there in an hour on Sunday." 
The undercard on Haskell Day includes the Grade 3 Monmouth Cup, the Grade 3 Molly Pitcher Stakes, the Grade 3 WinStar Matchmaker Stakes, the Grade 3 Oceanport Stakes and the Wolf Hill Stakes. 
The Haskell will go as race 12 on the 14-race card. 
First post is noon, with gates opening at 7:30 a.m. and the parking lots opening at 6:30 a.m. 
Live racing resumes at Monmouth Park on Friday, July 27, with an eight-race card. There is a Jersey Shore Pick 6 carryover of $157,081 for that day.