Navarro Reflects On Record Seventh Straight Training Title Heading Into Monmouth Park's Season Finale On Sunday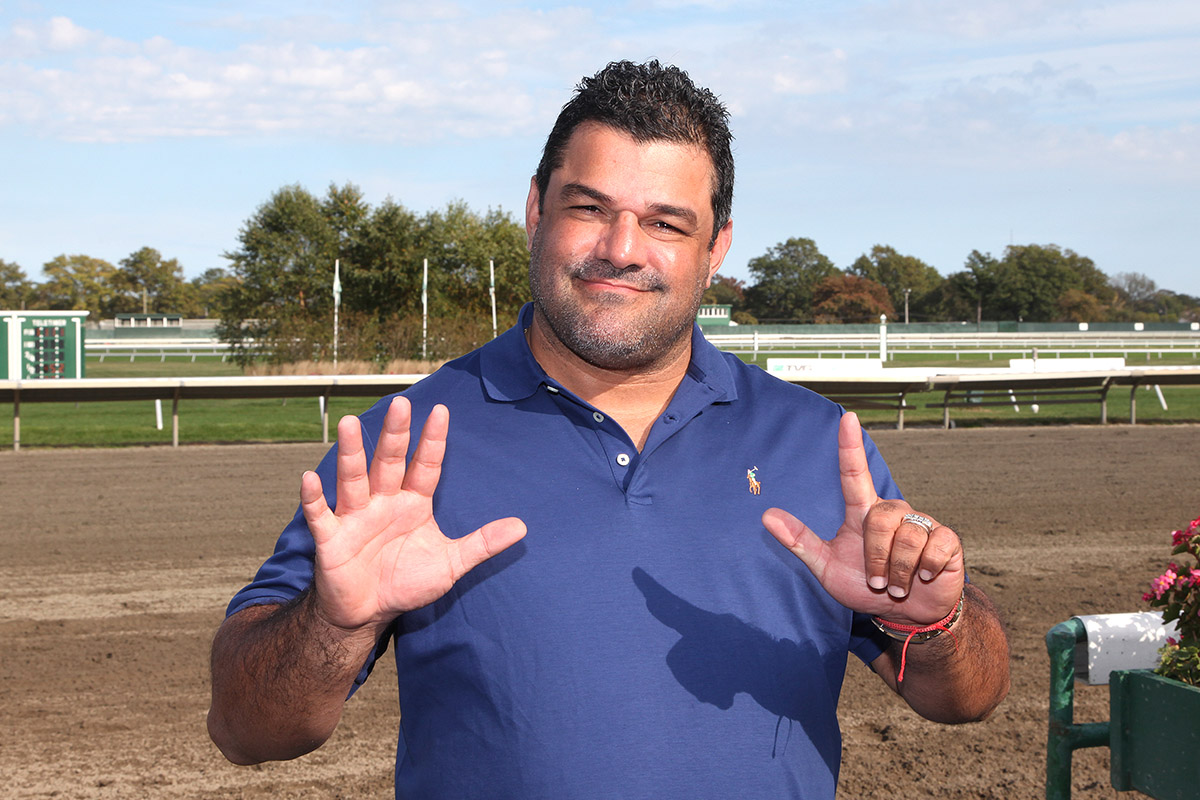 Jorge Navarro says he is too caught up in the present to fully appreciate the significance of extending his record to seven straight training titles at Monmouth Park, which the 44-year-old native of Panama will officially put the finish touches on during Sunday's closing day of the 61-day meet.
But if it looks on paper like it was another easy accomplishment, Navarro insists it was anything but that.
"I don't think it was easy at all," said Navarro, who has two horses entered for Sunday's 10-race card. "Winning a title at any track is never easy. People don't see how much work goes into it behind the scenes and in the mornings. It takes a great team and great teamwork, and when you're competing with guys like Jason Servis and Chad Brown, guys like that, nothing comes easy."
Navarro, who is currently at Santa Anita overseeing Shancelot's preparations for the Breeders' Cup Sprint, enters the last card of the Monmouth season with 68 winners (Servis is second with 40). That number is short of the single-season meet record of 85 that he set last year but it's still the second-highest win total in Monmouth Park history.
"It was a good meet. Monmouth Park is my home. That's why these things are so special to me," he said. "If I think about it, what makes me happiest is that I feel good for the team. They're my kids. That's what I call them. They do a great job. You can't have success without a great team."
While Navarro has clinched the training title, the race for leading jockey remains very much a neck-and-neck affair, with five-time riding champion Paco Lopez holding a 107 to 106 advantage over Nik Juarez, who was Monmouth Park's leading rider in 2017.
Both are listed on seven mounts Sunday.
Navarro will not only ease into his latest title, he may be on his way to his best season yet, entering the weekend with 196 winners overall and $5.8 million in earnings. He had his best campaign in both categories a year ago with 208 winners and $6.6 million in earnings.
"Maybe when everything slows down I will have time to look back on what I have accomplished," he said. "Right now, my body is go, go, go. It's hard for me to slow down and appreciate things when they are happening because it feels like there is always something to do, always another race."
To that end, Navarro said he plans on easing back in the coming years, scaling down his 140-horse stable. Monmouth Park, he said, will remain his home base and his priority, but he will begin to tap the brakes on the frenetic year-round push he has been on for a decade now.
"I do want to slow down," he said. "I want to spend more time with my family.
"That doesn't mean I'm stopping. I'd like to be going a lot slower when I'm 50. I can't keep going the way I have. I'm a 44-year-old man and I feel like I'm 60. At some point you realize you just can't keep pushing yourself non-stop the way I have been doing."
Navarro said his personal highlights of the Monmouth Park meet were Shancelot's dazzling June 23 victory in a meet-best 1:08.43 for six furlongs and War Story's victory in the Grade 3 Monmouth Cup on Haskell Day.
"I'm very proud of my team," he said. "I never lose sight of how much they put into this operation to make all of our success happen."