Nations To Debut Promising 2-Year-Old Filly Proud Mandate In Thursday's Maiden Special Weight Turf Sprint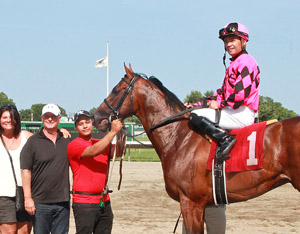 As trainer Keith Nations continues with a major overhaul of his barn, moving to better quality, less quantity and with a focus on younger horses, he acknowledges he hasn't had anywhere near the impact he originally hoped to have during his first summer at Monmouth Park. 
That will change next year, he vows. 
"Next year when we come here we'll be ready to run," he said. 
For now, the focus will continue to be on his 2-year-olds, which account for 20 of the 45 horses he has stabled at Monmouth Park. 
One of them, Proud Mandate, will make her racing debut in Thursday's Maiden Special Weight race for 2-year-old fillies at five furlongs on the grass that goes as the seventh race on an eight-race card. 
"If it's on the turf or off, we'll go either way," said Nations. "She has trained really nicely. I think she's got a lot of talent. She seems to have a lot of class so I don't see her having any problems with the first-time starting. I think she will handle everything very well. 
"We've got very high expectations for her." 
A daughter of Strong Mandate-Proud Dame, Proud Mandate will face nine rivals in the $36,000 dash. 
She represents both the future promise and the reason for the current lack of production for Nations so far this meeting, where he has four winners from just 19 starters – a far cry from what he expected before deciding on a philosophical makeover. 
"We love being here. The facility is awesome, we love the barn and the area is great. And the people have been tremendous in welcoming us," said Nations. "Unfortunately, we got caught in a transition year to a lot of young horses and had more horses than we normally do that were not ready to run because of that. I feel bad we haven't run more because everyone here has been great to us, but we're revamping our approach and it just happened to be this year. 
"We thought we'd start a lot more. Look at our numbers the past two years. We started 385 horses in 2017 and another 300 (308) the year before and this year we're at about one-third of that (with 114 starters overall). Next year we will have this planned out better and when we get to Monmouth Park next year we'll be ready to run." 
Nations has weeded out a considerable number of the claimers and low level allowance horses that had been under his care, with the 57-year-old conditioner going from 70 horses to his current 45. 
"The goal is to keep it even smaller but with better quality," he said. "I'd really like to get it to around 30-something horses. We're getting there. I'm already planning ahead for next year at Monmouth so we can run more. It takes time when you're revamping everything the way we are but we'll get there."