Mooji Moo Jr. Scores Upset In Tyro Stakes: 1-2 Mae Never No Romps in Colleen Stakes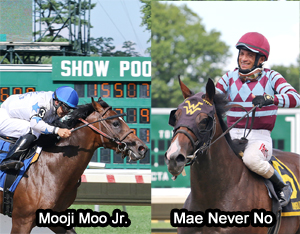 Mooji Moo Jr. took full advantage of an awkward break by 7-10 favorite Tybalt, racing to the front from the outset and never looking back on his way to a 1¾-length victory in Saturday's co-featured Tyro Stakes at Monmouth Park. 
Mae Never No, the 1-2 favorite, was the easiest of winners in the co-featured Colleen Stakes, splashing home to a seven-length victory in the five-furlong dash for fillies. 
Mooji Moo Jr., one of two maidens in the field, made short work of his six rivals in the five-furlong Tyro. Both $60,000 stakes races for 2-year-olds, originally scheduled for the turf, were switched to the sloppy main track. 
Let go at odds of 13-1, Mooji Moo Jr. covered the five furlongs in :58.39. 
The colt's only previous start was a second-place finish in a Maiden Special Weight race in the slop at Monmouth Park on July 15. 
"He's so quick and all of the 2-year-olds are inexperienced at this point and he has some turf in his pedigree so we thought he'd like the grass," said winning trainer Pat McBurney. "When it came off the turf we already knew he liked the slop from his only start when he was a good second. We just thought the timing was right for him and that it was worth a shot." 
Jockey Jairo Rendon said he was too busy hustling Mooji Moo Jr. to the lead to know what happened to Tybalt, who broke last in the field of seven. He eventually rallied to get second, a neck ahead of Dalliance. 
"The plan was to get out of the gate and just go," said Rendon. "I liked this horse because I breezed him one time and I loved the way he went. I just had to get him away from the gate cleanly. The others have all won, but this one is fast and he has some talent. This was just his second start so you don't know how good he can be." 
A son of Posse-Mooji Moo, Mooji Moo Jr. was the only Jersey-bred in the field. He is owned by Robert Deckert Jr. 
"When the favorite got away as badly as he did he gave us a big head start and he could not run us down," said McBurney. "That horse is faster than us on the numbers but we had racing luck on our side today."  
Mooji Moo Jr. returned $28.20 for a $2 win bet. 
No racing luck was needed for the Wesley Ward-trained Mae Never No, who broke alertly and never had an anxious moment in the Colleen Stakes. She covered the five furlongs in :57.98 and returned $3.00 to win as the heavy favorite in the field of six. 
Amy Farah Fowler held for second, a neck ahead of Margie Is Livid. 
"She was pretty sharp out there," said winning rider Jose Ferrer, who tops the Monmouth Park rider standings with 57 winners, including four on Saturday's card. "Being in an inside post she broke strong. She was ready to go and once they opened the gate she was gone and it was game over. I was worried someone might come outside me but she was so sharp today there was nothing to worry about. I had everything my own way and she made it look easy. 
"I think she has a big future. She has speed but she will also rate if you ask her to. And she's a sweetheart to ride." 
Owned by Ice Wine Stable, Mae Never No won for the second time in three career starts. Her only loss was a third-place finish in the Tremont Stakes at Belmont Park on June 8.