Monmouth Park To Offer Full Card Kentucky Derby Wagering And A Variety Of Dining Options On Saturday, May 6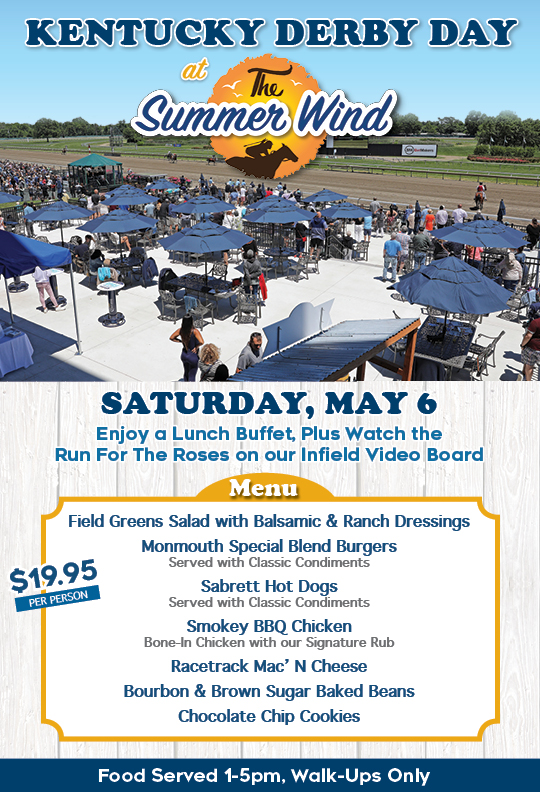 Monmouth Park will offer wagering on the entire Kentucky Derby card on Saturday, May 6, and will have several dining options available on track that day. There will be no live racing, with Monmouth Park's season opener set for Saturday, May 13.
Full-card simulcasting will be available on other tracks as well.
Pari-mutuel windows will open at 10:15 a.m. on Derby day. Clerks will be stationed starting at that time in Clubhouse 1, Clubhouse 2, the Grandstand track side and the Grandstand paddock side.
Saturday's first race post time at Churchill Downs is listed at 10:30 a.m. The Kentucky Derby has a scheduled post time of 6:57 p.m.
Additionally, advance betting on the entire Kentucky Derby card will be available on Friday, May 5, starting at 10:15 a.m. Clubhouse 1, Clubhouse 2 and the paddock side of the Grandstand will be open with clerks at that time.
The Summer Wind trackside restaurant will open at 11:30 a.m. on Kentucky Derby day, with food service from 1 p.m. to 5 p.m. A special buffet menu is available for $19.95 per person and features salad, hamburgers, Sabrett hot dogs, BBQ chicken, Mac 'N Cheese, baked beans and chocolate chip cookies. A cash liquor bar is available as well.
Seating is available on a first-come, first-served basis. There are no reservations.
Starting at 11 a.m. the new Winner's Circle Terrace Bar on the second floor of the Clubhouse will be open with an ala carte menu featuring soup, appetizers, loaded hot dogs, meatball parmesan sliders and chicken biscuit sliders. Seating is available on a walk-up basis.
The bar in the Patio Terrace teletheater, as well as the Lady's Secret Café, the Caesars' sports bar and the concession stand on the first floor of the Clubhouse, will open at 10 a.m. No reservations are necessary.
Mint juleps, the official drink of the Kentucky Derby, will be available at all bars.
Parking and admission are free.