Monmouth Park The Shore's Best Bet For Summertime Family Fun; Food Trucks, Wine & Chocolate Fest Headline 2017 Events Schedule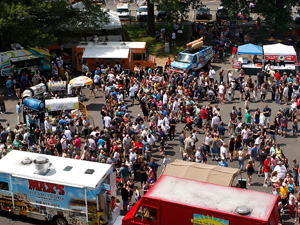 MONMOUTH PARK THE SHORE'S BEST BET FOR SUMMERTIME FAMILY FUN; 
FOOD TRUCKS, WINE & CHOCOLATE FEST HEADLINE 2017 EVENTS SCHEDULE 
OCEANPORT, N.J. – The 2017 events and promotion schedule at Monmouth Park will once again feature a family-friendly assortment of some of the Jersey Shore's biggest events, headlined by Memorial Day weekend's Jersey Shore Food Truck Festival and the 50th betfair.com Haskell Invitational on Sunday, July 30.
Monmouth's annual three-day food truck extravaganza will feature 40 gourmet trucks in 2017.In addition to mouth-watering smells, the sound of live music will fill the air as the event will feature two stages for the first time.Admission gates will open early at 11am on Saturday, May 27 and Sunday, May 28 with a normal 11:30am opening on Monday, May 29.
"Fans and families coming to Monmouth Park in 2017 will be treated to the premier events schedule on the Jersey Shore," said Brian Skirka, marketing manager for the racetrack."We've built on established festivals to make them even better and added new, exciting, family-friendly events appealing to all ages.
"We've greatly increased our social media and digital presence and will be promoting our races and events in ways we've never done before.With the Shore's preeminent events calendar, the 50th betfair.com Haskell, new additions to F&B and the opening of the Beer Garden at Blu Grotto, Monmouth Park is absolutely the summer place to be."
In addition to the Jersey Shore Food Truck Festival, Monmouth Park will again play host to:
Mother's Day – Sunday, May 14 The 47th Annual NJ Irish Festival – Sunday, June 11 Father's Day – Sunday, June 18 Wine & Chocolate Festival – Saturday, June 24 and Sunday, June 25 Classic Car Show & Oldies Day – Sunday, July 9 Surf & Turf Seafood Festival – Saturday, July 15 and Sunday, July 16 Ladies' Day – Saturday, July 29 Italian Festival & Wine Tasting – Saturday, August 5 NJ Thoroughbred Festival – Sunday, August 27 BBQ & Craft Beer Festival – Saturday, September 2 thru Monday, September 4 Food Trucktoberfest – Saturday, September 9
While seeing the return of past fan favorites, the 2017 season will also see the birth of a number of new or enhanced events:
The Wine & Chocolate Festival on June 24-25 – which saw a combined two-day attendance of over 30,000 a year ago – will return with an even bigger festival area and more wine and chocolate vendors.
On Friday July 7, Monmouth Park will host a charity event for the Permanently Disabled Jockeys Fund at the Beer Garden at Blu Grotto where the track's jockeys will serve as bartenders during the festivities.
Ladies' Day on Saturday, July 29 will yet again be sponsored by Lilly Pulitzer Shops at Riverside and this year will raise money and awareness for the Breast Cancer Research Foundation.
Monmouth Park hosted a Latin Festival for the first time in 2016.This year, the track has partnered with the Tu Sello Latino Fest to bring their local event to Oceanport on Sunday, August 20.
To commemorate the 50th running of the betfair.com Haskell Invitational, a variety of promotions and historic perspectives will be on tap.Beginning on June 11, fans will be able to make their picks for the all-time Haskell simulation – featuring the 12 greatest Haskell champions of all time.The computer simulated race will be run on Haskell Day with the fan who correctly selects the order of finish winning a VIP trip to the 2018 Haskell.There will also be two separate video montages looking back at some of the greatest Haskells ever.A social media contest will award a VIP trip to this year's betfair.com Haskell.
In 2017, Monmouth Park will yet again be the industry leader when it comes to handicapping contests.Throughout the calendar year, Monmouth Park will send nearly 30 players to the 2018 National Handicapping Championship in Las Vegas, most of any racetrack in the country.The highlight of the contest schedule is the $2,000 Pick Your Prize Handicapping Challenge on June 3. 
Continuing a Monmouth Park tradition, the track will offer free Family Fun Days on Sundays and special event days, Memorial Day weekend to Labor Day weekend, with a range of activities including pony rides, face painting, clowns, and an inflatable bounce house.
The 2017 season runs from Saturday, May 13 through Sunday, Sept. 10.Gates open daily at 11:30am with first post slated for 12:50pm.
For more information, visit www.monmouthpark.com.