Monmouth Park Takes Food and Beverage In-House; New Concessions, Menus Await 2017 Racing Fans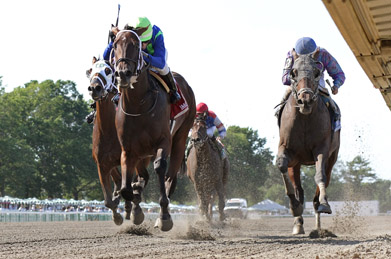 MONMOUTH PARK TAKES FOOD & BEVERAGE IN-HOUSE;
NEW CONCESSIONS, MENUS AWAIT 2017 RACING FANS
Oceanport, N.J. – Monmouth Park Racetrack kicks off its 2017 racing season on Saturday, May 13, and right from the onset fans will notice one big change – food and beverage.For the first time, famous local and national concessionaires will dot the Monmouth Park Grandstand adding their culinary treats to an array of new menus and food options throughout the racetrack.
"It's an exciting new time not just for Monmouth Park, but more importantly for our fans," said Thomas Barone, vice president of food and beverage."From the parterres to the picnic area and everywhere in between, there are entirely new menus, food prices, drink specials and dining options."
Among the new stands are Jersey Shore favorite's Max's Famous Hot Dogs and Strollo's Lighthouse Homemade Italian Ice, the latter taking over the former arcade on the first floor of the Grandstand.Max's will be located a few short steps away in the former Boardwalk.Both will also have satellite locations in the picnic area.
Add to that Kentucky Ale, a Lexington-based brewer who has set up shop at the north end of the Grandstand.Among the menu will be their famous Kentucky Bourbon Barrel Ale, which is aged for up to six weeks in freshly decanted bourbon barrels from some of Kentucky's finest distilleries.
In addition, the New Jersey Craft Brew and 'Que stand will take over the concessions just outside the paddock.With a menu featuring classic barbecue items with a selection of craft beers, this new area will provide a true summertime fare.
"We want to give the fans what they want," Barone said."This is a summer facility and our new concessions and menu choices will reflect that.We're certain these changes will be just as well received as we are excited about bringing them to the racetrack."
The main dining room will feature a revamped menu, including fresh lobsters, rotisserie chicken, and of course Monmouth's famous crab cakes.The Lady's Secret Café will now showcase Panini's and salads, while offering the same libations that have made it a fan-favorite in the Clubhouse.A new "pirate ship" has set up shop in the picnic area for cocktails and the entire facility will feature drink specials all season long.
Even the group sales menus have been revamped and now feature a variety of choices for picnickers, including a whole roasted pig to complement the traditional hamburgers and hot dogs.
The 2017 Monmouth Park racing season runs from May 13 through Sept. 10.For dining reservations, please call 732-571-5456.For group plans and pricing contact 732-571-5544, or visit www.monmouthpark.com.