Monmouth Park Stable Area Opens To First Arrivals With Opening Day Set For May 28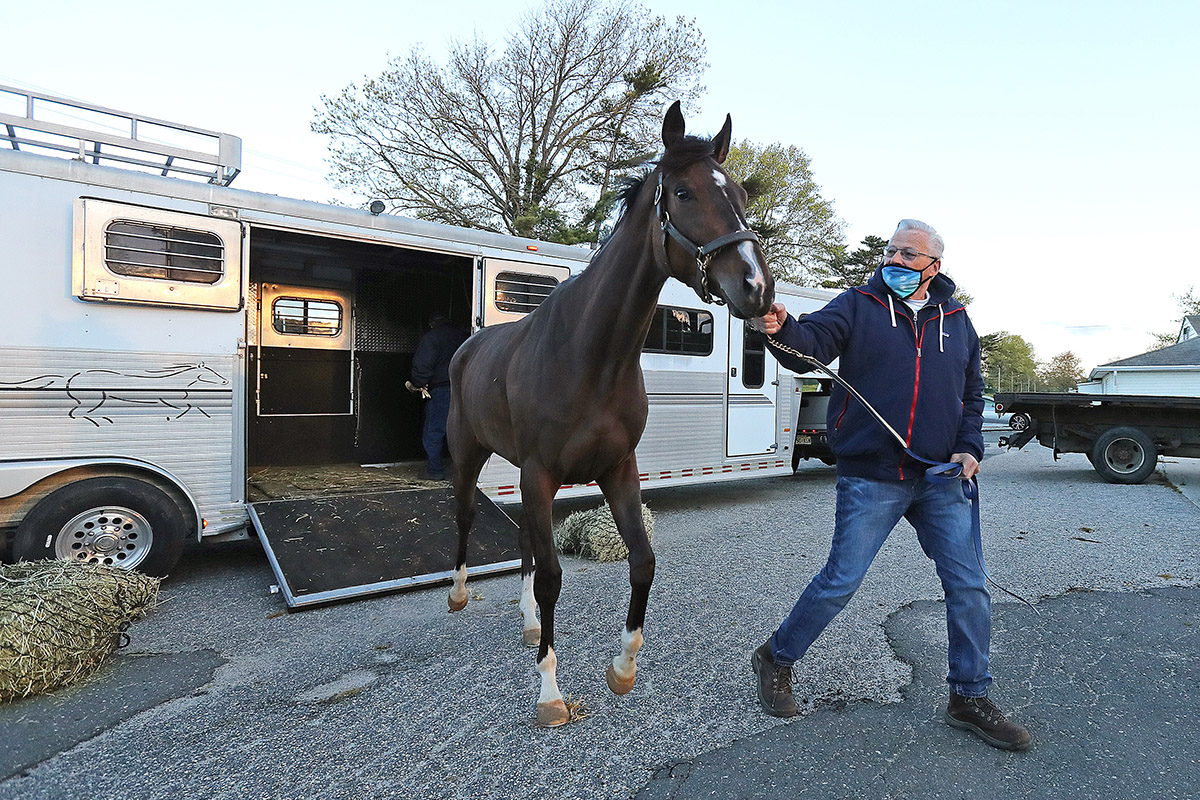 Trainer Chuck Spina wasn't as preoccupied with being the first arrival at Monmouth Park on Saturday morning on May 1 when the stable area opened as he was with simply getting started on his 51st year at the track.
It just worked out that the first two vans to enter the backstretch shortly after 6 a.m.  were each transporting four of Spina's horses, officially starting the countdown to Monmouth Park's 76th season. The 53-day meet gets under way with four straight days of live racing over the Memorial Day weekend from May 28-31. The meet will run through Sept. 26.
"I'm not always the first to get here but I'm usually among the first," said the 72-year-old Spina, who has a short commute to the track from his home in Monmouth Beach. "I'm excited to be back. I don't go to Florida over the winter. We freshen up our horses. So I'm anxious to get back and get going."
Bridge to Brooklyn was the first horse led off the van by Spina and quickly settled into Barn 14, which has been the veteran conditioner's base of operations at Monmouth Park for the past 30 years.
The surrounding barns will fill up shortly, with demand for stall space this year as high as it has been in recent memory, according to John Heims, Monmouth Park's director of racing and racing secretary.
"The response from the horsemen for stall space has been outstanding," said Heims. "We're oversubscribed for the first time in quite some time, and it's a great position to be in. We'll do all we can to accommodate as many horsemen as we can, who in turn will allow us to put on a tremendous racing product for our fans all summer long.
"There's a buzz about getting back to Monmouth Park and the reality is we can't wait to get started."
New Jersey native Kelly Breen, who won his third Monmouth Park training title last summer, will be eying a repeat with another strong contingent. Hall of Fame trainer Jerry Hollendorfer, coming off a successful first season at Monmouth Park a year ago, is also back with a wide-ranging group of runners, as is Chad Brown.
Star power will be in abundance in the backstretch, with Todd Pletcher sending a string that will have both quality and quantity. Hall of Fame trainer Steve Asmussen will have a formidable presence for the first time, as will Saffie Joseph, Jr. All three will have full barns.
Monmouth will feature 46 stakes overall (10 graded) worth $6.15 million, as well as another strong New Jersey-bred program.
The centerpiece of the meet is the $1 million TVG.com Haskell Stakes on July 17. Authentic won the Haskell a year ago before going on to capture the Kentucky Derby.