Monmouth Park Seeks Partners for New Simulcast Venture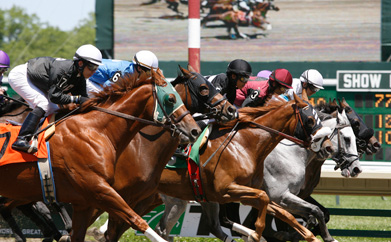 Oceanport, N.J. – Monmouth Park Racetrack is looking for new partners to participate in a pilot program that allows the expansion of simulcast wagering throughout northern New Jersey. 
          "It's an exciting way to bring horse racing even closer to fans, while simultaneously driving business to new locations that partner with us on this program," said Bill Knauf, vice president of business operations for Monmouth.  "We invite anyone who's interested to contact us to discuss this exciting new opportunity." 
          The program will call for the installation of a kiosk at the new locations from which individual playing pads can be obtained to wager on horse racing.  The machine will accept cash or credit card and pay out cash to winning patrons. 
          Via New Jersey statute, the program allows for restaurants and taverns to install the necessary equipment to facilitate horse race wagering at their establishments.  Monmouth Park has created a "turnkey" operation with no cost to the host facilities that meet the criteria. 
          Those interested in being considered for this new program should contact Bill Knauf (bknauf@monmouthpark.com) or Michael Vukcevich (mvukcevich@monmouthpark.com) or call 732-222-5100.