Monmouth Park Schedule to Go from May 13 – Sept. 10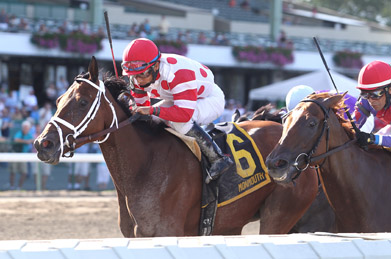 The first of 50 days of live Thoroughbred racing at Monmouth Park this year commences on Saturday, May 13, as the Jersey Shore racetrack gears up for its 72nd season of sport. 
            Through June 4, live racing will be Saturdays and Sundays with the addition of a special Monday card on Memorial Day.  After which Fridays through Sundays will prevail starting June 9 and going through closing day.  Another holiday card will be offered on Labor Day, Sept. 4. 
            First post daily will be 12:50 p.m., with the exception of July 30 – Haskell Day when post time is set for noon. 
            In addition, New Jersey transit's North Jersey Coast Line will stop daily at the racetrack for both north and southbound trains every racing day. 
            General admission to the track is $5 (seniors $3). Clubhouse admission is $7 (seniors $4).  General parking is $5, with valet offered at $10. 
For more information visit www.monmouthpark.com, or call 732-222-5100.