Monmouth Park Receives Re-Accreditation From NTRA Safety And Integrity Alliance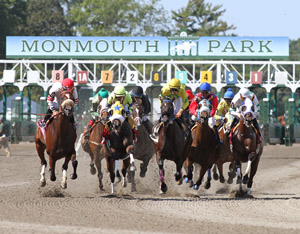 LEXINGTON, Ky. – The National Thoroughbred Racing Association (NTRA) announced today that Monmouth Park has earned re-accreditation from the NTRA Safety and Integrity Alliance.
The Oceanport racetrack opens its 61-day meet on Saturday, May 4 – Kentucky Derby Day – with the Grade 1 TVG.com Haskell Invitational on Saturday, July 20, again headlining a season that will feature 64 stakes worth $7.1 million.
The re-accreditation of Monmouth Park was the culmination of a lengthy process that began with the track's completion of an extensive written application and continued as the track hosted several meetings with Alliance officials. An on-site review included inspections of all facets of the racing operations. Interviews were conducted with track executives, race rack personnel, jockeys, owners, trainers, veterinarians, stewards and regulators.
The inspection team was comprised of Steve Koch, executive director of the NTRA Safety & Integrity Alliance; Mike Kilpack (security consultant), Dan Fick (race track operations consultant), and Dr. Greg Taylor (veterinary and regulatory consultant).
Alliance certification standards address an extensive list of safety and integrity concerns within six broad areas: injury reporting and prevention; creating a safer racing environment; aftercare and transition of retired racehorses; uniform medication and testing; jockey health and welfare; and wagering security.
Monmouth Park first received accreditation in 2009, the Alliance's inaugural year, and has maintained accreditation continuously since. All accreditations and re-accreditations carry an effective period of two years.
Monmouth Park is one of 23 racing facilities fully accredited by the Alliance that together host 90 percent of Grade 1 stakes and attract more than 75 percent of North American parimutuel handle.
The other accredited racetracks are Aqueduct Racetrack, Arlington Park, Belmont Park, Canterbury Park, Churchill Downs, Del Mar Thoroughbred Club, Fair Grounds Race Course, Finger Lakes Gaming & Racetrack, Golden Gate Fields, Gulfstream Park, Indiana Grand, Kentucky Downs, Keeneland, Laurel Park, Los Alamitos Race Course, Pimlico Race Course, Santa Anita Park, Saratoga Race Course, Suffolk Downs, Sunland Park, Turfway Park, and Woodbine.
The NTRA Safety & Integrity Alliance is a standing organization establishing standards and practices to promote safety and integrity in horse racing and to secure their implementation. Corporate partners of the Alliance include Insurance Office of America and Hagyard Equine Medical Institute. Information on the Alliance, including the Alliance Code of Standards, can be found at NTRAalliance.com.