Monmouth Park Once Again A Handicapping Industry Leader; Track to Send More Than 30 Players to the 2018 NHC in Las Vegas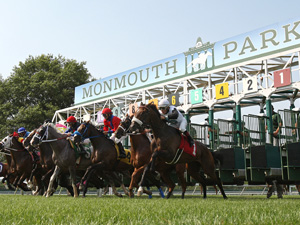 MONMOUTH PARK ONCE AGAIN A HANDICAPPING CONTEST INDUSTRY LEADER;
TRACK TO SEND MORE THAN 30 PLAYERS TO THE 2018 NHC IN LAS VEGAS
OCEANPORT, N.J. – With four players already having qualified for the 2018 National Horseplayers Championship in Las Vegas this calendar year and nearly 30 more seats available before the year's end, Monmouth Park is yet again the nation's preeminent destination for handicapping contest participants.
Approximately 35 players will qualify for the NHC at Monmouth Park this season – far more than at any other racetrack in the country.In addition, seven players will earn a seat in the $10,000 Breeders' Cup Betting Challenge through Monmouth events in 2017.
"The tri-state area is home to some of the best handicappers in the country, and from Day One, Monmouth Park has been at the forefront of on-site, live-money handicapping contests," said Brian Skirka, marketing manager and handicapping contest coordinator at Monmouth Park."The world of contests is continually changing as online qualifiers become more popular, but one thing has never changed and will never change – players looking for the country's best handicapping contests should look no further than Monmouth Park."
The season's featured handicapping contest event is the $2,000 Pick Your Prize Challenge on Saturday, June 3.Held for the first time a year ago, this innovative contest offered $140,000 worth of NHC seats, BCBC seats and cash in 2016, and allows its top finishers to choose their prizes.Pre-registration is required for the Pick Your Prize Challenge and players can sign up by contacting Skirka at 732-571-6595.
A pair of $250 contests will take place in July – each offering two seats in the 2018 NHC.The first of the two – taking place on Saturday, July 1 – also awards $2,500 towards a BCBC entry.The top two finishers of the Saturday, July 22 event will be packing their bags for Vegas for the NHC.
A $500 Super Qualifier will take place on Travers Day, Saturday, August 26.For the first time, this event will also allow players to pick their prize from an offering of NHC seats, BCBC seats and cash.
For a complete schedule of Monmouth Park's handicapping contests, players can go to www.monmouthpark.com/contests.