Monmouth Park GM Bill Anderson Named 2021 Recipient Of Virgil "Buddy" Raines Award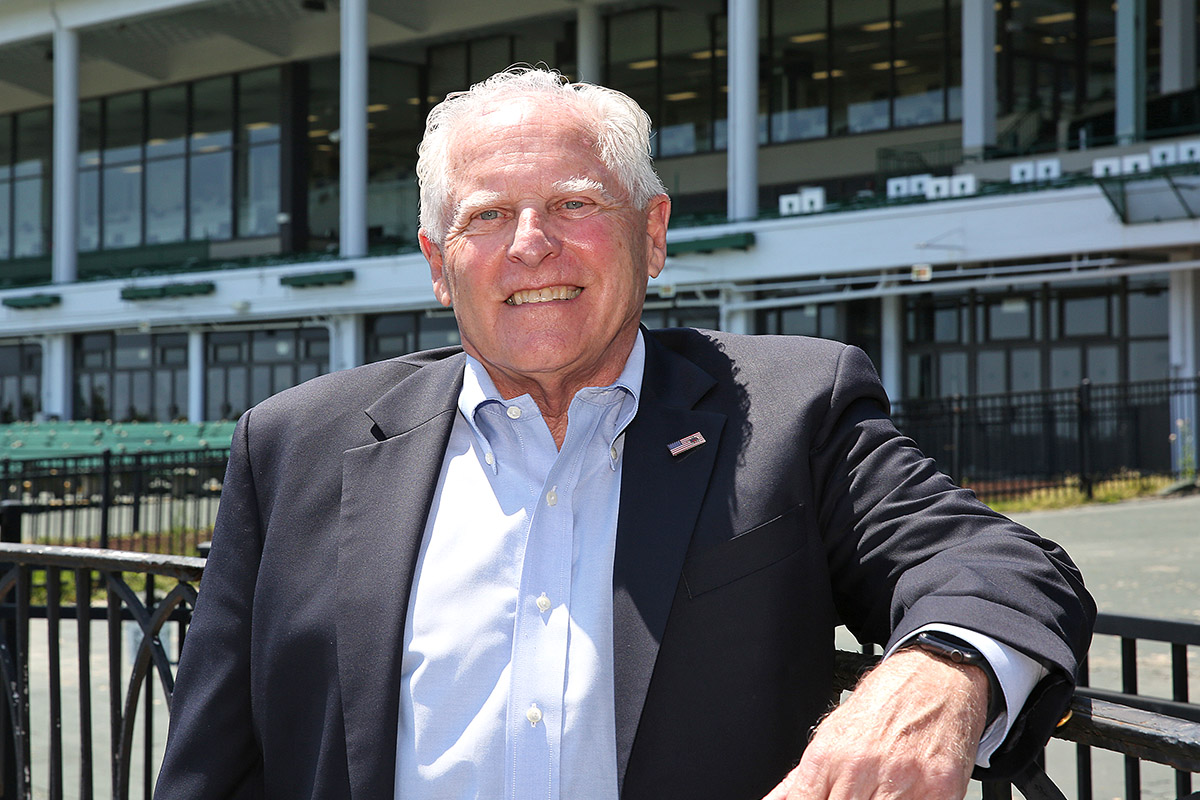 The biggest disappointment of Bill Anderson's teen years was coming to grips with the realization that he could no longer make weight to be a jockey. For his professional future it turned out to be the best thing that could have happened to him.
A fixture at Monmouth Park since 1980 in a variety of roles, Anderson – currently the track's general manager – has been named the 2021 recipient of the Virgil "Buddy" Raines Distinguished Achievement Award, it was announced today.
The Raines Award, now in its 26th year, is presented annually just prior to Monmouth Park's season opener. The track's 76th season of live racing gets underway on Friday, May 28.
Anderson, a former trainer and track superintendent at Monmouth Park, finds his name added to a prominent list of past Raines Award recipients who have been recognized for their professionalism, integrity and service to Thoroughbred racing.
"It's a great honor and it's especially meaningful for me because I know or knew everyone who has received this award, including Buddy Raines," said Anderson. "Monmouth Park is my home and has been for quite a while now. So it means a lot to me personally to receive this award."
Anderson's Monmouth Park-based training career spanned from 1980 to 2012 and produced 857 winners, including Grade 3 winner J J's Lucky Train. He transitioned to being Monmouth Park's track superintendent in 2012 before being named general manager in 2016.
"It's a well-deserved honor for someone who has been synonymous with Monmouth Park for as long as I can remember," said Dennis Drazin, Chairman and CEO of Darby Development LLC, the operators of Monmouth Park. "His work ethic and passion for Monmouth Park are things that have never wavered, from his days as a trainer to being the track superintendent to his current role as general manager."
Anderson, who hails from Minnesota, began galloping and riding horses as a teenager in the late 1950s, getting his jockey's license at the age of 16. He started riding quarter horses at Fort Pierce, South Dakota, before weight issues forced him to go in another direction. He then worked for both D. Wayne Lukas and Clyde Rice during their quarter horse days in the early 1960s before transitioning to Thoroughbreds in the late 1970s.
"When I look back it's hard to believe where my life has taken me," said Anderson. "I started at Midwest tracks that few people have ever even heard of. I thought Jefferson, South Dakota, was the big time. I've been very fortunate to have been in this business as long as I have been."
Monmouth Park's 53-day meet gets underway with four straight days of live racing over the Memorial Day weekend from Friday, May 28, through Monday, May 31. Racing will be conducted on a Friday through Sunday schedule throughout the summer.
Post times on Friday is 5 p.m. Post time on Saturdays, Sundays and special Monday holiday cards is now 12:15 p.m.
The list of previous Raines Award winners:
1996: J. Willard Thompson
1997: Danny Perlsweig
1998: Warren A. "Jimmy" Croll
1999: Joe Pierce Jr.
2000: Peter Shannon
2001: Dennis Drazin
2002: Sam Fieramosca
2003: Charles and Marianne Hesse
2004: Janet Laszlo
2005: Richard Malouf
2006: John Forbes
2007: Ben Perkins Sr.
2008: Gerald and Carolyn Sleeter
2009: Joel Kligman
2010: John Tammaro III
2011: Frank Costa
2012: John Mazza
2013: Ebby Novak
2014: Chuck Spina
2015: Bob Baffert
2016: Ed Barney
2017: Bob Kulina
2018: Mike Musto
2019: Tim Hills
2020: Leonard Green