Monmouth Park, BetMakers Again Offering $1 Million Bonus For Sweeping Three Designated Races Starting With Haskell Stakes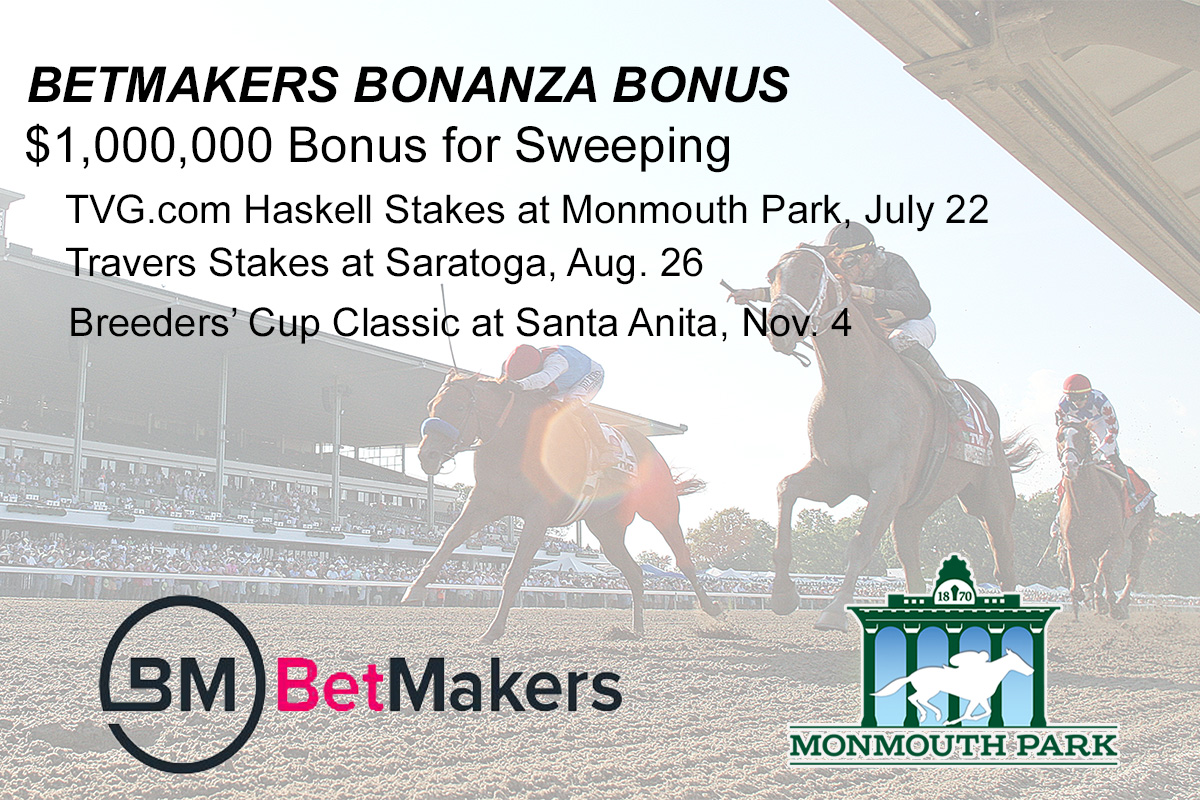 Monmouth Park and BetMakers Technology Group will partner for the fourth straight year as sponsors for the $1 million "BetMakers Bonanza" bonus for the connections of any horse that sweeps a series of three designated races, it was announced today.
To earn the seven-figure bonus, a horse has to the win the Grade 1 TVG.com Haskell Stakes at Monmouth Park on July 22, the Travers Stakes at Saratoga on Aug. 26 and the Breeders' Cup Classic at Santa Anita on Nov. 4.
In 2020, Authentic was able to take down the $1 million bonus for winning all three designated races in the COVID-19 altered racing schedule that year.
"As part of our ongoing partnership with BetMakers we're pleased to be able to offer the BetMakers Bonanza bonus for a fourth straight year," said Dennis Drazin, the chairman and CEO of Darby Development, LLC, the operators of Monmouth Park. "The commitment that BetMakers has made to racing in New Jersey has had a significant impact."
Australia-based BetMakers previously teamed with Monmouth Park to make fixed odds wagering available at the Jersey Shore track, making it the only racetrack in the United States to offer such wagering. With fixed odds, which has been expanded this year to include a variety of racetracks in addition to Monmouth Park, bettors get the odds at the time of their bet.
Fixed odds wagering is available in New Jersey through the Monmouth Bets app.
The $1 million Haskell Stakes, the centerpiece of the Monmouth Park meet, will be contested for the 56th time and offers the added inducement as a "Win and You're In Classic Division" reward for the Breeders' Cup Classic.
"With individual winners of the three Triple Crown races, champion 3-year-old is up for grabs — so what better way to make a claim for it now than to win the Haskell, grab the Travers and then line up in the Breeders Cup for not only the likelihood of that title, but an extra $1 million with the BetMakers Bonanza?" said Dallas Baker, Head of International Operations for BetMakers. "Monmouth Park, under the leadership of Dennis Drazin, continues to be one of the great innovators in the U.S. racing industry and we are proud to not only to support the concept of the Bonanza, but all the other projects we continue to work side by side with Monmouth Park on."
Authentic won the Haskell Stakes, following that with victories in the Kentucky Derby and Breeders' Cup Classic, on the way to Horse of the Year honors in 2020. The Kentucky Derby was rescheduled from its traditional spot the first Saturday in May to Sept. 5 that year.