Monmouth Park Announces New Health Protocol for Shippers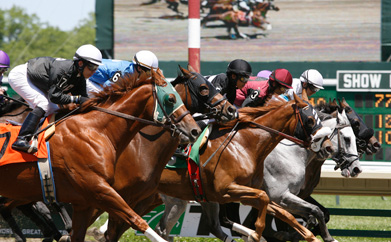 In the wake of a number of cases of equine herpes at nearby Parx, Monmouth Park Racetrack has announced a new protocol for all horses shipping to the Jersey Shore track for its 2016 season. 
All horsemen with horses shipping to the Monmouth Park stable area must meet the following requirements: 
All horses, including ponies, must be vaccinated for the EHVI herpes virus outside seven days and within 90 days.Documentation must accompany the horse upon arrival.  All horses must have a 72-hour health certificate accompany the horse upon arrival.  Temperatures must be taken on all horses prior to loading on vans and must be documented.  All horse vans should be properly disinfected prior to loading horses.  All horsemen should follow proper bio-security procedures. 
"It is vital that we take every precaution to ensure the health and safety of our equine athletes," said Michael Anifantis, Monmouth Park's Director of Racing and Racing Secretary."These new procedures will make certain our stable area remains healthy for our upcoming racing season." 
Monmouth Park's stable area opens on Saturday, April 23.The track will open for training on Monday, April 25.Live racing returns to the Jersey Shore on Saturday, May 14. 
Horsemen with questions or concerns may contact the Monmouth Park racing office at 732-571-5530.