Money Multiplier Tops Haskell Undercard In Monmouth Stakes; Sharp Azteca Sets Track Record In Monmouth Cup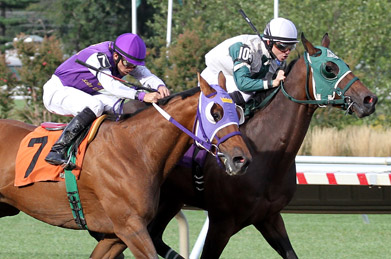 MONEY MULTIPLIER TOPS HASKELL UNDERCARD IN MONMOUTH STAKES;  
SHARP AZTECA SETS TRACK RECORD IN MONMOUTH CUP 
            Oceanport, N.J. — Money Multiplier proved the long layoff was no problem as he made his first start of the year a triumphant one in the 9th running of the Grade 2, $200,000 Monmouth Stakes on the betfair.com Grade 1, $1 million Haskell Invitational undercard at Monmouth Park on Sunday. 
            Owned by Klaravich Stables and William H. Lawrence and trained by reigning Eclipse Award-winning trainer Chad Brown, who are the same connections of Haskell participant Practical Joke, Money Multiplier's class shone through as the 4-5 favorite in the field of six after covering the 1 1/8 miles on the firm turf course in 1:47.91. 
            After being steadied in the first turn under Javier Castellano, Money Multiplier raced into contention as the field headed up the backstretch and covered the half-mile in 50.24 and went the next quarter in 1:13.07. Money Multiplier made his decisive move on the far turn and when Castellano set him down for the drive to the wire, he pulled away late to finish 1 ½ lengths in front. 
            Irish Strait, who chased the winner gamely and ran his heart out down the stretch, was the runner-up, 2 ½ lengths in front of the 8-year-old Kharafa. Smooth Daddy, Thatcher Street and Bolting completed the order of finish. 
            "He broke really well. I felt that the pace was slow, so I didn't want to move too early on him. I got him to the outside and in the clear and he started to roll. You saw how fit he was when he was just galloping along at the half mile pole. He seemed to just enjoy the ride the way he did it," said Castellano, the reigning Eclipse Award-winning jockey. 
 Money Multiplier, who was second in Monmouth's Grade 1 United Nations Stakes over this Course in 2016, was making his first start of 2017 and first since a 6th place finish in the Grade 1 Breeders' Cup Turf November 5.  
            "He ran good. It didn't quite work out the way I thought, with him getting jammed up behind a really slow pace. Javier (jockey Castellano) used good judgment to pull him out of there and just pass everyone. When you have someone like Javier, with his level of experience, he can call those audibles in the middle of a race.  We'll look to the Sword Dancer (G1, Saratoga, Aug. 26) next," said Brown. 
 Money Multiplier, a 5-year-old son of 2010 Haskell winner and champion Lookin at Lucky out of the Unbridled's Song mare Intensify, has now won four of 16 starts as he upped his bankroll to $773,917. He returned $3.80 for a $2 wager. 
 In the 43rd edition of the Grade 3, $100,000 Monmouth Cup, Geldenstein Farms Sharp Azteca proved that racing around two turns was well within his reach as the multiple graded stakes winner set a new track record while cruising to a dominating 7 ½ lengths victory.  
            The 4-year-old-colt, who is conditioned by Monmouth's perennial leading trainer Jorge Navarro, was dropping down from the runner-up position last time out in the Metropolitan Mile. While shouldering highweight of 123 pounds, Sharp Azteca assuredly outclassed the other three horses in the field while covering the 1 1/16 miles on a fast track in a record of 1:40.19.His final time eclipsed the old mark of 1:40.20 Formal Gold set almost 20 years ago on August 23, 1997. 
            "Mission accomplished. We put the mile and a sixteenth away," said Navarro, in reference to having the colt win a two-turn stakes race in advance of his scheduled run in the Breeders' Cup Dirt Mile, a two-turn race at Del Mar. "And it was a relief to get him back in great shape. He almost got loose in the barn last night and cut his head. Then on the way over to the paddock today, he flipped. He was okay, but it was another worry. It was fantastic to see him run so well after all that." 
 Dispatched as the 1-5 favorite and ridden confidently by Paco Lopez, Sharp Azteca was content to sit just off the pace as Classy Class set splits of 23.94, 47.13 up the backside. By the time they raced through the far turn in 1:10.69, Sharp Azteca was in his groove and taking command, and when he reached the top of the lane, he dusted off his rival. From there Sharp Azteca easily increased his margin of victory through the stretch in what resembled a paid workout.  
            Donegal Moon closed willingly to be second, another 7 ½ lengths in front of Just Call Kenny while Classy Class faded to last. Scuba was a scratch. 
            "He was sitting very relaxed in second early on. I waited and waited and then pushed him a little at the 3/8ths pole and he started to pick it up. I only asked him a little and he took off. He's a really great horse," Lopez said. 
            The Kentucky-bred Sharp Azteca, who was third in the Godolphin Mile in Dubai earlier in the year, has now won six of 13 starts and improved his earnings to $956,740 with the $60,000 winner's share of the purse. The son of Freud out of So Sharp by Saint Liam returned $2.60 for a $2 wager. 
Navarro captured the Monmouth Cup for the first time, while Lopez won the race for the second time after having taken the 2013 edition with Pants on Fire. 
 In the Grade 3, $100,000 WinStar Matchmaker Stakes, European graded stakes winner Wekeela (FR) won her first North American stakes race and second straight race for owner Martin Schwartz and trainer Chad Brown while staging a mild upset in the field of six talented female turf specialists. 
            The Matchmaker marked the eagerly-anticipated first start of the year for multiple Grade 1 winner and Eclipse Award finalist Miss Temple City, whose only other 2017 start was a 13th place disappointment in the Grade 1 Queen Anne Stakes at Ascot in June. 
            But Miss Temple City, who is trained by Graham Motion, could fare no better than third. 
The race belonged to Wekeela, who was making her Monmouth debut and second start of the year after a pair of runner-up finishes in Grade 1 company last year. She covered the 1 1/8 miles over firm turf in 1:47.97.  
            Castellano, who also won the Grade 2 Monmouth Stakes on Money Multiplier for Brown, rode a patient and heady race, settling off the pace and saving ground. He then made the right decision to take the inside path when Judy's Chance drifted off the rail in the lane, and once she got smooth sailing, she closed willingly to win by 1 ¾ lengths.  
            "My plan was to be right behind the horses, saving as much ground as possible. You need to have a perfect trip to beat Miss Temple City and that's what happened. I was very aware of the situation. I took my shot riding the rail and it worked out great," said Castellano. 
 War Flag advanced on the far turn and closed strongly but had to settle for second. Miss Temple City was another ¾ lengths back. 
            "It set up just like we planned. Javier and I spoke in the paddock about how we had a terrific post position, but we had a lot of respect for both War Flag and Miss Temple City. We knew Wekeela was probably going to have to get a perfect trip to beat those two horses today, and Javier executed that perfectly. He used that good post position to save all the ground. Luckily the inside opened up and she got the jump on everybody and held strong," said Brown. 
The remaining order of finish was Judy's Chance, Giovanna Blues and Quiet Kitten. I Dream of Lois was scratched. 
            Wekeela is a 5-year-old daughter of Hurricane Run (IRE) and Moonrise (FR) who improved to 5-4-0 in 13 starts and now has lifetime earnings of $418,587. She returned $6.60 for a $2 wager. 
            In the 73rd running of the Grade 3, $100,000 Molly Pitcher Stakes, George Hall's Money'soncharlotte became a first-time graded stakes winner, as she won her second straight stakes race and took her third race in a row as she made every pole a winning one to upset a talented field of seven other fillies and mares while partnered with jockey Paco Lopez. 
 Sent off at 9-1, the locally-based Kelly John Breen-trainee set honest fractions of 23.78, 47.82, 1:11.64, and 1:36.33 and covered the 1 1/16 miles on a fast track in 1:42.80 as she held off a quick-closing Eskenformoney to cross the wire 1 ¼ lengths in front.  
 The Phipps Family homebred and 7-5 favorite Carrumba was bottled up around the turn but once she shook free she chased the winner through the stretch and otherwise had no excuse as she faded back to third, another 1 ¼ lengths behind. 
 "We pointed for this. Monmouth is her home track, and she's been training great. She's good right now, and when a filly is good, she's really good," said Breen. "Paco (jockey Lopez) told me before the race that he thought there was a lot of speed in the race and he wanted to take back. Okay. So then she's in front right after the break and I said to George (owner George Hall), 'That's Paco taking back.' A great win." 
 Said Lopez, who also won the Grade 3, $100,000 Monmouth on Sharp Azteca on the card, "I planned on sitting second or third, but when no one else was going, we did.  She was cruising up front and when we got to the ¼ pole I took a look back and didn't see anyone coming.  I asked her a little bit just to spurt away and she took off." 
            Money'soncharlotte paid $20.00 for a $2 win bet. The 5-year-old Kentucky-bred daughter of Mizzen Mast out of the Chimes Band mare Something Wicked has now has a record of 6-2-2 in 20 starts and has boosted her bankroll to $398,395. 
The complete order of finish was after the first three was Power of Snunner, Pleasant Mine, Mo' Green, Miss Inclusive and Behrnik's Bank. 
 Also on the undercard, the multiple New Jersey-bred champion Chublicious captured back-to-back editions of the $60,000 John J. Reilly Handicap (NJ), but the 126-pound highweight had to fight valiantly all through the lane in a ding-dong battle with Fast Friar to prevail by a head in 1:08.37. 
David Gruskos's Chublicious, who was coupled as entry with Visionary Ruler and sent off as the 4-5 favorite in the field of seven, stalked outside as Credo and Saucy Don battled through fast fractions of 22.80 and 44.91. Racing four-wide into the lane, Antonio Gallardo soon had to contend with Fast Friar and Joe Bravo, who challenged them all the way to the wire in what looked like a match race between the two as Visionary Ruler could do no better than 7 ½ lengths back to wind up third.   
 "That was really impressive, especially carrying 126 pounds.  I knew the five horse (Fast Friar) was the one I had to worry about, if anyone.  This horse has been training so good, and his last work showed me he was on top of his game.  I sat and waited for the five horse to move and when he did, I did.  My horse dug in so gamely.  It was a really nice run," said Gallardo. 
 Trainer Jorge Navarro, who won the Grade 3 $100,000 Monmouth Cup earlier in the day said, "When I got this horse (prior to the Monmouth meeting), he had only had three workouts. I knew what I had to do to get him ready for this. And he was ready. Three-quarters in 1:08 and change under 126 pounds. He's a nice horse." 
 Chublicious, who also won the Mr. Prospector Stakes at Monmouth in 2016 against open company, was bred in New Jersey by Joe-Dan Farm and is the 2016 champion Older Male and champion Sprinter. The 6-year-old gelded son of Hey Chub, the 2016 New Jersey Stallion of the Year, and Sassy Broad by Carson City won his 9th race in 20 starts and upped his earnings to $371,754.