Miss New York Rolls To 2 3/4-Length Score in Sunday's $100,000 Boiling Springs Stakes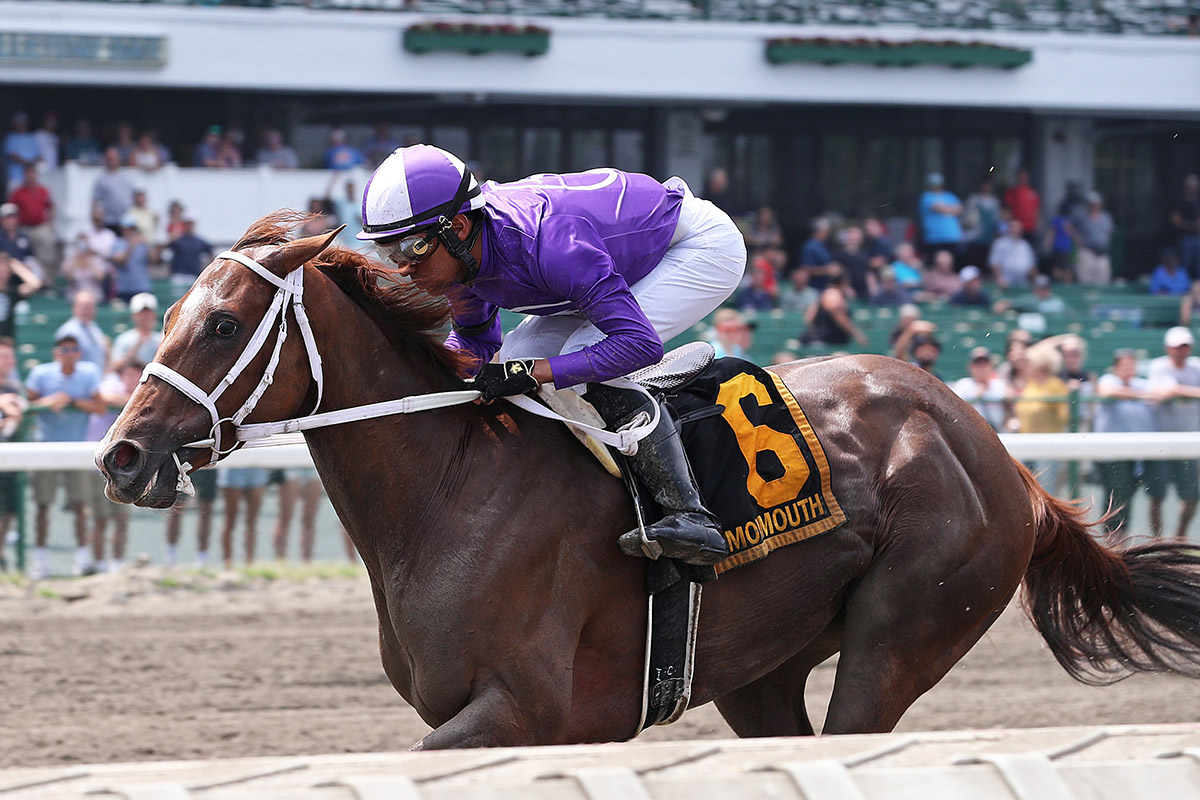 It took a little experimenting but trainer Jorge Delgado seems to have finally unlocked the key to Miss New York.
She's a dirt horse.
After trying either the turf or synthetic for nine of her first 11 career starts, Miss New York swept to 2¾-length victory with a powerful move around the turn in Sunday's $100,000 Boiling Springs Stakes at Monmouth Park.
The Kentucky-bred daughter of Good Magic returned $6.40 to win in the field of six 3-year-old fillies going a mile and 70 yards in recording the first stakes win of her career. She covered the distance in 1:44.07.
"She's definitely a dirt horse," said Delgado. "We weren't sure at the beginning, and she ran well on turf and on synthetic, so it seems like she'll run on anything, but I think she will stay on the dirt now. She always shows up in her dirt races."
In three previous dirt starts, Miss New York notched two wins and a third, the latter coming against older distaffers in the Lady's Secret Stakes in her last start on June 10.
"The difference is last time she was against older horses and this time she was in against 3-year-olds," said winning jockey Isaac Castillo.
With Cairo Sugar and Seduction battling for the early lead along with Crypto Mama – expected front-runner Atthecrossroads stumbled at the start – Castillo had Miss New York settled in the back of the pack and on the outside through fractions of :24.24, :48.11 and 1:12.73 for six furlongs.
With 11-10 favorite Shidabhuti slow to get going, Castillo gave his filly her cue with a three-wide move coming out of the final turn. By mid-stretch, after getting the jump on the Chad Brown-trained Shidabhuti, she was clear.
Shidabhuti rallied for second, 1¼ lengths ahead of Atthecrossroads.
"She can run wherever you want to put her but I have found that it's best to let her settle down and make one run," said Castillo. "She was really good today. I saw (Shidabhuti) was making a move after we made ours coming out of the turn so I just let her go and she was very strong to the end."
Delgado said the Lady's Secret Stakes turned out to be beneficial for this race for Miss New York, owned by AMO Racing USA.
"After the last race, when she raced against older horses, I saw some maturity from her," said Delgado. "You can see she is starting to figure it out. The last race was a good set-up for this race. She had a beautiful trip today. Isaac rode a perfect race. He had good position and gave her every chance to win. She beat a good group of horses today."
Miss New York now has three wins from 12 career starts.