Millie Fleming, President Of Thoroughbred Breeders' Association of New Jersey, Named Recipient of 2022 Virgil "Buddy" Raines Award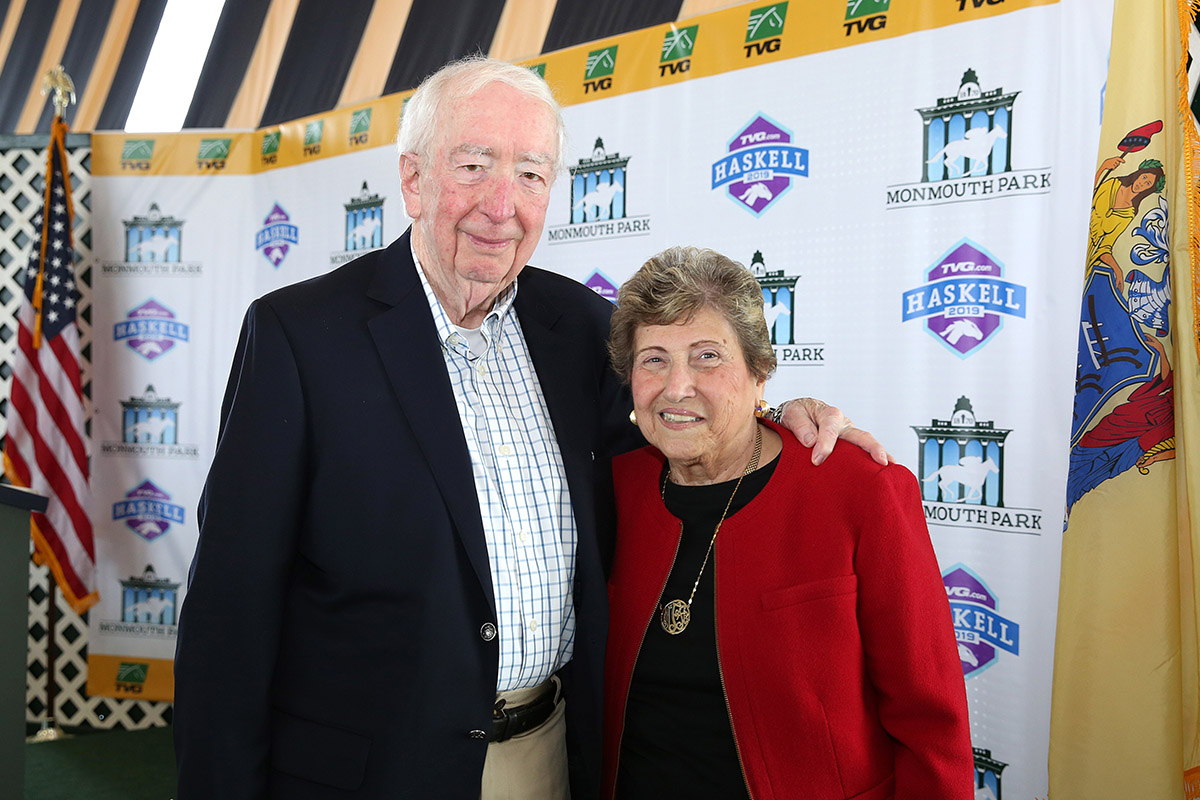 Millie Fleming had no idea what she was getting into 46 years ago when her husband suggested the couple buy a Thoroughbred race horse. That $7,500 claimer – named JoAnn's Pet – launched a career that would see Fleming rise to be the president of the Thoroughbred Breeders' Association of New Jersey.
The long-time breeder and owner of New Jersey-bred horses, currently in the final year of her six-year term as president of the Thoroughbred Breeders' Association of New Jersey, has been named the 2022 recipient of the Virgil "Buddy" Raines Distinguished Achievement Award, it was announced today by Monmouth Park.
The Raines Award, now in its 27th year, is presented annually just prior to Monmouth Park's season opener. The track's 77th season of live racing gets underway on Saturday, May 7.
"This means the world to me. I know the elite company I'm in," said Fleming. "I'm the first breeder to receive this award so it truly is special to me."
Fleming who also served as treasurer of the Thoroughbred Breeders' Association of New Jersey, said her love for horses and racing happened almost from the moment she gave the okay to her husband Larry to buy their first horse in 1976.
"I took to it right away," she said. "I quickly learned everything I could because I loved it immediately. Within a year of buying that first horse we had five. Things took off from there."
Fleming is still active as both an owner and breeder.
"As an owner of New Jersey-bred horses I'm especially appreciative of the work Millie Fleming has done through the years for both horse racing and the breeding industry in the state," said Dennis Drazin, Chairman and CEO of Darby Development, LLC, operator of Monmouth Park. "She has been selfless in her resolve to improve breeding in New Jersey and we're seeing the results of that now. She is a very worthy recipient of the Raines Award."
Fleming, who also taught Equine Studies at Centenary College in Hackettstown, said she is proud of the strides that have been made for New Jersey-breds during her six years as president of the Thoroughbred Breeders' Association of New Jersey.
"I think we have a good Jersey-bred program right now. I really do," she said. "Just look at the money you can make with a New Jersey-bred now. A lot of that is due to Dennis Drazin and Monmouth Park."
Fleming hopes to be able to take advantage of the lucrative purses for Jersey-breds that will be a large part of Monmouth Park's 62-day meet, culminating with the New Jersey Thoroughbred Festival on Aug. 28.
"Have I had any big horses? No, not yet," she said. "I had a couple of good ones in Basic Trick and Cee the Country. They both earned over $230,000. But I'm still trying and hoping."
The list of previous Raines Award winners:
1996: J. Willard Thompson
1997: Danny Perlsweig
1998: Warren A. "Jimmy" Croll
1999: Joe Pierce Jr.
2000: Peter Shannon
2001: Dennis Drazin
2002: Sam Fieramosca
2003: Charles and Marianne Hesse
2004: Janet Laszlo
2005: Richard Malouf
2006: John Forbes
2007: Ben Perkins Sr.
2008: Gerald and Carolyn Sleeter
2009: Joel Kligman
2010: John Tammaro III
2011: Frank Costa
2012: John Mazza
2013: Ebby Novak
2014: Chuck Spina
2015: Bob Baffert
2016: Ed Barney
2017: Bob Kulina
2018: Mike Musto
2019: Tim Hills
2020: Leonard Green
2021: Bill Anderson