Meru Looking To Follow Up "Eye-Popping" Debut In Saturday's Smoke Glacken Stakes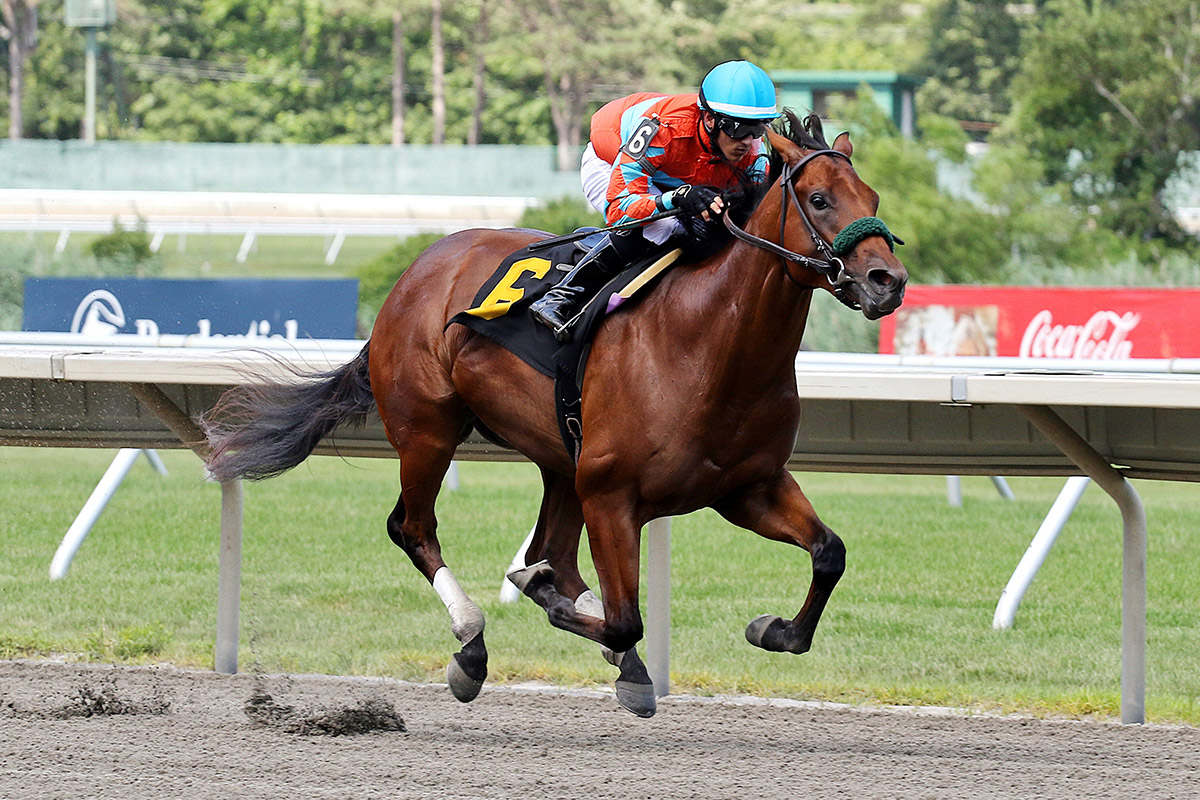 After a debut performance that trainer Jorge Duarte, Jr., described as "eye-popping," 2-year-old colt Meru will test stakes company in Saturday's Smoke Glacken Stakes at Monmouth Park, still offering the potential to be any kind of horse.
Off first impressions there's plenty of reason for optimism for what the future holds.
"This horse really hasn't done much wrong," said Duarte. "He's a high energy horse. That's the one thing we noticed immediately with him and why we had him make his first start locally.
"He was a little bit intense in the paddock before his race. So we turned him out after that and freshened him up a bit. We didn't go crazy with going to Saratoga or maybe somewhere else because we thought it would be a little too much for him to blend in at this point in his career. So this race, being an easy ship for him, made sense."
A Kentucky-bred son of Sky Mesa-Lady Lavery by Elusive Quality, Meru was picked out by Colts Neck Stables farm manager Alan Goldberg at the Ocala Breeders' Sale for 2-year-olds in training in April, at a cost of $300,000.
His racing debut in a Maiden Special Weight race at five furlongs at Monmouth Park on July 13 resulted in an impressive 6¼-length win.
Duarte has been waiting for the next spot for Meru since then. The six-furlong Smoke Glacken, the feature on Saturday's 11-race card, was where he landed.
"We've been ready with him for weeks," said Duarte, who has 14 winners from 43 starters at the Monmouth meet. "We've just kind of been in maintenance works with him. He's ready to go. Everybody in the barn is hoping he can follow up that first start with another one."
Six other 2-year-old colts will oppose Meru, including the Jason Servis-trained All Eyes West and As Seen On TV, from Kelly Breen's barn.
All Eyes West was second in his debut (and only race so far), beaten a nose by the Duarte-trained Big City Bob, who went on to win the Sapling Stakes. As Seen On TV won his debut by a head on Aug. 24 at Monmouth Park.
"Meru has always shown ability, so what he did was not a huge surprise," Duarte said. "It was more the way he did it that was so impressive. He was very professional on the track.
"Knowing his behavior we thought we'd give him another run at Monmouth to get him more experience."
Duarte, who also conditions Goldwood, the only four-time stakes winner at the current Monmouth Park meet, said he is still waiting to see a little more before declaring Meru to be graded stakes caliber.
"The way he showed his first time out, I don't know if that was a fluke but we always knew he had ability and he showed it," Duarte said. "So I can't say yet. We all hope he is that good. But he has to show us on the racetrack."