Maximum Security To School In The Paddock For Fans On Saturday At Monmouth Park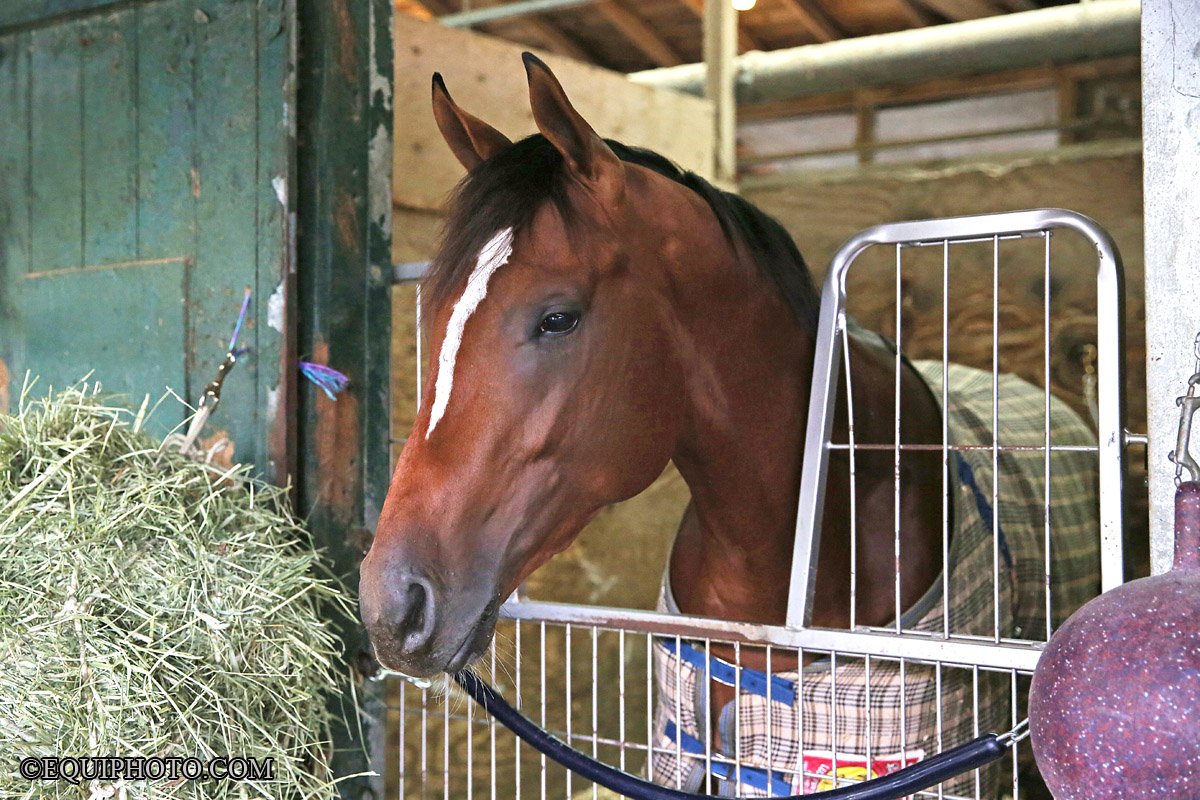 Maximum Security, whose popularity has soared since he was disqualified from first place in the Kentucky Derby, will make a public appearance for racing fans on Saturday at Monmouth Park when he schools in the paddock.
The Jason Servis-trained colt will be brought to the paddock area with the horses for Saturday's fifth race at approximately 2:20 p.m. before being led around the walking ring.
Servis said he has been "amazed" by the outpouring of support for Maximum Security, with more than two dozen cards and letters and a half-dozen floral bouquets having been sent to the horse's stall at Monmouth Park in the past two weeks.
"I don't know what it is, if it's the disqualification and people feel he was treated unfairly, but he seems to have touched a lot of people," said Servis. "I don't remember this ever happening with any of my other horses."
Maximum Security entered the Kentucky Derby unbeaten in four career starts, including a front-running victory in the Grade 1 Florida Derby. He finished 1¾ lengths ahead of Country House in the Kentucky Derby in another impressive front-running performance.
Servis said that Maximum Security, a son of New Year's Day-Lil Indy by Anasheed, will start training again on Thursday.
"Then we'll get a couple of days under his belt at the track," he said.
Maximum Security's next start remains uncertain, with Servis and owners Gary and Mary West still weighing their options.
"You never know when or why a horse will touch people the way he has," Servis said. "I'm amazed at all of the cards and flowers people have sent. It's a neat thing to see.
"I've spoken with Mr. West. Everyone connected with the horse appreciates the support racing fans have shown him."
Servis said the response to Maximum Security reminds him a little of what happened with Smarty Jones, the 2004 Kentucky Derby and Preakness winner trained by his brother John. The Servis brothers have adjacent barns at Monmouth Park
"Everybody loves a rags to riches story. It was that way with Smarty Jones," said John Servis. "He was a homebred and the owners and I had never been to the Kentucky Derby and he was undefeated after overcoming some problems early in his career. People really latched onto him.
"With Maximum Security, people see he made his first start in a $16,000 maiden claimer and just kept rising up the ladder. Racing fans love those kind of stories. It gives them a reason to hope and dream. You know people are thinking `that could be me some day.' "
Saturday's live card at Monmouth Park will complement simulcasting of the Preakness Stakes and the entire Pimlico card, which has a first race post time of 10:30 a.m. The Preakness Stakes is scheduled for 6:48 p.m.
Monmouth Park's gates open at 8 a.m. with a first race post of 12:50 p.m.