Maximum Security Re-Asserts Himself In Winning Saturday's TVG.Com Haskell Invitational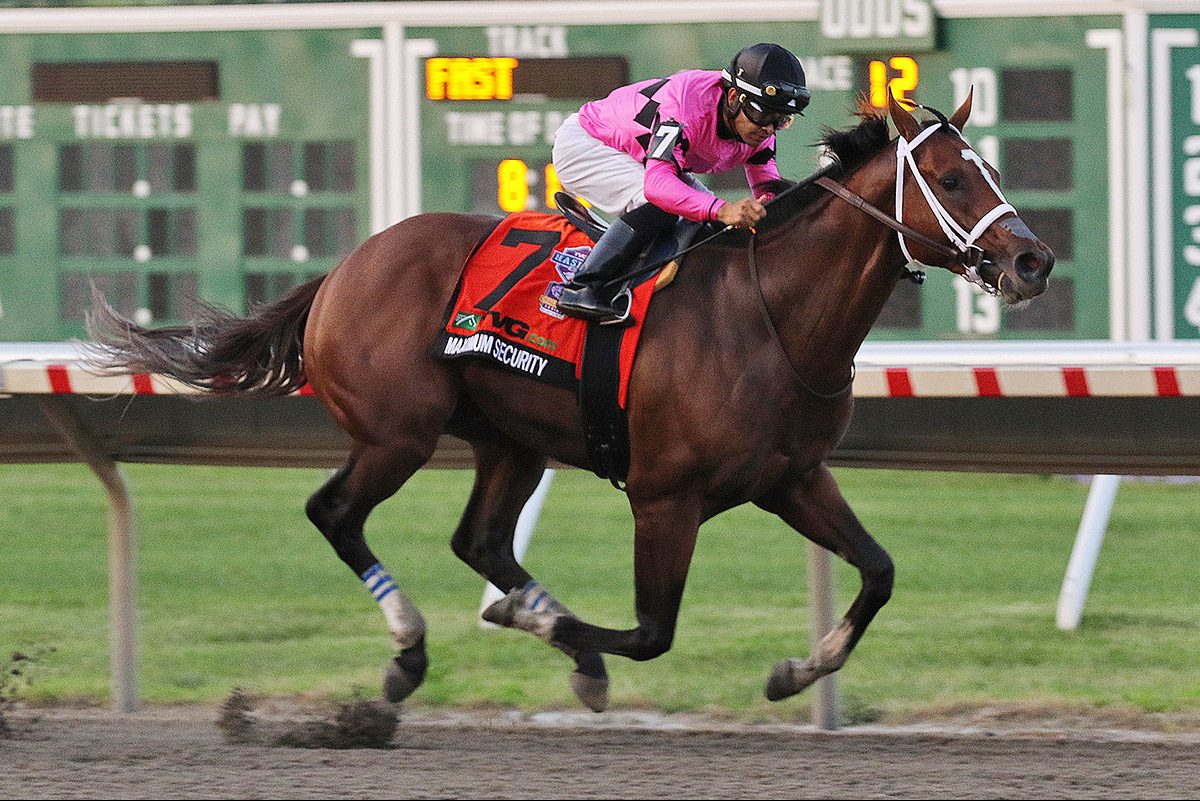 The 52nd running of the Grade1, $1 million TVG.com Haskell Invitational was worth the wait as Gary and Mary West's Maximum Security held off a relentless Mucho Gusto to re-assert himself as the leader of the 3-year-old division and earn a spot in November's $6 million Breeders' Cup Classic through the "Win and You're In" Challenge Series on Saturday on Monmouth Park.
"My horse has always been in top form. Of them all, he's now the only one to with two Grade 1 wins. He has to be at the top of the class," said Gary West, who bred and owns Maximum Security with his wife, Mary. "Am I prejudiced. Of course I am."
The Wests were part of the enthusiastic and faithful crowd of 25,173 on track for Monmouth's marquee race of the season, braving the oppressive heat and humidity that has gripped the entire region.
The Haskell, which originally was slated to go off at 5:45 p.m., was pushed back to 8:05 p.m. out an abundance of caution for the safety of the horses, jockeys, horsemen and racing fans. Following the second race, Monmouth cancelled all but the stakes races on the card and didn't resume racing until 6 p.m.
"We are grateful to the horsemen who participated today and to the fans who were treated to a spectacular race," said Dennis Drazin, Chairman and CEO of Darby Development, operators of Monmouth Park. "I am equally grateful to their dedication and resolve through a difficult time. As always, the safety of our horses and their riders remains paramount, and today's decision, as are all decisions, are rooted in that premise.
The delay certainly didn't slow down Maximum Security, the winner of the 2019 Grade 1 Florida Derby, who was rated beautifully by regular rider Luis Saez behind pacesetters Bethlehem Road and King for A Day before taking control in the lane.
But then the Bob Baffert-trained Mucho Gusto was gaining with every stride to his outside all down the lane and the pair dueled until Maximum Security displayed his considerable heart and talent as he pulled away to win by 1¼ lengths and covered the 1 1/8 miles on 1:47.56 on a fast track.
"When he was doing as well as he was coming up to the race I had every reason to be confident. My horse has a lot of heart. He does not mind going head-to-head with any horse," said trainer Jason Servis.
But the confidence of the connections took a temporary hit when the inquiry sign was posted as the stewards looked into an incident involving Maximum Security and King for a Day at the three-eighths pole. The inquiry was all too familiar for the Wests, Servis and Saez, who thought they won the Kentucky Derby with this horse, only to have Maximum Security disqualified from first for interference and placed 17th.
"In my mind my horse did nothing wrong. I saw other horses going backwards at that time so I had no concerns whatsoever that he would be taken down," said Gary West.
"I knew it was not going to happen," said Saez on the possibility of another disqualification.
Saez, who was aboard Maximum Security when he lost the Pegasus Stakes to King for a Day by a length in the last start for both after his horse stumbled at the start, made sure he got a clean break in the Haskell.
"I knew there was going to be a lot of speed in the race," said Saez. "I'm not going to go to the lead and let everybody press me, and I had the best post, I think. I just came out of the break from the gate and waited to see how fast they were going. When I saw that everybody wanted to take the lead I just stayed right there. And when he came to the half mile he put me inside in a pretty nice spot, he was traveling good. When I saw Mucho Gusto he came outside me, he came close to me and tried to beat me. I just let my horse run and he kept battling with him."
"That was exciting. I'm glad they didn't disqualify him (Maximum Security). That would have been awful," said Baffert, who was denied a ninth Haskell victory.
The multiple Grade 3-winning Mucho Gusto, sent off as the second choice at 3-1, impressed his rider as gallant in defeat.
"We had a perfect trip. I'm just really proud of my horse. It was a tough beat. But he gave it all," said Joe Talamo, who has been in the irons for all of Mucho Gusto's eight starts and was riding at Monmouth for the first time since the 2007 Breeders' Cup was held there.
Mucho Gusto wound up eight lengths in front of 34-1 shot Spun to Run while Everfast, King for a Day, and Bethlehem Road rounded out the field.
The expected speed duel was diminished a bit when Monmouth Park-based Joevia, third in the Belmont Stakes, was scratched.
"I got the trip I wanted just in behind the other horses. At the three and a half furlongs pole I started to ask my horse and he lugged out just a little. But the other horses just got away from us. But my horse ran well," said Paco Lopez, who rode Spun to Run.
With the win, Maximum Security improved to 5-0-1 from seven starts and became a millionaire as he upped his bankroll to $1,259,600. The victory also sets him up for an intriguing rematch with Gary and Mary West's homebred Game Winner in the Grade 1 Travers Stakes at Saratoga Aug. 24.
Game Winner, the defending 2-year-old Juvenile Male champion trained by Baffert, was no match for Maximum Security in the Kentucky Derby.
"That would be a great race," said Baffert.
Servis said that will ship Maximum Security to Saratoga in the coming days to prep for the Travers, but issued the caveat that it would only be 69 days between three tough races in the Pegasus Stakes, the Haskell and the Travers.
"Right now the Travers is the plan for this horse and Game Winner. We're going to take all the steps and see how it goes," said Gary West. "But Jason is the boss and he'll do whatever is right for the horse."
But for the moment, Servis was still basking in the glow of having just won his first Haskell with his best horse.
"I've been at Monmouth for 40 years and I worked for 22 years in the jockeys' room (as a valet). This means a lot to me," he said.