Maximum Security, Joevia Remain On Schedule For July 20 TVG.Com Haskell Invitational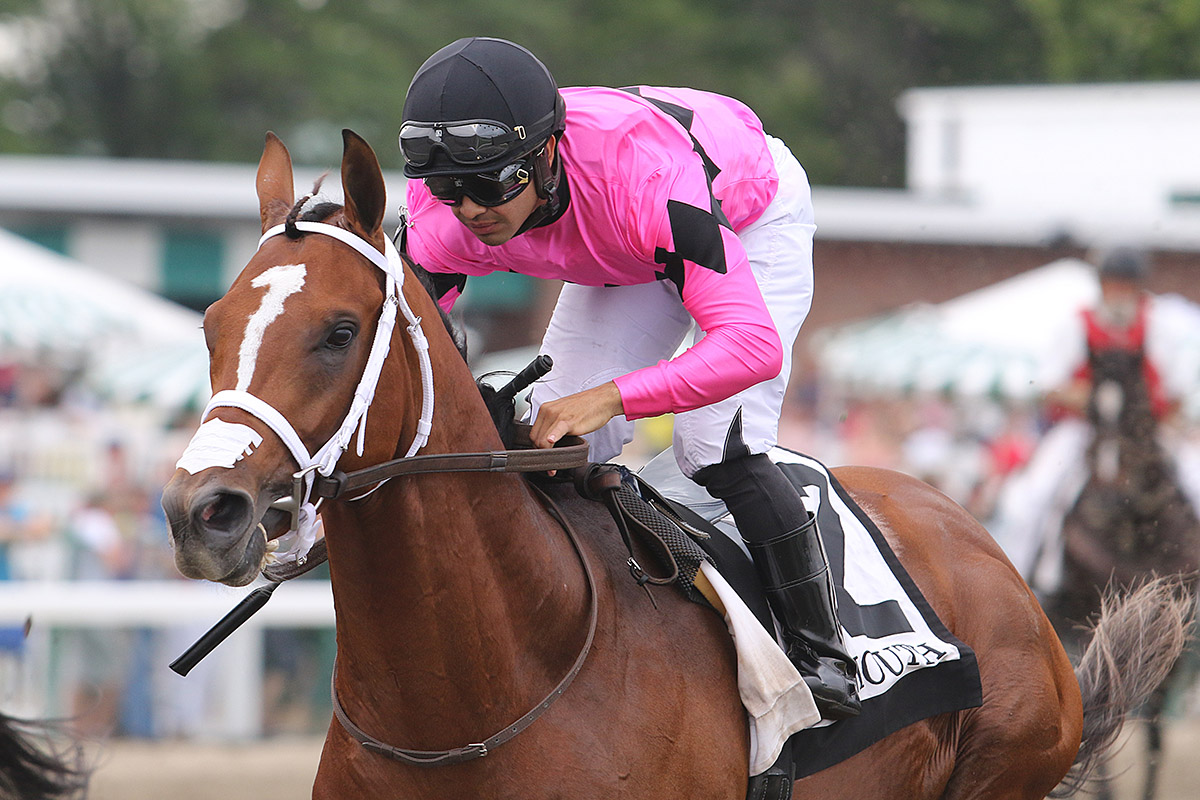 TVG.com Haskell Invitational contenders Maximum Security and Joevia remain on schedule for Monmouth Park's signature race on Saturday, July 20, with the trainers of both locally-stabled 3-year-olds saying they're pleased with the status of their respective horses as the field continues to take shape two weeks prior to the Grade 1 race.
Maximum Security, the first horse to be disqualified after winning the Kentucky Derby, worked a mile on Saturday, with trainer Jason Servis satisfied with what he saw.
"He's doing okay," said Servis. "It was all good. He went a mile in 1:54 – one minute the first half, 54 seconds the second half. I was happy with that."
Joevia, coming off a third-place finish in the Belmont Stakes, will work on Monday "weather permitting," said trainer Gregg Sacco.
"It's going to be a maintenance work with a good gallop out. Then we'll have one more (work) after that next Sunday (July 14) if the weather cooperates," said Sacco. "He's doing super. We're on schedule for the Haskell."
Sacco, whose family roots are tied to the opening of Monmouth Park in 1946 when his father William trained, said that having a Haskell Invitational contender "is a dream come true."
"It's incredible, really," said Sacco, who began training on his own in 1989 at Monmouth Park. "Growing up the way I did at Monmouth, with my dad training here since the track opened, watching as many Haskell races as I did as a kid … it's an incredible feeling to be this close to being in my first Haskell."
Maximum Security, beaten in his most recent start by a length in the TVG.com Pegasus Stakes on June 22 by Haskell contender King for a Day, looks to be closer to his pre-Kentucky Derby form, according to Servis. The Gary and Mary West-owned colt won the Kentucky Derby by 1¾ lengths before being disqualified to 17th for interference.
"I would say he is starting to point that way," Servis said of the Florida Derby winner. "Right now he's doing good."
The $1 million Haskell Invitational headlines a July 20 card that includes the Grade 3 Monmouth Cup, the Grade 3 Molly Pitcher Stakes, the Grade 3 WinStar Matchmaker Stakes, the Grade 3 Oceanport Stakes and the Wolf Hill Stakes.