Margotta Saddles Hanna Due In Thursday's Feature Hoping Monmouth Turnaround Continues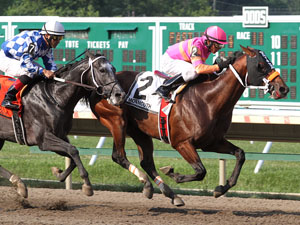 Anthony Margotta is a firm believer that streaks run both ways in horse racing, and that they can also change abruptly. That's why the veteran trainer is looking forward to the second half of the Monmouth Park meeting, starting with the first Thursday card of the year on Aug. 2 when he saddles Hanna Due in the featured $50,000 allowance for Jersey-breds. 
Prior to Saturday, Margotta had been 0-for-17 at the meeting. But two starters and two winners later – the first with Win With Character on Saturday, the next with Diamond Play the race after the Haskell Invitational on Sunday – has him believing that the turnaround has begun for his stable. 
"I've always believed that, in this business, when you're running good everything seems to go your way," he said. "But when things are not going good nothing seems to go your way. I've seen the greatest horsemen of all time go through some tough times. It happens in this business. You just have to keep the faith and know that things will eventually start going your way." 
Margotta is quick to point out that it hasn't been a lost summer by any stretch of the imagination. He won the $100,000 New Start Stakes at Penn National on June 2 with Bronx Beauty, won the $100,000 Obeah Stakes with Teresa Z at Delaware Park on June 16, was third in the Grade 2 Delaware Handicap and has had a 2-year-old win first time out, also at Delaware. 
But it's not the same as winning at Monmouth Park, where he is regularly based. 
"We were winning out of town. But it's frustrating when you don't win on your home court," he said. "What made the start here so tough is that we prepared in Florida for this meet. We were doing everything right. We just weren't winning. 
"But you know what? You can't go away from your game plan. Once you start doing that you're going to get yourself in a deeper hole. We stuck to the game plan, kept our faith and we're finally seeing the results we were hoping for." 
Hanna Due, a 4-year-old daughter of E Dubai-Hana J, symbolizes some of the early frustration for Team Margotta. In the same company in her last start on July 8 she was fourth – but with a trouble line. 
"She actually came up with a great performance her last race," said Margotta, who also has two horses entered for Friday's card. "If you watch the replay you'll see when they broke she steadied and was essentially left well behind the field. 
"I don't know if she would have beaten the winner, Blank Paige, but she would have been second. So I expect with a good break she should be right there." 
Margotta says he can see the difference around his barn after the victories last weekend, since winning seems to give everyone a boost. 
"Once you break the ice the pressure is off," he said. "What made the 0-for-17 start so frustrating is that it came here, at a meet we love. But when things aren't going your way that's when you have to work even harder. We knew we would break through. We knew it was just a matter of time." 
First race post for Thursday's eight-race card is 1:15 p.m. Friday's eight-race card also starts at 1:15 p.m., with post time for Saturdays and Sundays remaining at 12:50 p.m.