Marchitto Captures First SSC Qualifier of 2017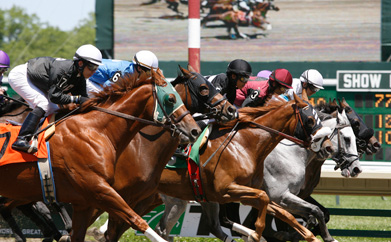 Playing in his first-ever handicapping contest, Joseph Marchitto of Freehold captured Monmouth Park's first Simulcast Series Challenge Qualifier of the 2017 season. 
Marchitto bested a total field of 197 entries by turning his $150 starting bankroll into $1,084.45.  For his efforts, Marchitto takes home first prize of $8,385 and qualifies – along with the rest of Saturday's Top 15 – to the SSC Invitational on Saturday, April 29.  The Top 2 finishers of the April 29 contest will earn a seat in the 2018 NHC in Las Vegas.
Monmouth Park's next SSC qualifier takes place on Saturday, March 11.  For more information, players can email Brian Skirka at bskirka@monmouthpark.com.
Saturday's Official Top 15
Finish
Name
Bankroll
Prize
1st
Joseph Marchitto
$1,084.45
$8,385
2nd
Stanley Lue
$720.70
$3,354
3rd
Ken Jordan
$712
$2,012.40
4th
Scott Carson
$638.25
$1,173.90
5th
Thomas Clark
$599.75
$586.95
6th
Roger Hammer
$559.50
$251.55
7th
Bart Fooden
$488
$251.55
8th
Michael Samples
$462.50
$251.55
9th
David Conover
$408.50
$251.55
10th
Wade Chubbuck
$400
$251.55
11th
James Michael
$394
12th
Bill Wynne
$388.25
13th
Darryl Mays
$372
14th
David Nelson
$350
15th
Matt Mungiole
$345.40