Mage Trainer Delgado Admits To Feeling Pressure With Kentucky Derby Winner Ahead Of TVG.com Haskell Stakes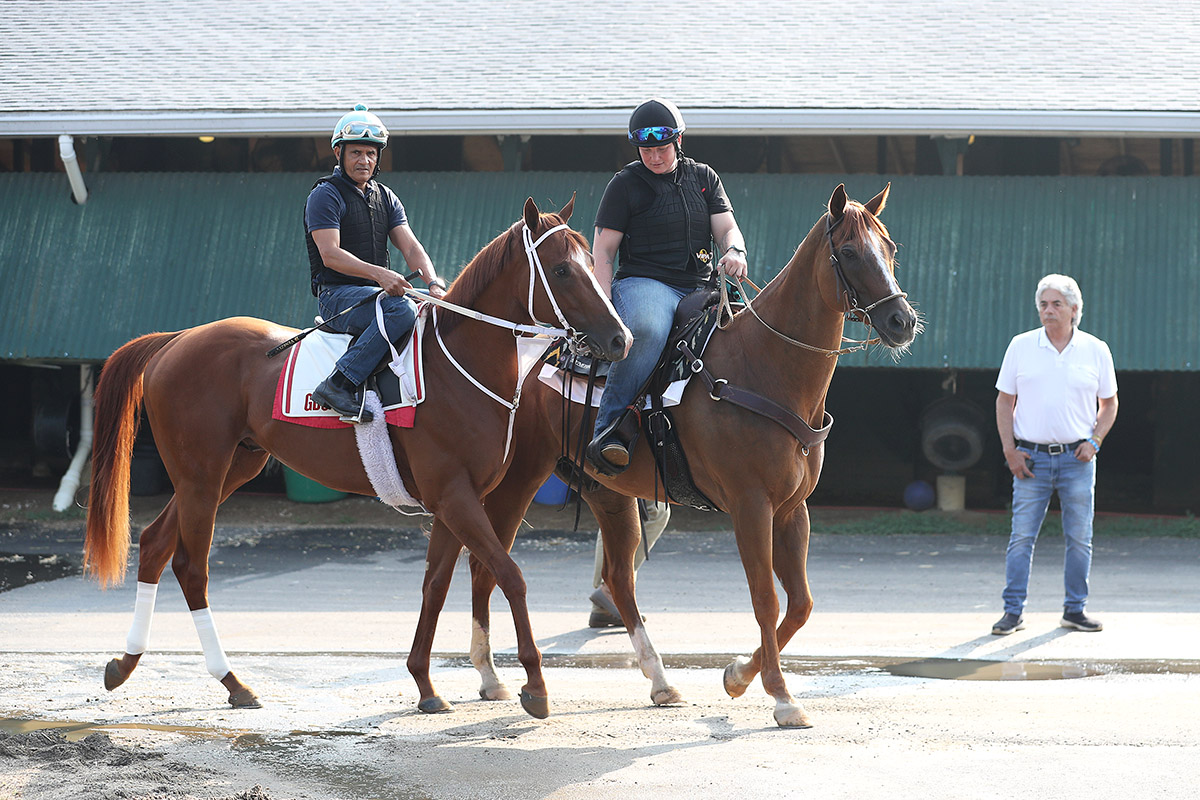 Welcome to the Club.
That was the greeting Gustavo Delgado, Sr. received from Hall of Fame trainer D. Wayne Lukas after he won the 2023 Kentucky Derby and his first American Triple Crown race with Mage.
"Lukas, Bob Baffert, Todd Pletcher are now my good friends," the trainer said on Thursday morning as he kept a close watch on Mage, one of the main contenders for Saturday's Grade 1, $1 million TVG.com Haskell Stakes at Monmouth Park.
Baffert holds the record for the most individual Triple Crown race wins with 17, Lukas ranks second with 14, and Pletcher has won six Triple Crown races.
Moreover, Baffert has won the American Triple Crown twice, once with 2015 Haskell winner American Pharoah and again with Justify in 2018.
In his native Venezuela, Delgado has won that country's Triple Crown four times. His resume also includes five wins in the Clasico Internacional Simon Bolivar, Venezuela's most famous race, and three victories in the prestigious Clasico Internacional del Caribe (Grade 1).
Still, winning the Kentucky Derby is a horse of a different color.
"I am very famous in Venezuela. But now things have changed a lot for me," he said. "Right now in the United States, the best race is the Kentucky Derby. Everybody, every trainer, every rider, every owner wants to win it, no? It was very amazing. I shared it with my family, my son, my grandson. It was very, very nice."
Indeed. But it has put him squarely in the cross hairs.
"Pressure? Yes," he said. "There is pressure on me. There is pressure on the horse. Before the Derby he was one horse, a normal horse. Now each race is very important and each brings more attention from all the people. There is a target on my back now.
"One day at the Preakness, and I don't want to speak the trainer's name, but he is one of the best trainers in the United States and he's won three or four Kentucky Derbys. He said to me, 'Gustavo, when you win the Kentucky Derby, you want to enjoy it before the Preakness. If you have the good luck to win the Preakness, you'll have three weeks where you can't sleep.' It's very much pressure on me now. But it's nice."
Following his 15-1 Kentucky Derby upset, Mage ran third in the Preakness behind the Baffert-trained National Treasure.
The son of 2018 Haskell winner Good Magic, who skipped the Belmont, needed to recover, recoup, and refresh from his demanding 2023 race schedule.
"Remember, Mage had five races consecutively," Delgado said. "We had the maiden special (Jan. 28). Then in one month there was the Fountain of Youth (March 4), then one more month it was the Florida Derby (April 1), then one month more it was the Kentucky Derby (May 6) and then, only two weeks more, two weeks, was the Preakness."
"He needed to relax. He needed a rest."
Now Mage is fresh, fired up, and ready to go. Delagado, who is also a co-owner of Mage, sent the colt out onto the track Thursday morning to get acquainted with his new surroundings and pronounced him ready for the Haskell.
"This morning it was just some jogging and a little gallop, only to get to know the track. Today when he went to the track here for the first time, he was very professional," he said. "He was alert, looking at everything. I feel that he liked the track. For this race, his last two works were impressionable. He feels good, he's very happy. He's very professional and he is very talented."
On Saturday Delgado hopes to join Lukas, Baffert, and Pletcher – all Hall of Famers – in another prestigious club. Baffert holds the record with nine Haskell wins, Pletcher has three, and Lukas has won this race once.
Baffert will send out 5-2 morning line favorite Arabian Knight while Pletcher will saddle Tapit Trice.
Mage and Tapit Trice are co-second choices on the morning line at 3-1.
The significance of the winning the Haskell, which is also a "Win and You're In" event for the $6 million Breeders' Cup Classic, is not lost on the newest Kentucky Derby-winning trainer as he prepares to compete in the race for the first time.
"This race is very important," said Delgado. "There are all the things for consideration. There is the purse, and the Breeders' Cup, but more important is the Grade 1. This is the right move for us to be here."
Haskell Stakes notes: Grade 1 Toyota Blue Grass winner Tapit Trice arrived on the grounds Wednesday afternoon and was settled into trainer Todd Pletcher's barn on the backside.
"He trained at Belmont yesterday morning and then came here," said Stu Hampson, who oversees the stable's Monmouth division. "This morning he went out onto the track for the first time and galloped 1 3/8 miles. He looks great. He's really sharp and is a happy, healthy horse. We're happy with him and are looking forward to the race."
Tapit Trice, who is owned by Whisper Hill Farm and Gainesway Stable, was scheduled to school in the paddock in the afternoon.
Hall of Famer trainer Richard Mandella arrived on the backside early this morning after he and his wife, Randi, took the red-eye flight from Southern California. His Haskell entry, Pin Oak Stud's Geaux Rocket Ride, was also out on the track for his routine exercise under assistant trainer Jose Contreras.
The undefeated Baffert trainee, Arabian Knight, was also out early in the morning under exercise rider Erick Garcia for his gallop of 1 3/8 miles. Assistant trainer Jimmy Barnes, who will saddle the son of Uncle Mo on Saturday, said everything is on schedule with the colt and they are "good to go."