Long-Time Trainer And NJTHA President Pat McBurney Named Recipient Of 2023 Virgil "Buddy" Raines Award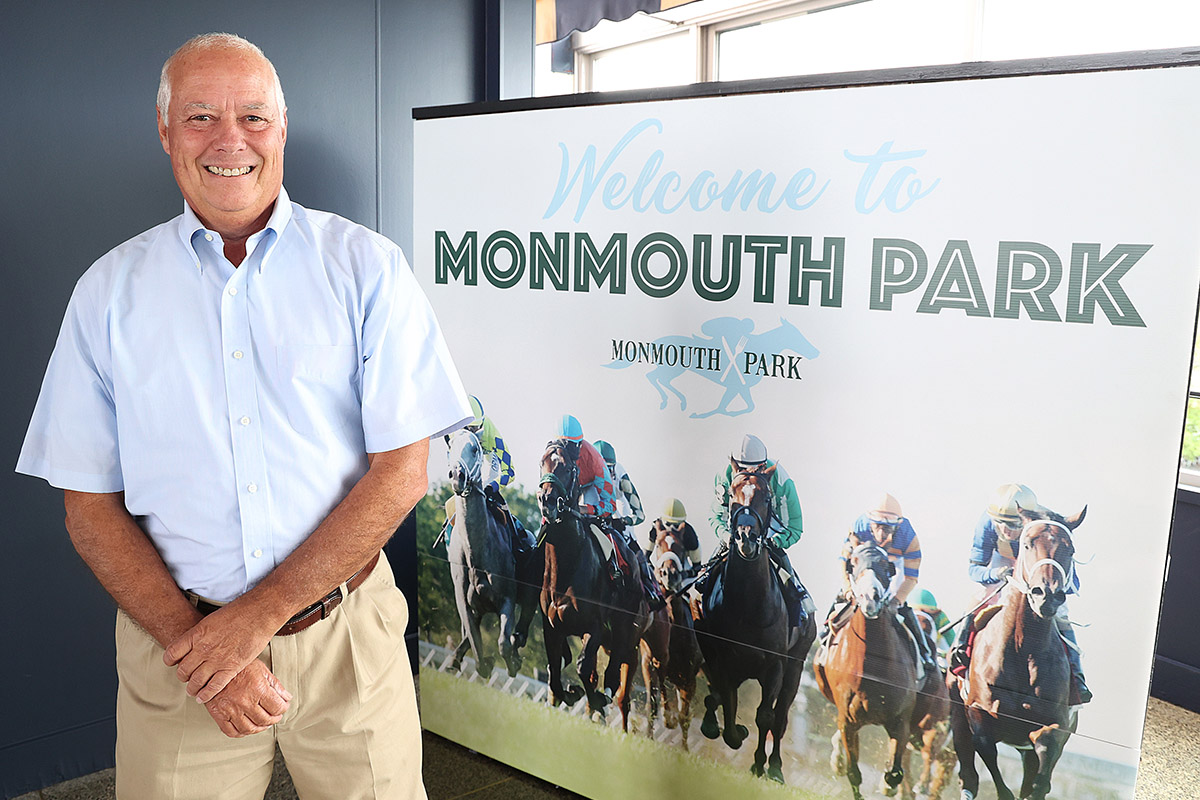 Long-time trainer Pat McBurney, a fixture at Monmouth Park for more than four decades and the current president of the New Jersey Thoroughbred Horsemen's Association, has been named the 2023 recipient of the Virgil "Buddy" Raines Distinguished Achievement Award, it was announced today by Monmouth Park.
The Raines Award, currently in its 28th year, is presented annually just prior to Monmouth Park's season opener. The track's 78th season of live racing gets underway on Saturday, May 13.
"It's a tremendous honor to receive this award because of what it means to thoroughbred racing in New Jersey," said McBurney. "It's an impressive list of past recipients so it's a great honor to join them."
McBurney, who spent the first half of his career as an assistant to the late John Forbes (the 2006 Raines Award winner), went out on his own full-time as a trainer in 2007. He saddled his first winner on May 13, 2007 when Cable Boy won at Monmouth Park.
"Pat's tireless efforts on behalf of New Jersey horsemen and racing in general in the state, and his success as a trainer, make him a worthy recipient of this year's Buddy Raines Award," said Dennis Drazin, Chairman and CEO of Darby Development LLC, the operators of Monmouth Park. "It's a fitting honor for someone who has done so much to promote thoroughbred racing in New Jersey."
McBurney has won 333 races overall, with the versatile Golden Brown and Just Call Kenny – both Grade 3 winners – being his top runners. Golden Brown, still racing as an 8-year-old, has won 10 of his 40 career starts with earnings of $821,080. Just Call Kenny's top achievement was winning the 2019 Philip Iselin Stakes at Monmouth Park.
"Golden Brown is just a special horse," said McBurney. "He does everything – he can sprint, he can race long, he races on the dirt or turf. To this day I am not sure what he is best at. He's a horse who loves to race and distance or surface don't matter to him."
McBurney, who resides in nearby Fair Haven, will have nearly three dozen horses stabled at Monmouth Park this summer in anticipation of the 51-day meet.
The list of previous Raines Award winners:
1996: J. Willard Thompson
1997: Danny Perlsweig
1998: Warren A. "Jimmy" Croll
1999: Joe Pierce Jr.
2000: Peter Shannon
2001: Dennis Drazin
2002: Sam Fieramosca
2003: Charles and Marianne Hesse
2004: Janet Laszlo
2005: Richard Malouf
2006: John Forbes
2007: Ben Perkins Sr.
2008: Gerald and Carolyn Sleeter
2009: Joel Kligman
2010: John Tammaro III
2011: Frank Costa
2012: John Mazza
2013: Ebby Novak
2014: Chuck Spina
2015: Bob Baffert
2016: Ed Barney
2017: Bob Kulina
2018: Mike Musto
2019: Tim Hills
2020: Leonard Green
2021: Bill Anderson
2022: Millie Fleming