Lone Sailor Latest Addition To Field For Grade 1 Haskell Invitational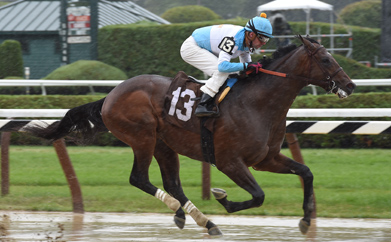 The time-tested axiom that pace makes the race is precisely the reason that trainer Tom Amoss announced today that he has decided to send Lone Sailor – runner-up in the Ohio Derby and the Louisiana Derby – to Sunday's betfair.com Haskell Invitational at Monmouth Park, bringing the field to six for the track's signature race. 
Amoss was looking for a race with enough speed for his colt to run at, and the Grade 1 Haskell, he said, provides that. 
"The decision was between staying where we are at Saratoga for the Jim Dandy (on Saturday) or going to the Haskell," said Amoss. "The underlying and deciding factor was the pace set-up. My horse wants to have a pace to run at, and looking at the two races and comparing the fields it was evident that there was going to be a lot more pace in the Haskell than the Jim Dandy." 
Joe Bravo, Monmouth Park's 13-time riding champion, will have the mount, with Lone Sailor arriving at Monmouth Park on Saturday, where he will bed down in Michael Stidham's barn. 
Lone Sailor will join a field that includes Kentucky Derby runner-up Good Magic, Preakness runner-up Bravazo, Ohio Derby winner Core Beliefs, Navy Commander and Roaming Union. 
Trainer Dale Romans said today he still has not decided on a course of action for Promises Fulfilled or Mr Freeze, but expected to firm up his plans on Wednesday for both colts. 
Lone Sailor was beaten a nose in his last start in the Grade 3 Ohio Derby by Core Beliefs and missed winning the Grade 2 Louisiana Derby by a neck. The son of Majestic Warrior-Ambitious was eighth in the Kentucky Derby and fifth in the Preakness – just two lengths behind Justify in the middle leg of the Triple Crown. 
Though Lone Sailor shows a modest 1-4-1 line from 11 career starts, Amoss sees no reason why his horse can't be a factor in the second half of a wide-open 3-year-old season with Triple Crown winner Justify sidelined by an injury. 
"When you look at the 3-year-old division exiting the Belmont Stakes it was Justify and then all of the rest," said Amoss. "You could probably put 20 3-year-olds out there and they'd look a lot alike. That's no disrespect to Good Magic, who will be a deserving Haskell favorite, or any of the other horses. 
"This is an interesting group of 3-year-olds as opposed to other years. There are a lot that are a lot closer together after Justify and it seems like the new group is just starting to come along, just coming onto the scene. To me it's no different than Arrogate's 3-year-old year, when he came along around Travers time and ended up dominating the group the second half of the year." 
Amoss said his charge has given all of the indications that he's ready to go again following what will be a five-week layoff. 
"I'm really happy with my horse," said Amoss, who will be making his Haskell debut. "He's doing well, His weight is good. Everything I look at in deciding whether it is time to run, particularly knowing his personality, seems to be right." 
The $1 million Haskell will go as race 12 on Sunday's 14-race card, with an approximate post-time of 5:47 p.m. NBC-TV will televise the Haskell live from 5 to 6 p.m. 
First race post on Sunday is noon, with gates opening at 7:30 a.m. and the parking lots opening at 6:30 a.m. that day.