Liz's Cable Girl Notches 12th Career Victory In Winning $75,000 Spruce Fir Handicap By A Half Length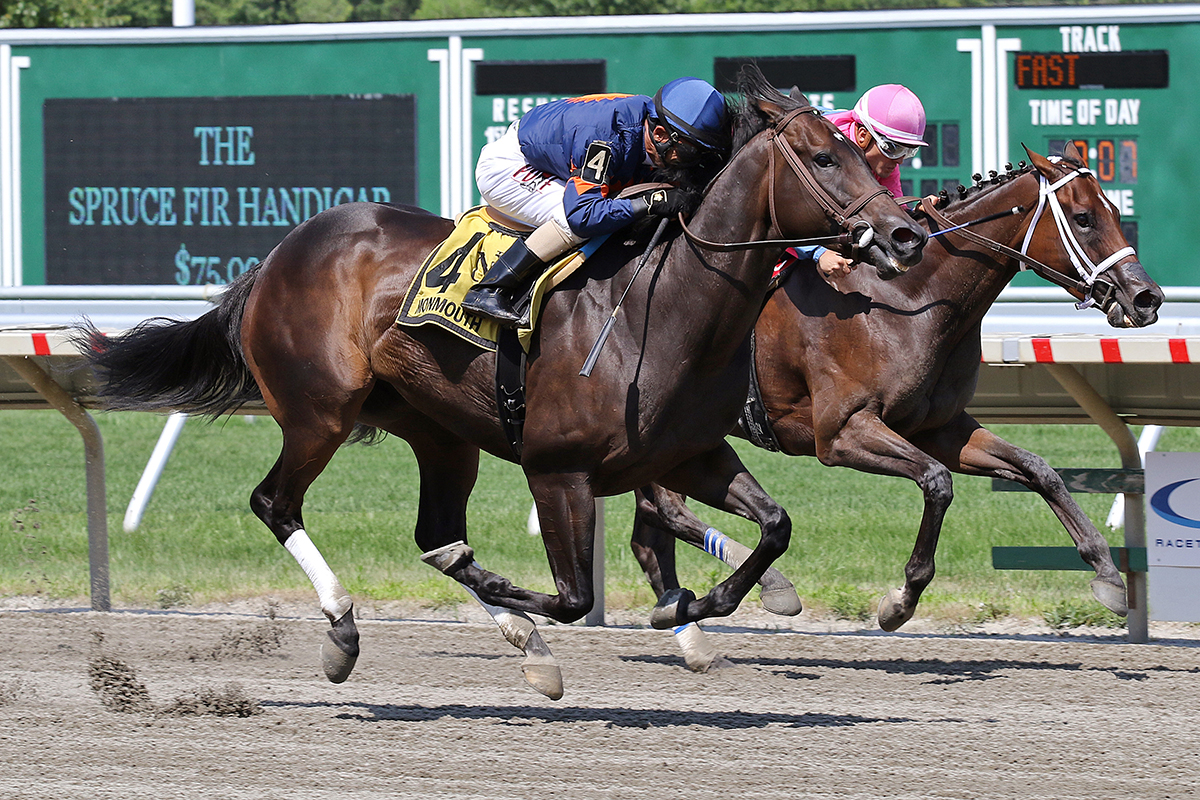 Heavily-favored Liz's Cable Girl showed her affinity for two of her favorite things – winning and Monmouth Park – by scoring a half-length victory over the late-running Cee Bee Gee Bee to capture Friday's $75,000 Spruce Fir Handicap at Monmouth Park.
The 5-year-old daughter of Cable Boy-Forbidden Isle by Belong to Me posted her 12th career victory from 19 starts and won for the sixth time in eight lifetime starts at Monmouth.
The two-time Jersey-bred champion withstood early pressure from Billy's Jump Start and then the late run by Cee Bee Gee Bee, with Liz's Cable Girl drifting in the lane to keep the issue in doubt until late.
She covered the six furlongs in 1:10.19 and paid $3.20 to win.
"The pressure early didn't bother me because you could see Jose Ferrer was sitting right where he wanted to be and as she has gotten older she doesn't mind a horse beside her," said trainer Pat McBurney. "(As for) the drifting in the lane, Jose said that's kind of been her habit the past couple of years and he lets her do it because there's no sense fighting her to holding her in. That being said you hate to be that wide.
"We just hung on to beat Cee Bee Gee Bee last year (in the Eleven North Handicap) and we just held on to beat her again this time. So it was a good race for Liz."
Ridden by Jose Ferrer, Liz's Cable Girl also improved to 10-for-16 lifetime at six furlongs.
"The early pressure didn't worry me at all. She was comfortable down the backside and she was well within herself staying with (Billy's Jump Start)," said Ferrer. "It was nice and easy, no urgency. I wasn't worried about that horse. I was more worried about Cee Bee Gee Bee, especially coming up the inside the way she did. But I had plenty of horse down the lane. She was just playing. When she makes the lead she just won't let horses get by her. She's a real classy mare."
It was another 8½ lengths back in third to Crazy Daisy.
McBurney has mapped out two more races against Jersey-breds for Liz's Cable Girl, who is owned Lizabeth Dodd, John Coccee, Peter Donnelly and Gerard Melley. She is expected to go next in the $75,000 Eleven North Handicap on Aug. 25 before the $100,000 Regret Stakes on Sept. 28.