Liz's Cable Girl, Jockey Jose Ferrer Star On New Jersey Thoroughbred Festival Day At Monmouth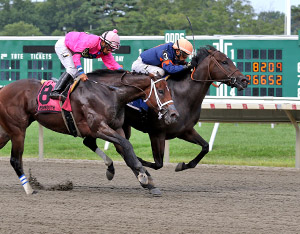 It's easy to understand why jockey Jose Ferrer circles the date of the New Jersey Thoroughbred Festival on his calendar every year. 
Monmouth Park's leading rider turned the annual celebration of Garden State equines into his personal showcase for the third straight year, capturing the $60,000 Eleven North Handicap and the $60,000 Charles Hesse III Handicap on Sunday to highlight a four-win day. 
Ferrer, well on his way to winning his first Monmouth Park riding title with six racing days remaining, captured the Eleven North Handicap for the third straight year, this time with the speedy Liz's Cable Girl holding off favorite Cee Bee Gee Bee by a head in the six furlong stakes race for fillies and mares three years old and up. 
 The 2-1 second choice, Liz's Cable Girl paid $6.20 to win. 
In winning for the eighth time in 13 career starts, Liz's Cable Girl recorded her first stakes victory, covering the distance in 1:09.2. 
The Pat McBurney-trained Liz's Cable Girl faded to fifth in the Eleven North Handicap a year ago, frustrated from chasing Bustin Out, who won the race in 2016 and 2017 under Ferrer's guidance. 
"Last year in this race we ran into Bustin Out, who was a superstar, and this year I think we were the speed bully in the race and it worked out nice," said McBurney. "It just means everything for the connections to win on New Jersey-bred day. For me, too."  
A 4-yar-old daughter of Cable Boy-Forbidden Isle owned by Cocce, Dodd, Donnelly and Mellee, Liz's Cable Girl is 5-for-7 at Monmouth Park and 7-for-12 at six furlongs.  Ferrer rushed her to the lead after a bit of a slow start and she put away all but the Jason Servis-trained Cee Bee Gee Bee, who spent the entire stretch trying to run down Liz's Cable Girl. 
It was another 9¾ lengths back in third to Love Came to Town. 
"She broke a little flat-footed. Nothing bad. I wasn't concerned at all," said Ferrer. "She was comfortable. If that other horse wanted the lead out of the gate it was okay with me. But I knew I would get to the top quickly. She's not just fast. She has some toughness to her. And we can see she likes to win." 
Ferrer, who won four races on the New Jersey Thoroughbred Festival card last year and five on the day in 2016, surged late with Chunnel in a four-horse finish to win the Charles Hesse III by a neck over Prendimi. It was another half-length back in third to Fuzzy Muzzle. 
The Jorge Navarro-trained Chunnel, a 7-year-old gelding making his 49th career start, paid $5.80 to win as the 9-5 second choice. He covered the mile and a sixteenth in 1:43.89. 
"These are the type of horses I like to train. They're tough, they're sturdy and they know how to win," said Navarro. "I thought he was coming into the race really good but I was also a little worried he might be short because of the way I worked him. I don't keep drilling them. I kind of back away and give them 10 days. But then you start to worry – did I miss a work? Did I get him sharp enough? 
"I think the class kicked in at the end when we needed it the most."  
Ferrer finished the 10-race card, which feature three stakes races, with a total of 83 victories for the meeting, 15 more than runner-up Paco Lopez. 
"This is my day. I'm a Jersey guy. I love this day," said the 54-year-old Ferrer. 
Amatteroftime, a 3-year-old that trainer Jason Servis said he made a last-minute decision on entering, won the $60,000 New Jersey Breeders' Handicap by a neck over Prendimi, covering the six furlongs in 1:09.22. 
It marked the colt's third win in his last four starts – the lone loss during that span to the Servis-trained Dial Operator, whose only career loss was in the Grade 3 Gotham Stakes. 
"I really wasn't looking at this race originally, but he was ready to run and it came up and we decided at the last minute to take a shot," said Servis. "It worked out pretty well. He's a handsome horse. He's just starting to figure it out. You look at what he has done his last four races and the only race he lost during that time was to Dial Operator, who is a pretty good horse. He's really developing into a nice one." 
Amatteroftime, ridden by Lopez, paid $6.80 to win.