Liz's Cable Girl In Search Of First Stakes Victory In Sunday's Eleven North Handicap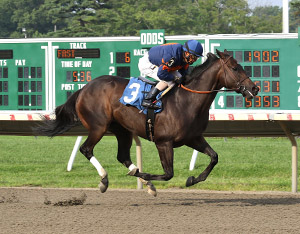 As productive as Liz's Cable Girl has been throughout her career for trainer Pat McBurney, there's one glaring absence on her résumé: A stakes victory. 
That's something he hopes will change when the 4-year-old filly goes post ward in Sunday's $60,000 Eleven North Handicap, one of three stakes races on the New Jersey Thoroughbred Festival card at Monmouth Park. 
"I think she will get her stakes win before the year is out and it would be great if it happened Sunday," McBurney said. 
Liz's Cable Girl, a daughter of Cable Boy-Forbidden Isle, has seven wins from 12 career starts, is 4-of-6 lifetime at Monmouth Park and shows a 6-for-11 record at the six-furlong distance of the Eleven North. 
The speedy filly comes in off a nine-length romp on Aug. 11 at Monmouth. 
"I think she got a lot out of that race," McBurney said. "It looks like a very easy race but she ran race horse time (1:10-flat for the six furlongs) and she bounced out of it super, so it worked out nicely for her." 
McBurney has tried Liz's Cable Girl in three prior stakes races, with her best showing a third in the Regret Stakes at Monmouth Park on June 17. She was a tiring fifth in the Eleven North Handicap a year ago. 
"The filly that won it last year (Bustin Out) was an older filly and Liz was a 3-year-old," said McBurney. "Even though we're getting to the end of August the 4-year-olds are still more mature and bigger and stronger. That was a tough filly who went to the front and Liz tried chasing her and couldn't do it. 
"Since that race we've taught Liz to rate a little bit. She can relax alongside horses now instead of having to bully them and run them off their feet. At this level you're not running anybody off their feet. Everybody is fast." 
Liz's Cable Girl will face eight rivals as part of a busy afternoon for McBurney, who has six horses entered on the 10-race program. Only Rory Huston with seven has entered more Jersey-breds for Sunday. 
McBurney also has Ashley's Hope going in a 5½-furlong Maiden Special Weight for 3-year-old fillies on the dirt; Return of a Giant in a 5½-furlong turf claimer; Star Flare and Powergirl in an allowance at a mile and a sixteenth on the turf and Windixiewin in a 5½-furlong allowance on the grass. 
Return of a Giant, Powergirl and Windixiewin will be trying turf for the first time. 
"Return of a Giant had some minor issues but he's back on track," said McBurney. "He should like the grass, so it will be good to get that question answered. Windixiewin is a 3-year-old who is coming on strong right now. She's kind of an unknown quantity trying turf, but that's the case with a lot of them trying grass the first time. But she is doing super. 
"Star Flare is probably the most accomplished on the turf (with a 2-3-2 line from 10 career grass starts) and she's having a pretty good year. We've been pleased with her last two races. So we'll see how it goes."