Lightening Larry Charges From Off The Pace To Win Monday's Mr. Prospector Stakes For Trainer Jorge Delgado's Third Win On Card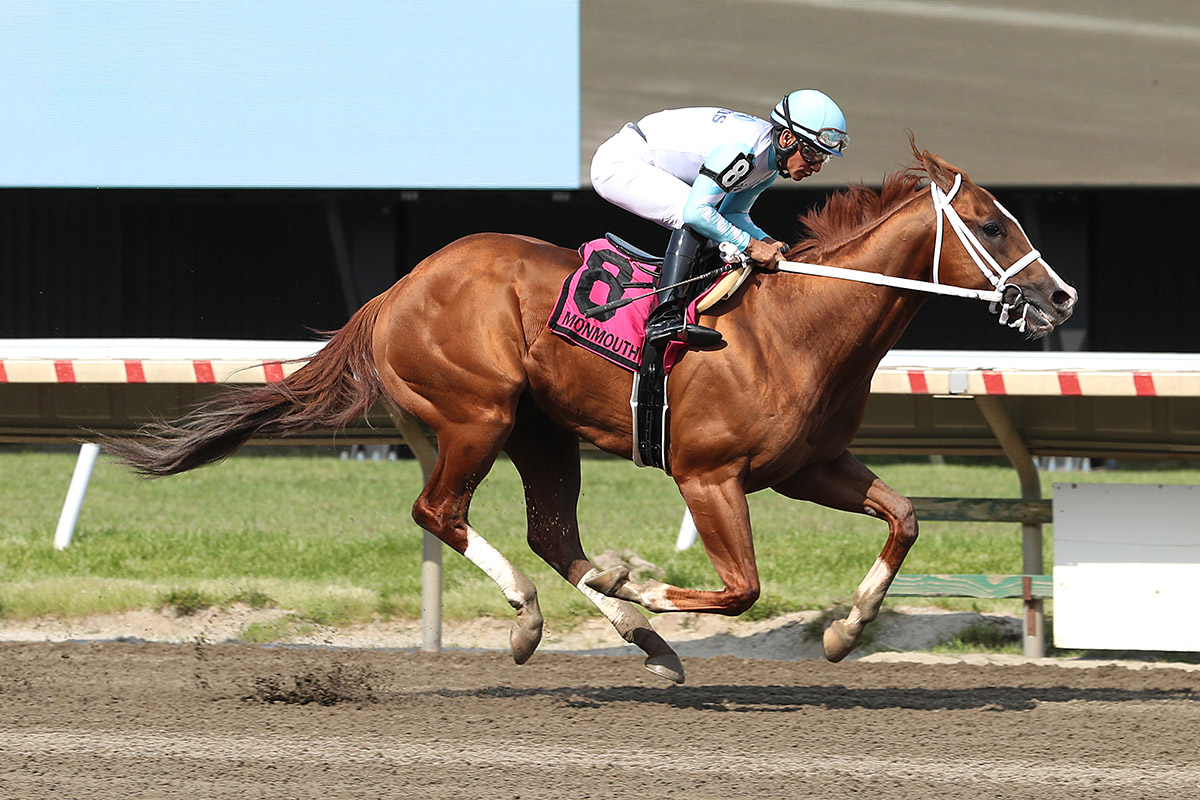 As speedy as Lightening Larry is, trainer Jorge Delgado didn't want his 4-year-old colt anywhere near the lead in Monday's $100,000 Mr. Prospector Stakes at Monmouth Park.
He learned his lesson from the horse's last start, when the son of Uncaptured was caught in a wicked speed duel in the NYRA Bets Sprint Stakes at Tampa Bay Downs on March 26.
That blazing early pace — :43.4 to the half – set up the win for Magical Warrior off the pace.
With that in mind, Delgado had jockey Paco Lopez sit off the early pace in third this time, leaving more than enough in reserve coming out of the final turn after fast fractions once again, with Lightening Larry rolling to a 4½-length victory in the 18th edition of the Mr. Prospector Stakes.
The 9-10 favorite in the field of seven 3-year-olds and up, Lightening Larry covered the six furlongs in a sharp 1:09.28.
"In his last race at Tampa he got in a speed duel with two horses and Magical Warrior (fifth this time) came off the pace to beat us. It was a hot pace that day and we paid the price at the end (finishing second)," said Delgado. "Today I wasn't go to let it happen to me again. We knew there was a horse with speed (Hollywood Jet) who we felt wasn't going to beat us so we decided from the beginning not to go with him.
"He relaxed like this a half-length or so off the leader when he won the (Grade 3) Chick Lang last year so he knows how to do that. You can't always be on the lead and expect to win like that every time. I'm happy Paco made the decision to sit off those two horses early and then move at the right time."
Hollywood Jet, who set early fractions of :21.36 for the opening quarter and :44.18 to the half with longshot Feast in tow, wound up gamely holding for second, a nose better than the late-running Drafted.
But once Lightening Larry wheeled off the final turn, after keeping the top two in his sights early on, the race was over.
"I had very good position early," said Lopez. "There was no reason to send him with the speed this time. He has shown he can come off the pace even though he is a fast horse. He was very comfortable today. Most times he is sitting first or second but he was relaxed sitting third early. I really had a lot of horse. Coming off the turn he really wanted to go and I just let him loose."
The win by Lightening Larry, who improved his career line to 6-5-2 from 16 starts, was the highlight of an afternoon that saw Delgado win three races to finally jumpstart a meet he has high hopes for. Those three wins vaulted him into a tie for second with Chad Brown in the trainer standings, one behind Juan Carlos Avila.
"I was getting a little frustrated because I felt like I should have won more races before today," said Delgado, who has 58 horses stabled at Monmouth Park. "But today we won three and I feel like we are back on track. I have a goal. I want to be the leading trainer here. I've planned this for years and I feel like this could be the year to do that."
Lightening Larry, owned by Lea Farms, boosted his career earnings to $457,080.