Liberated Lady, Off Impressive Win At Monmouth Park, Poised For Possible Test In Saturday's $100,000 Regret Stakes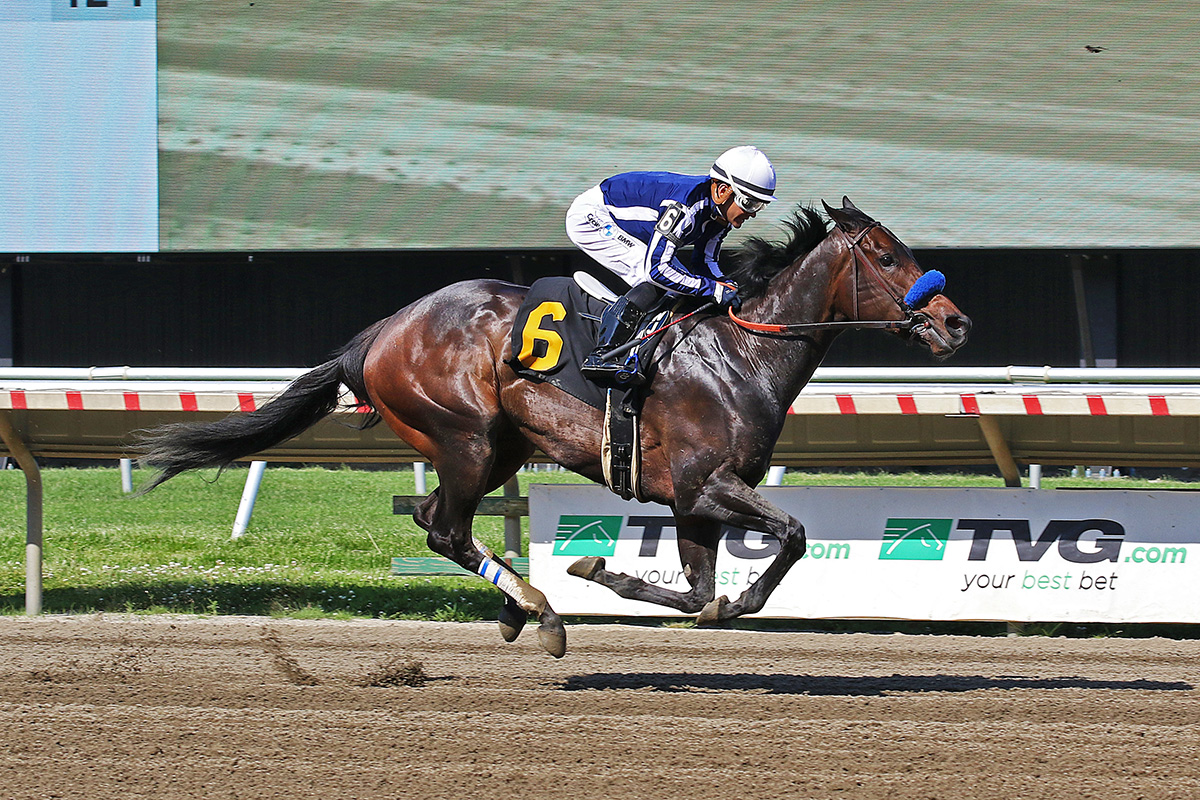 Dan Ward isn't quite sure yet what he has in a 4-year-old filly named Liberated Lady, but there's a chance he will have a better idea after Saturday's $100,000 Regret Stakes at Monmouth Park.
Ward, who oversees the Monmouth Park division for Hall of Fame trainer Jerry Hollendorfer, is leaning toward giving Liberated Lady her first major test in the six-furlong dash for fillies and mares, 3 and up.
"We're training like we're going to run," said Ward. "We worked her a week out and stood her in the gate on Wednesday and she was perfect. So we're treating it like we're going to run until I hear differently."
Liberated Lady still has conditions to run through, which would be the more conservative route to go. But after her dazzling six-length victory in an optional $16,000 claimer at Monmouth Park on May 30 she may also be ready for more.
Bred in Ireland, Liberated Lady spent the first 11 starts of her career racing on the turf or synthetic in England. Since being shifted to Hollendorfer's barn she has made two starts in the United States – both on the dirt this year.
Her debut in this country was a third-place finish in an optional $25,000 claimer at Oaklawn on April 2. The breakout performance at Monmouth Park followed. A daughter of Iffraaj-Isobel Archer by Oasis Dream, Liberated Lady is owned by Magnier, Shanahan, Paul and Watchman.
"The owners had promised us a couple of horses before this and it did not work out," said Ward. "They felt they could give us this horse because she was 0-for-6 on the turf and her win was on synthetic. They wanted to see if she liked dirt before breeding her.
"I was looking forward to her first start and she ran a good race. She has trained well at Monmouth Park since then and then she ran off the screen in her last race. I kind of thought she would do that in her first race. I was a little surprised they beat her at Oaklawn because she has trained so well on the dirt."
If the field holds, Liberated Lady will face just six rivals – another inducement for Ward and Hollendorfer to test her on Saturday.
"There are a lot of good horses in the race, proven stakes horses, and we would be taking a step up," said Ward. "But I like the way she won and it looks like she has a lot of upside.
"There's an allowance race next week we could try instead, but with a short field we decided to enter. We'll take a really good look at the race, do our homework, and then figure out what to do."
Ward said Liberated Lady has acted like a different horse since moving to the dirt, having recorded just one win in 11 career starts in England before being sent to the United States. But her last race Beyer Speed Figure of 82 fits with the prominent contenders in the race.
"The first time we worked her on the dirt I thought `maybe this is a dirt horse,' " said Ward. "I have experience working with (the late) Bobby Frankel bringing horses that are grass horses in Europe and switching them over to the dirt. Sometimes it works, sometimes it doesn't. But she has really worked impressively on the dirt, so we'll see."
Monmouth Park's four-day holiday racing schedule kicks off Friday with an eight-race card starting at 2 p.m. Later that night, Monmouth Park jockeys will serve as bartenders for a fundraiser for the Permanently Disabled Jockeys' Fund at the Beer Garden at Blu Grotto from 6:30 p.m. to 8 p.m.