Leader Of The Band Surges Late To Win Saturday's Lady's Secret Stakes; Will Point Next To Grade 3 Molly Pitcher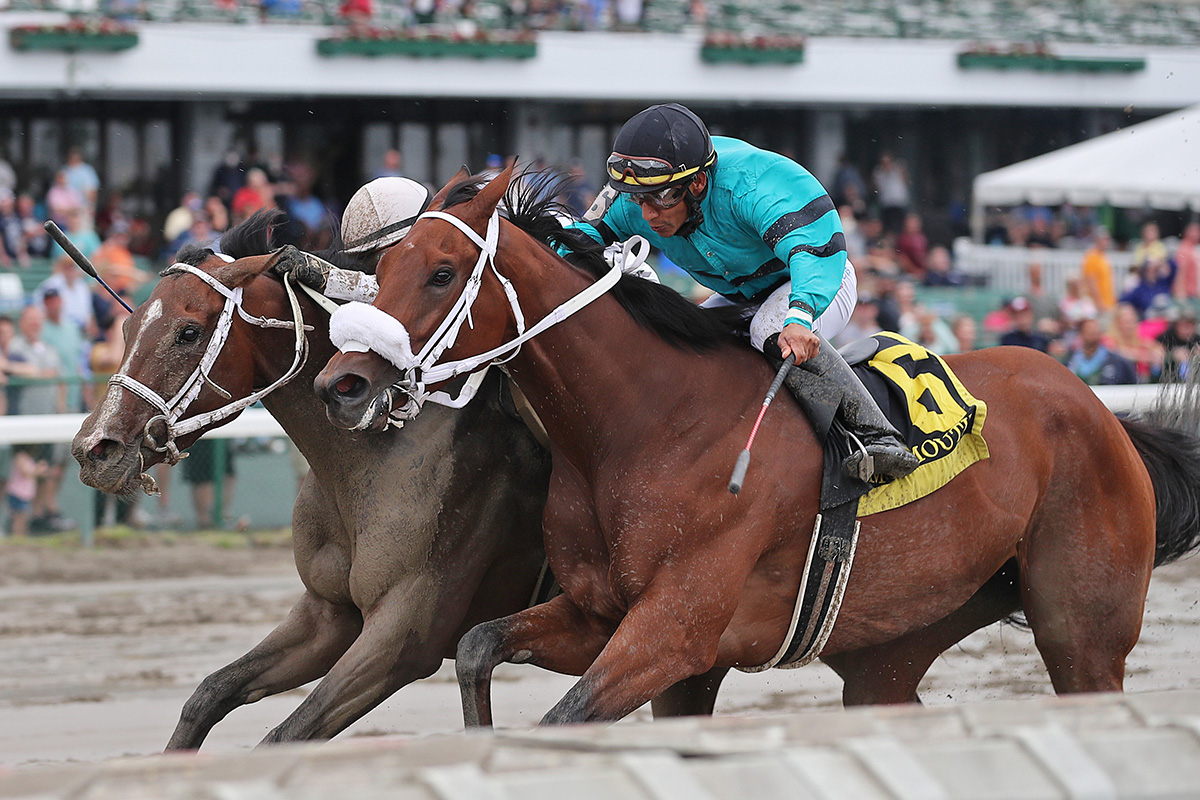 Trainer John Servis has had a goal in mind since starting Leader of the Band on her 4-year-old campaign in February: The Grade 3 Molly Pitcher Stakes on the TVG.com Haskell Stakes undercard.
Now he has free entry and starting fees to the race.
Leader of the Band was able to grind away just enough in the stretch to collar favorite Beth's Dream in the final 50 feet before poking a head in front to win Saturday's $100,000 Lady's Secret Stakes at Monmouth Park.
Leader of the Band, who captured last year's Grade 3 Monmouth Oaks, had no issues with the sloppy and sealed track. The winning time for the mile and a sixteenth was 1:45.87. The winning spoils included free entry and starting fees to the Molly Pitcher Stakes.
"I'm tickled with this performance," said Servis. "We'll point her to the Molly Pitcher. That's why we have kept her here at Monmouth, to point for that race."
Leader of the Band made amends for her last start, a fourth-place finish in the Serena's Song Stakes at Monmouth Park on May 8 – one of only two times she has failed to hit the board in her 13-race career (the Grade 1 Cotillion was the other).
But that performance had an excuse. Leader of the Band has a tendency to lean back at the start, almost sitting down, and broke last in that race. Servis was able to get a wedge to use in the starting gate to prevent her from repeating her starting gate behavior.
"She broke a little better this time – not great but a little better," said Servis. "(Jockey) Isaac Castillo said she came out of the gate fine but she lost her footing a little bit. It's a slippery out there. But she has run well in the slop. The moisture doesn't bother her at all. She trained so well coming into this. I told Isaac not to worry too much about the break because she will put herself in the race. She's sharp."
Castillo had Leader of the Band in the race early, stalking in fourth on the outside through an opening quarter in :23.62 and half in :48.36, with speedster Wholebodemeister setting those fractions but being pressed by Beth's Dream as she did so.
Wholebodemeister was done after six furlongs, with Beth's Dream – trying two turns for the first time — surging to the front midway through the final turn. Castillo followed that move with Leader of the Band.
"She broke better this time," said Castillo. "I tried to get her in the best position I could on the outside. When I asked her the horse was fantastic. I waited a little bit for that horse (Beth's Dream) to make her move."
Beth's Dream dug in, with Leader of the Band needing every inch of the distance to get by. It was another 8¼ lengths back to Boston Post Road in third.
"I don't know if she has ever really had to fight like this for a win," said Servis. "This is the first time she has had to do that. She acts like that. She acts like the kind of filly that has that grit. She beat a very nice horse. It was a pretty good way back to the rest of the field."
Let go at 4-1 in the field of seven fillies and mares, 3 and up, Leader of the Band returned $10 to win. The daughter of Bandbox, owned by SMD Limited, posted her fifth victory in 13 career starts, boosting her lifetime earnings to $398,690.