Servis-Trained Leader Of The Band Set To Return Following Lengthy Layoff In Sunday's $100,000 Serena's Song Stakes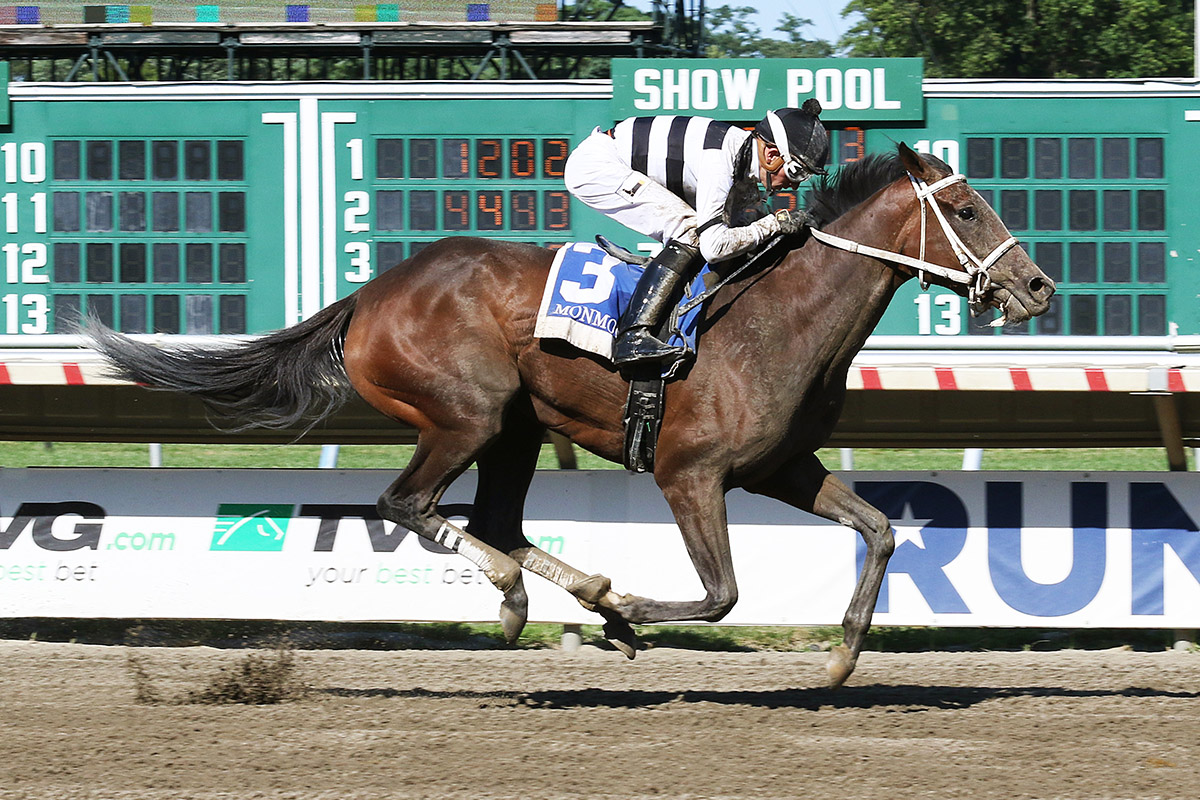 If John Servis' belief that most horses hit their peak at age 5 winds up being true for Leader of the Band, the talented mare may be headed for her best year yet – after two superb ones.
Off since Nov. 24, Leader of the Band will make her seasonal debut in Sunday's $100,000 Serena's Song Stakes at Monmouth Park, kicking off her 5-year-old campaign at the site of her greatest triumph. In 2021, the daughter of Bandbox-Catsuit by Sir Cat won the Grade 3 Monmouth Oaks.
She comes into the mile and 70-yard feature race for fillies and mares, 3 and up, with a 6-5-3 line from 17 career starts, having earned $602,820 overall.
"I've always said, in my opinion, that the 5-year-old year is their best year," said Servis, who is 14 wins shy of 2,000 in a training career that is in its 40th year. "It seems like that's the year they really peak and you get their best.
"Is every horse like that? No. But a lot of time with fillies, especially the ones that are high strung, it takes them a little while to mature and settle down."
Six other fillies and mares will offer Leader of the Band an immediate test, though Servis is unconcerned about the 169-day layoff.
"She had a nice vacation and she's ready to roll," said Servis, who has a string of 20 horses this year at Monmouth Park. "We gave her 90 days off after her last start (a fifth-place finish in the Grade 3 Fall City Stakes at Churchill Downs) and then sent her to Florida to get her ready.
"She's doing great. In her final start last year she did not run well. She was tired. I felt she needed a break."
Owned by Avalon Racing Stables, the Pennsylvania-bred Leader of the Band has shown an affinity for Monmouth Park, with two wins and a second in her four starts at the Jersey Shore track.
She was second in the Grade 3 Molly Pitcher to Search Results and won the Lady's Secret Stakes at Monmouth Park last year.
Servis said that physically and mentally he has noticed a major improvement in Leader of the Band.
"She was never a horse that would lick the tub clean and be a real good eater," he said. "Mentally, she was always a bit of a handful. She has matured a ton. She's eating good. She is so much more mature.
"She looks like a different horse. She filled out more and has rounded off a little more in her back end. I don't want to set goals that are too high for her but I am optimistic she is going to have a really good year."
Sunday's 10-race Mother's Day program will feature several promotions, with free admission for all ladies, free carnations to the first 1,000 ladies and a Mother's Day drawing for a pair of Luke Bryan concert tickets at PNC on June 24 and Boots at Basie concert tickets on May 25.
First race post time is 12:40 p.m.