KORTNEY'S CHALLENGE 2-MILE FUN RUN/WALK AND FOOD BANK DAY SUNDAY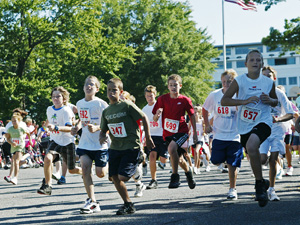 This Sunday, Monmouth Park will once again host Kortney's Challenge, a two mile fun run/walk. Proceeds from the event will go to the Kortney Rose Foundation, an organization devoted to raising money to support research related to the treatment and cure of pediatric brain tumors.
            The race will begin at 10:00 a.m. at the track's entrance and will end two miles later in the Grandstand. Runners will also receive free Grandstand parking and admission to the park with registration to Kortney's Challenge. Participants can register on race day in person starting at 8:30 a.m., or online at www.thekortneyrosefoundation.org.
            Nonparticipants can also receive free admission by participating in Food Bank Day and donating a canned food or a non-perishable item. All food donations will go to the Monmouth/Ocean County Food Bank.
            Gates will open at 11:30 a.m. Sunday, with the first race set for 12:50 p.m.