Kodiak Katie Heads Field Of 10 Jersey-Breds For Sunday's Feature Race At Monmouth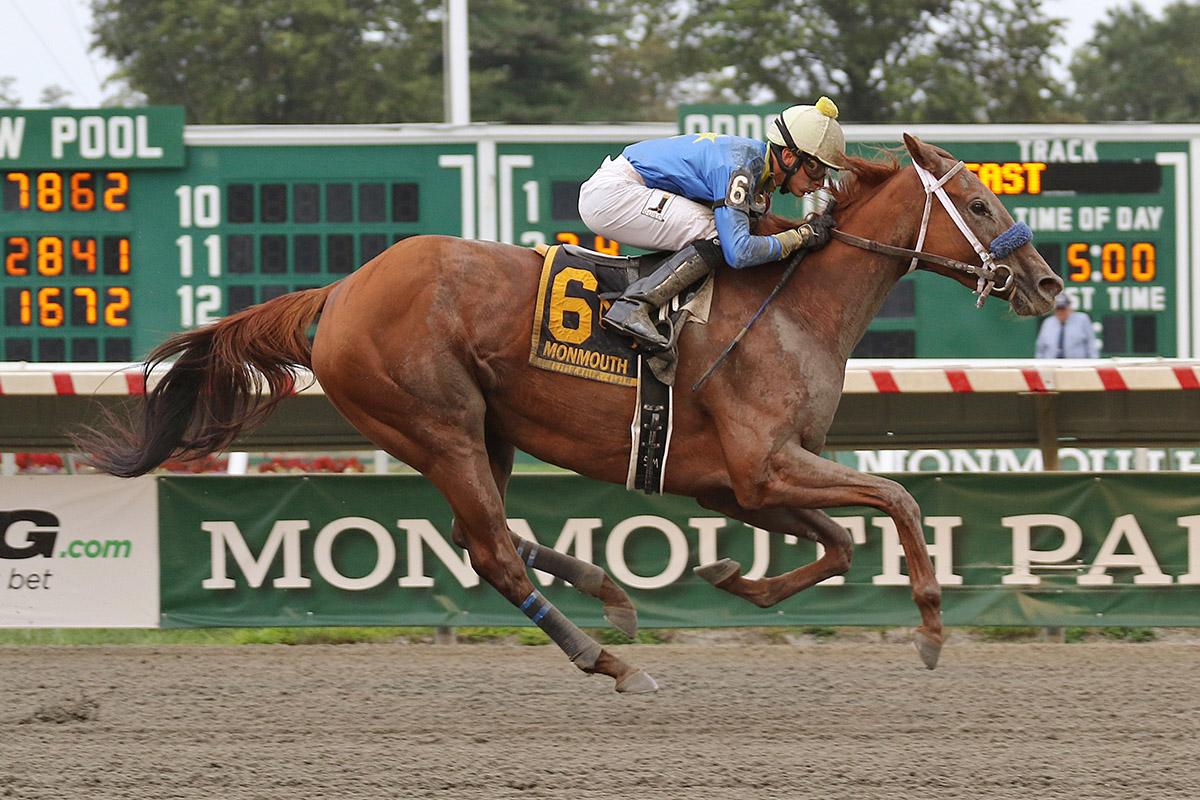 As a claiming trainer, Jose Delgado is guided by two principles. One is to find horses he can improve and make money with. The other is not to get too attached to said horses, since they can go as easily as they arrive in his barn.
Kodiak Katie, who heads the field for the $62,500 allowance optional claimer that serves as the Sunday feature on Monmouth Park's nine-race card, is a perfect example of that.
Delgado claimed the 6-year-old mare two races ago for $12,500, moved her up and won a race with her and now has her back in for a $12,500 tag in the mile and 70-yard race restricted to Jersey-bred fillies and mares, three years old and up.
"When I claimed her I was thinking I could make money with her. I'm a claiming trainer. This is what I do," said Delgado. "If she gets claimed away from me, that's fine. That's part of the game, part of my business. I don't fall in love with claiming horses."
For now, Delgado's 13-horse stable at Monmouth Park consists mostly of claimers. He has gotten the best out of them, winning 23 races from 75 starters at the meet, with 52 of his 75 runners finishing in the money.
"I'm blessed," he said. "I'm really happy with the way things have gone. This is how I started as a trainer – as a claiming trainer. This is what I know. I'm doing very well with it right now so I'm going to stay with what I'm doing."
Kodiak Katie looms as the heavy favorite in the field of 10, having beaten seven of the contenders at some point during her successful career. She won her first start for Delgado by 6¾ lengths as the 3-5 favorite.
The late-running daughter of Kodiak Kowboy-Murphy Style by Tomorrows Cat boasts a 6-6-3 line from 26 career starts with earnings of $267,045. Now owned by Carole Star Stables LLC, Kodiak Katie has five wins and five seconds from 20 lifetime starts at Monmouth Park.
"She's very good with Jersey-breds," said Delgado. "I think she fits here very well. You can tell she has class. She's the horse to beat against this group but it's a horse race so you never know.
"If she gets claimed I won't worry about it. I like to win. I can't be worried about losing horses as a claiming trainer. My job is to find horses I can win with."
Monmouth Park's Sunday card will feature two carryovers as well: $3,950 in the Pick 5 that starts in the first race and $37,890 for the Jersey Shore Pick 6, which begins in the fourth race.
First race post time is 1:15 p.m.