King For A Day Upsets Maximum Security In Pegasus Stakes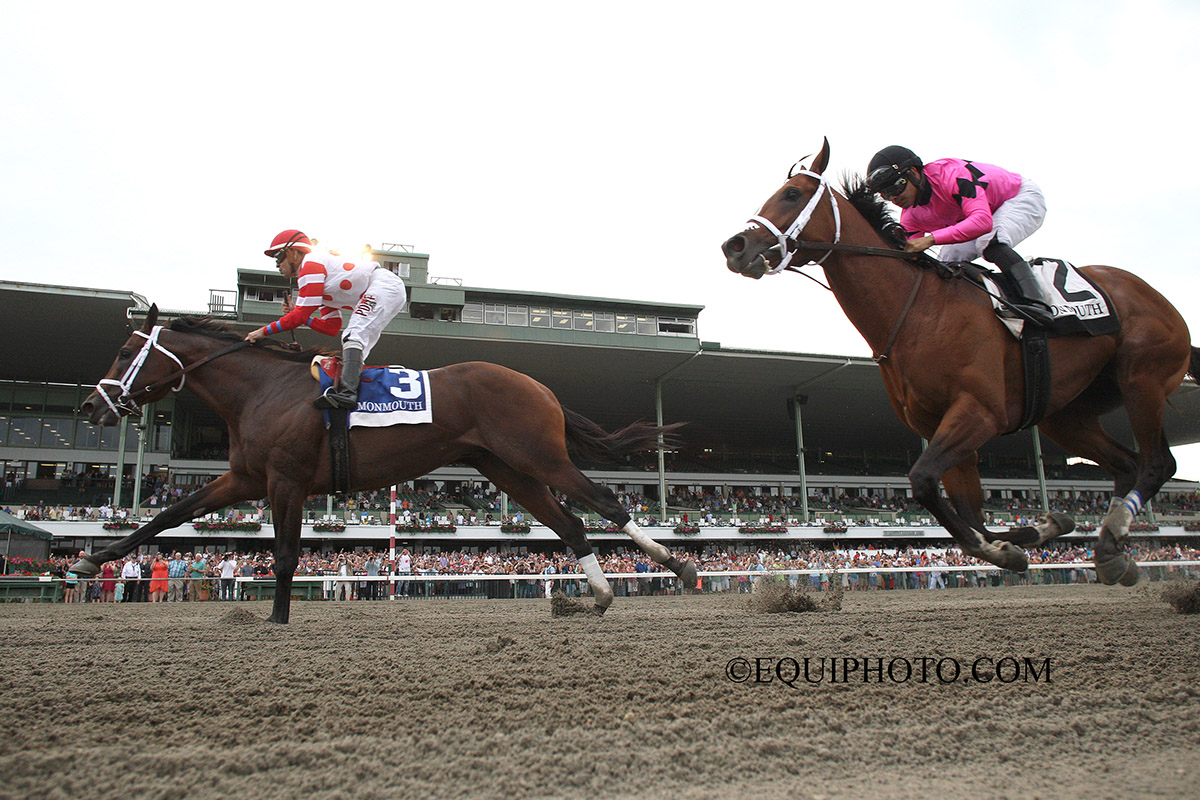 King for a Day put race-long pressure on Maximum Security and then was able to pull away in the final 100 yards to score an upset victory in Sunday's $150,000 TVG.com Pegasus Stakes at Monmouth Park.
Maximum Security, made the 1-20 favorite by the crowd of 24,062, dug in gamely after setting all of the early fractions despite stumbling at the start before the Todd Pletcher-trained King for a Day surged late for a one-length victory.
It marked the first time in six career starts that Maximum Security did not cross the finish line first in a race. The Jason Servis-trained colt was back racing for the first time since May 4, when he became the first Kentucky Derby winner to be disqualified.
"It stinks getting beat but that's horse racing," said Servis. "I think (the stumble) cost me the race, really. I got beat, what – a length? Tough day.
"I think his next race will be better. I needed to get this out of the way. I was glad to get this out of the way even though he got beat by a nice horse. I think his next race will be better. I hope. But I think it will be."
Jockey Luis Saez said Maximum Security was too eager at the start and then showed some of the effects of the lengthy layoff late.
"He hasn't run for a while so he was a little desperate in the gate. He wanted to break so he broke so fast he stumbled," said Saez. "He was all right after that but I sensed he was getting a little tired.
"I'm not disappointed. Definitely not. He will be okay. I think he needed the race. This is horse racing. Anything can happen. He's a real good horse. That hasn't changed. I think the next time he will be okay."
The next time for both King for a Day and Maximum Security could well be a rematch in the $1 million TVG.com Haskell Invitational on July 20. Both horses have already received invitations to Monmouth Park's showcase race.
Anthony Sciametta, who oversees Pletcher's string at Monmouth Park, said Pletcher and the connections of Red Oak Stable would make the decision on the colt's next start. A son of Uncle Mo-Ubetwereven by French Deputy, King for a Day came in off a sharp victory in the Sir Barton Stakes at Pimlico in his 2019 debut on May 18. King for a Day has now won three of his five lifetime starts.
"He ran the same way at Pimlico. He's good right now," said Sciametta. "He was good down in Florida before we sent him to Pimlico and after that race Todd took him to Belmont and Todd said he never missed a beat.
"He's a nice colt. Everyone associated with this horse has been high on him. He's a competitive horse. He likes fighting like this."
Sent off at 5-1 in the field of six 3-year-olds, King for a Day sat off the flanks of Maximum Security for most of the mile and a sixteenth race, refusing to allow the Florida Derby winner to get too far away from him.
The final time was 1:42.59.
Joe Bravo rode the winner, who paid $13.80 to win. The Servis-trained Direct Order was third, another 5¾ lengths back.
"The horse has been coming into his own," said Bravo. "I texted Todd Pletcher this week and he called me back in two seconds to tell me how high he was on this horse. He was in full control the whole race. Maximum Security stumbled the first couple of jumps and I am sure that hurt him a little bit and he was playing catch-up the rest of the time – even though he was in front until we got to him late.
"I just tried to keep my horse relaxed and ride my horse. He was good when he needed to be."
Servis had been wrestling with the decision all week whether to bring back Maximum Security for the Pegasus Stakes or to train him right up to the Haskell Invitational.
"It was a tough week," Servis said. "He was feeling good this morning. I sent him out. He was jumping and kicking. I think the stumble hurt us a lot."