Kelly Breen Takes Aim At Training Title As Monmouth Park Meet Hits The Midpoint On Friday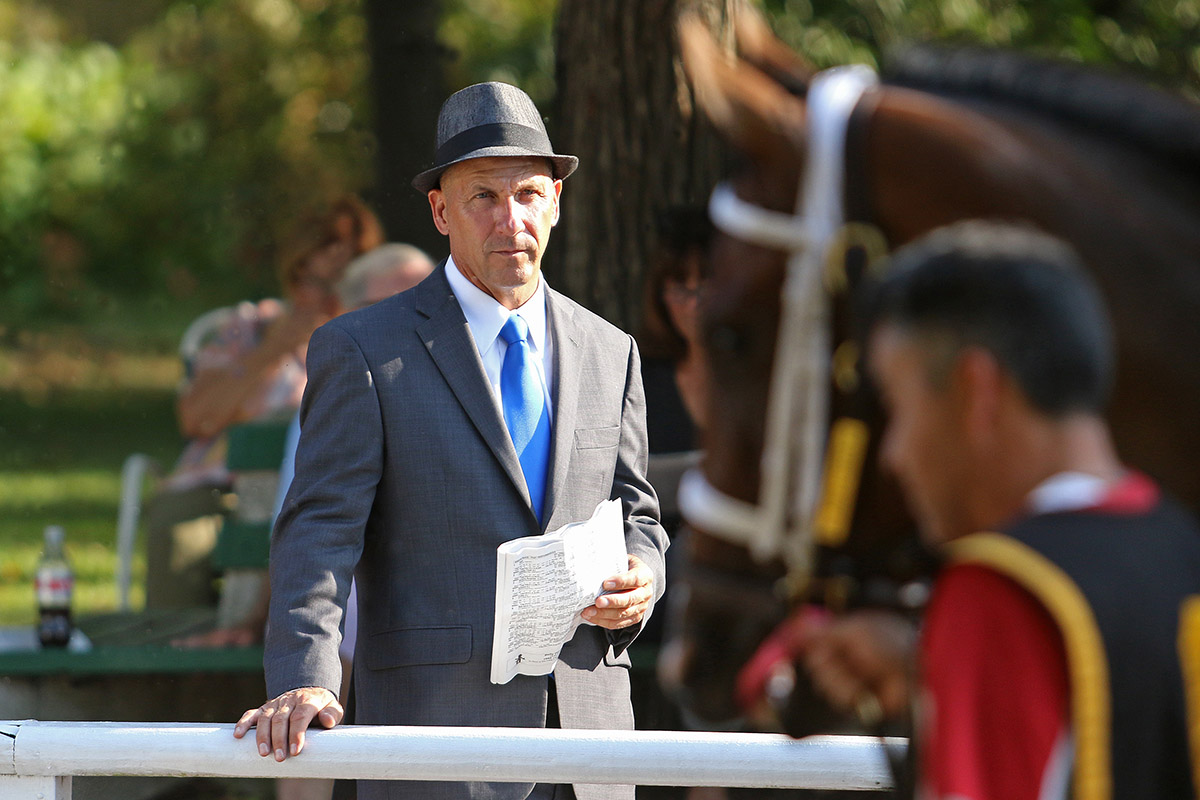 In some ways, Kelly Breen is as surprised as anyone that he will reach the midpoint of the Monmouth Park meet atop the trainer standings and as the favorite to win the title.
That's because he originally thought he was too heavy on 2-year-olds, too light on claimers, didn't have the overall numbers and wasn't sure how consistently he would be able to keep adding to his stable as the meet progressed.
"I thought I came in here a little short on the stock that a normal leading trainer would have," said Breen. "Approximately one-third (19 of 62) of the horses I have here are 2-year-olds. With the pandemic you can't get to the 2-year-olds until later in the season. So they're pushed back. You're training horses more than you are racing horses.
"I knew to offset that we would have to be active in the claim box."
The adjustment seems to have worked. Breen, who won the training title at Monmouth Park in 2005 and 2006, heads into the 18th racing day of the now 36-day meet on Friday with 12 winners from 45 starters to top the trainer standings.
He is three winners ahead of his closest competitor, Ben Perkins, Jr., but will only have one opportunity to add to his total during the six-race twilight card on Friday that starts at 5 p.m. Breen will send out Life On The Edge, already a winner at the meet, in the sixth race
"I'm still on the fence about my chances (to win the title)," he said. "So many different things go into winning a training title. A lot of variables."
Breen said he "lost about six horses I liked for Monmouth Park at Gulfstream, and you can't replenish because Florida rules are you can't take them out of state for at least 90 days. I was coming back here before that so it just didn't work out. You come in feeling you're a little short."
He also knows with the logjam behind him in the standings that a trainer is just one hot streak away from joining or passing him atop the standings. That happened with Perkins, who had four winners on Sunday's card and has won with seven of his last nine starters.
Jose Delgado, Mike Dini and Jerry Hollendorfer, each with eight winners, are in the title chase mix as well.
For the 51-year-old Breen, though, the training title would be especially significant since the New Jersey native has called Monmouth Park home since he started training in 1992.
"When you're this close of course you want to win it. There isn't anybody out there who would say no," said Breen, who set a personal best with 66 winners overall a year ago. "This is a prestigious racetrack. To put another feather in my cap would be awesome. This is my home track so there are a lot of things going for me here, owners that have been with me a long time.
"I won the title here in 2005 and 2006 and then I was a private trainer and I did that for a while. So you lose contact with some owners and a lot of the big outfits I used to train for aren't racing as much. I'm on the market again and making more phone calls to get horses than I ever have in my life but this is what I love doing. It's just different. So winning the title again, if that happens, would mean a lot."