Julie Krone Autograph Session Set For Sunday, June 10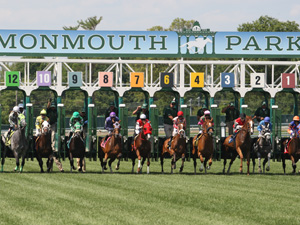 During one of the lowest points of her career, following a spill that left Julie Krone wondering if she would ever ride again – or even if she wanted to – Monmouth Park was there for her, the Hall of Fame jockey said. That's why she considers it a homecoming when she returns on Sunday, June 10, to the racetrack that helped launch her career with an autograph session. 
Krone, who won Monmouth Park riding titles from 1987-89, will sign autographs on Sunday from 1:30 to 3:30 outside the Jockey's Room. 
"When I first came back from one of the worst spills I ever had and was doubting myself and admitted I was not 100 percent or back to being myself the people at Monmouth Park accepted me and embraced me," said Krone. "They eventually helped me get back to full health and back to my career. So Monmouth Park is dear to my heart. I still think of it as home." 
Krone, who retired from her trailblazing career in 2004, was the first woman to win a Triple Crown race, booting home Colonial Affair in the 1993 Belmont Stakes. She was also the first woman to win a Breeders' Cup race, the first woman to win a riding title at a major track and became the first female jockey to reach 3,500 wins, doing so in 1999. 
She finished her career with 3,704 wins. 
"What I found out last year when I came back to Monmouth is that the fans still remember and that makes you feel good," said Krone, who last rode at Monmouth Park in 1999. 
Krone, who now calls California home, was inducted into the Racing Hall of Fame in 2000. 
In 1987 she won the riding titles at Monmouth, the Meadowlands and Atlantic Cit Race Course.