Journeyman Rider Luis Rivera, Jr. Wins First Race As A Trainer In Monmouth Park's Saturday Opener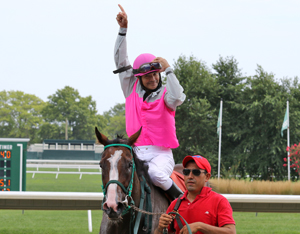 Luis Rivera, Jr. didn't merely add to his total of 1,500 career victories as a jockey by winning Saturday's first race at Monmouth Park. He also simultaneously notched his first win as a trainer. 
The 51-year-old journeyman rider, who took out his trainer's license in June, pulled off the rare feat of riding a winner he also trains when Strawberry Red scored an upset at odds of 14-1 in the Saturday opener. 
Claimed by La Familia Stable LLC for $8,000 on June 16, Strawberry Red is currently he only horse Rivera, Jr. also trains. But he said is looking to add more while also continuing to ride. 
"I like to keep busy," said Rivera, Jr. "I've been around horses my whole life. I like doing everything with them. I'm at the track at 5:30 every morning to gallop horses, then I check in on this one and then I ride whenever and wherever I can. 
"It gets tougher to get mounts when you get older and I wanted to do more with my time so I decided to take out my training license and see what happens." 
Rivera, Jr.'s first training victory came in his third try, all with Strawberry Red. 
"It feels good," he said. "When you put in the work and get results it always feels good." 
As a jockey, Rivera, Jr. has had 14,720 mounts with his horses earning in excess of $22 million in a ridding career that began in 1987.