Journeyman Manoel Cruz Joins Monmouth Park Jockey Colony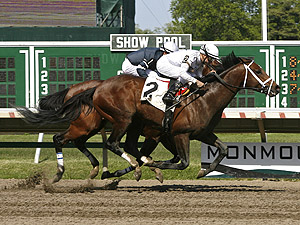 Journeyman Manoel Cruz, Florida-based for the majority of his 19-year riding career, has joined the Monmouth Park jockey colony on a full-time basis. 
Cruz, 48, has won 2,824 career races. He's the all-time leading rider at now-defunct Calder Race Course. 
"Everyone in Florida told me this was a great circuit so I wanted to try it," said Cruz. "I know it will take some time to establish myself but a lot of good things are happening here and I want to be part of it." 
Cruz is not a total stranger to Monmouth Park, having ridden Imawildandcrzyguy to a fourth-place finish in the 2007 Haskell Invitational. The top three finishers in Monmouth's showcase race that year were Any Given Saturday, Hard Spun and Curlin.