Jorge Navarro Has His Sights Set On A Sixth Straight Training Title At Monmouth Park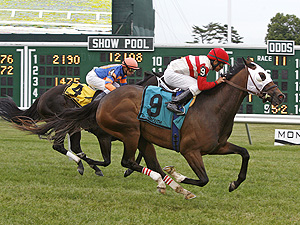 There's no need to even ask Jorge Navarro if he has his sights set on a record sixth straight Monmouth Park training title, since his entry box actions say it all. 
When the Shore track resumes with live racing on Saturday, May 12, and Sunday, May 13, it's almost easier to find the races there's not a Navarro horse in than there are races he has entered. 
The total for the two days: 14 horses entered in a combined 12 races. 
"We're going all out to win the title again," said Navarro. "I have the highest respect for the trainers who have been here before me and the highest respect for the trainers who are at Monmouth Park now who make things as competitive as they are. But I am always challenging myself and I'm very competitive. If we can win another title and break more records doing that we're going to go for it." 
Navarro, 43, had a season for the ages at Monmouth Park last year, saddling a record 65 winners, which eclipsed the mark of 59 he set in 2016. Along the way he set a track record with five winners on a single card and tied Juan Serey's record (set from 1995-99) of five straight Monmouth Park training titles. 
As goal-driven as he is to add to his achievements he does not take them for granted. 
"Where I came from to where I am now, training at a great place like Monmouth Park with all of the great horsemen who have been at this track all these years, I am proud of the accomplishments," said Navarro. "To do what I've done at this track makes it even more special. I'm in love with Monmouth Park. 
"I'm from Florida but I call New Jersey my home now because of everything that Monmouth Park and Dennis Drazin (chairman and CEO of Darby Development LLC, operators of the racetrack) have done for me and the horsemen." 
Navarro said a 52-day meet will make it a challenge to break the win record he set in 2017, but he's up for it. 
"I always set my goals high," he said. "If there's any chance it can be done, that we can set another record, we're going to try to do that."