Jockeys And Jeans Fundraiser To Benefit PDJF Set For Monmouth Park On Sept. 11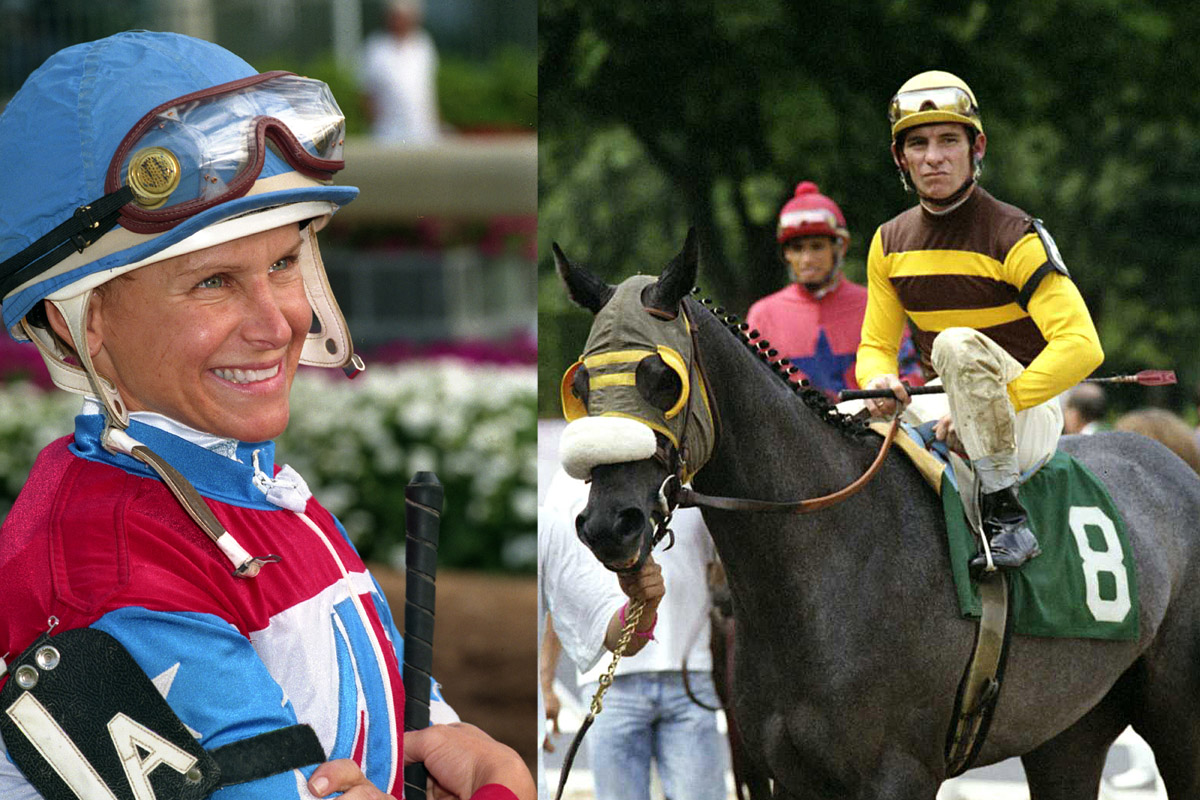 Seventeen Hall of Fame jockeys – a list that includes former Monmouth Park leading riders Don Brumfield, Julie Krone and Craig Perret – will be on hand when the seventh annual Jockeys and Jeans Fundraiser holds its annual event at Monmouth Park on Sept. 11.
All of the proceeds from the event go directly to the Permanently Disabled Jockeys Fund.
In addition to honoring seven riders who suffered catastrophic or career-ending injuries, this year's fundraiser will honor firemen and police officers on the 20th anniversary of the attack on the World Trade Center towers.
Last year's Jockeys and Jeans Fundraiser, scheduled for Churchill Downs, was canceled due to COVID-19.
"This year's event will be special for several reasons," said Barry Pearl, president of Jockeys and Jeans. "This promises to be a year of recovery for our nation, horse racing and its permanently disabled jockeys.
"Our event will present a unique opportunity to pay homage to racing's fallen heroes as well as our nation's 9/11 heroes. To do both at a single racing-related event is personally humbling and should make all in racing proud."
Pearl said the organizing committee is working with several New York-based 9/11 organizations to have first responders attend and to be honored.
"We plan to make a donation to an appropriate charity that helps these brave men and women and the families of those who gave the ultimate sacrifice," he said.
Scheduled to attend from the Hall of Fame jockey ranks are: Braulio Baeza, Bill Boland, Angel Cordero, Jr., Ramon Dominguez, Earlie Fires, Eddie Maple, Don Pierce, Laffit Pincay, Jr., Jose Santos, Alex Solis, Jorge Velasquez, Jacinto Vasquez, Bobby Ussery and Sandy Hawley.
Brumfield (1977), Krone (1987-89) and Perret (1974) are familiar to Monmouth Park fans for the jockey titles they won at the track during those years. Jorge Velasquez was Monmouth Park's leading rider in 1966 and 1967.
Also scheduled to attend are jockeys who suffered career-ending injuries, among them Dennis Collins, Joe Hayes, Armando Rivera, Mike Straight, Ann Van Rosen, Sidney Underwood and Roger Blanco.
The event begins in Monmouth Park's Turf Club at 11:30 a.m. Tickets cost $75 and may be purchased at seatgeek.com/monmouth. There will be silent auctions of racing-related memorabilia and autograph sessions throughout the course of the event.
Founded in 2014 by five former jockeys, this year's Jockeys and Jeans event marks the seventh fundraiser held at various tracks across the country. This will be Monmouth Park's first time hosting the event.
The all-volunteer association has raised more than $1.6 million to date for the Permanently Disabled Jockeys Fund.
"While we had to cancel last year's fundraiser, the PDJF payments and the needs by this special group of former jockeys went on," said Pearl. "We're hoping and praying we can make up some ground and break the $312,000 we raised at Canterbury Park in 2018," said Pearl.
For more information, contact Pearl at jockeysandjeans@gmail or call (717) 503-0182. For additional questions contact Eddie Donnally at Edjockeysandjeans@gmail.com, or by calling (818) 653-3711.