Jockey Trevor McCarthy Set For Busy Day During Monmouth Park's Opening Card Saturday With Mounts In Seven Of The Eight Races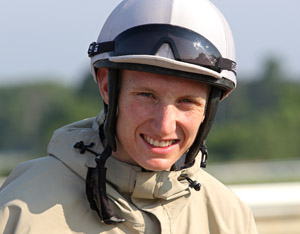 Jockey Trevor McCarthy, who is well on his way to winning the riding title during Laurel Park's spring meet, is in for a busy day during Monmouth Park's opening card on Saturday with mounts in seven of the eight races, including the ride aboard Hawkish, the likely favorite in the featured $100,000 Cliff Hanger Stakes.
The Maryland-based McCarthy said Monmouth Park's attractive 2019 stakes schedule – with 61 stakes races worth $7.1 million on tap this year – will make him a frequent visitor to the Shore oval during the meet.
He will start out by riding in all but the sixth race on Saturday.
"It's nice to have a day like this set up. I think I have a bunch of live horses, too," McCarthy said. "It means a lot to me to get the support from the trainers at Monmouth Park."
The seven mounts will be for seven different trainers.
McCarthy is scheduled to ride Known But To God for trainer John Servis in the first race; Likeagirl for Michael Gorham in the second race; Lucky Lover Boy for Patricia Farro in the third race; Martini Kid for Michael Moore in the fourth race; Ellyb for Arnaud Delacour in the fifth race; Hawkish in the Cliff Hanger for James Toner in the seventh race and Showmanship for Gregg Sacco in the eighth race.
McCarthy finished seventh in the rider standings at Monmouth Park last year with 33 winners from 230 mounts.
He acknowledged he is looking forward to riding Hawkish in the Cliff Hanger – the first time he will be aboard the Grade 2 winner.
"I'm excited to ride him," said McCarthy, who turns 25 on May 16. "He has really run some good races. The main thing for me will be to stay out of his way and let him do the running. It looks like a really good spot for him."