Jockey Samuel Marin Setting Sights On Bigger Things In Near Future After Breakout Summer At Monmouth Park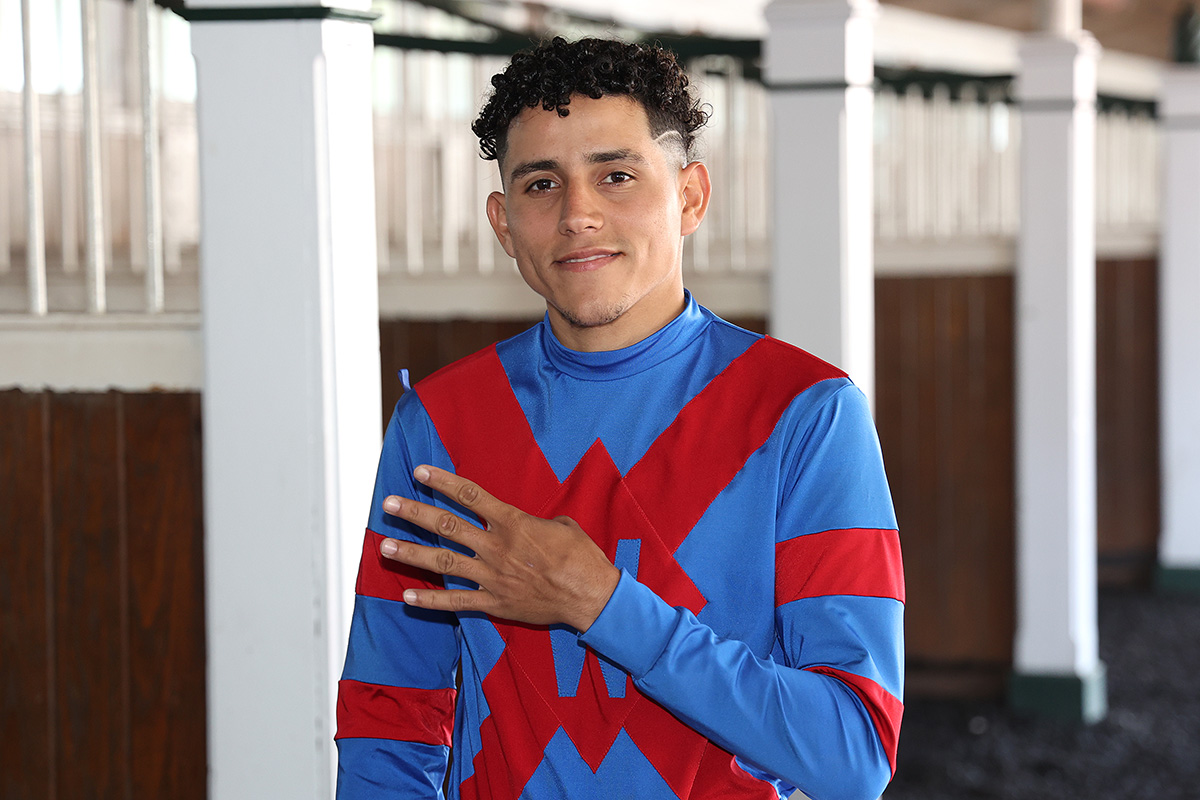 It didn't take long for Samuel Marin to introduce himself as a jockey in the United States, with the Trujillo, Venezuela native winning a stakes race with his second mount in this country last year.
Now the 22-year-old is hoping his recent flurry of wins at Monmouth Park will start leading to bigger races and better mounts as he continues to build momentum in his second summer in America.
"I feel like everyone is watching and seeing the success I'm having and it's a good feeling," said Marin. "I've been working hard trying to get better mounts. I'm very happy with the way the meet is going."
Entering the penultimate weekend of the Monmouth Park meet, with a three-day Labor Day weekend of live racing starting on Saturday, Marin is fourth in the rider standings with 29 wins. Part of that is due to a four-win day at Monmouth Park on. Aug. 20.
"That was very exciting," said Marin, the leading apprentice rider at Hippodromo La Riconada in Caracas, Venezuela, in 2019. "That was my first time winning four races in one day like that. I'm thankful to all of the trainers and owners who helped me. It was a big highlight for me."
So was his second U.S. mount a year ago, when he won the Long Branch Stakes at Monmouth Park aboard Dash Attack for trainer Kenneth McPeek.
Marin won 22 races in 2022. He is currently at 56 wins this year.
But the stakes wins are still hard to come by, though he did win the Pasco Stakes and the Ocala Breeders Sophomore Stakes at Tampa Bay Downs over the winter.
In his brief career he has ridden in five graded stakes races with his best showing a third-place finish aboard Jersey-bred Riding Pretty in the Grade 3 Monmouth Oaks on July 29.
"I want to win more stakes races. That's the next goal for me," said Marin. "I hope with the success I am having I will get more chances to do that."
Marin says he is a much more confident rider now, which he believes is part of the reason behind his breakout season.
"Last year was a learning experience for me," he said. "I think I learned a lot, riding and being in a new country. We don't have turf racing in Venezuela, so that was a new experience for me. Now I love it."
Marin got his start riding quarter horses on his family farm when he was 12. His later success in Venezuela led him to the United States.
"That was always my goal, to ride in the United States," he said. "I know how difficult it is. But I work hard and I know I can win races here. I am having success now and that's a good feeling but I know I can do even better."